Patrick Do used to unload boxes and boxes of meat in his Vietnamese restaurant, House Special. Then, in a moment he would never forget, a realization struck: he was tired of it. "The next thing I'm going to do, it's going to be vegetarian," he told a server. In 2019, he did just that, opening a plant-based restaurant on Kingsway with his partner Amanda Clark. A year later, House Special closed its doors to become Do Chay's second location.
"It was kind of a challenge to see how much of the Vietnamese cookbook I could translate into a vegetarian application and still have the flavours preserved," he says. Do learned the fundamentals of Vietnamese cuisine from his mother, Yen Do, who escaped the turmoil of Vietnam in 1979 and has operated Vietnamese restaurants since migrating to Vancouver. She currently runs Green Lemongrass, where she serves traditional Vietnamese specialties such as hủ tiếu bò kho (braised beef stew with noodles) and gỏi bắp cải gà (chicken cabbage salad).
While Do jokes about his mom's culinary influence⁠—"I made a career stealing her recipes"—when it came to Do Chay, he wanted to make Vietnamese cuisine his own. He explains that although vegetarianism is growing in Vietnam, a strictly plant-based diet is usually only eaten by Buddhists, especially in monasteries.
Nonetheless, Do feels Vietnamese cuisine lends itself well to plant-based cooking. "I think I definitely have a big leg up. In Vietnam, the dishes don't centre around a major piece of protein. Flavour is already built through sauces and vegetables," he says.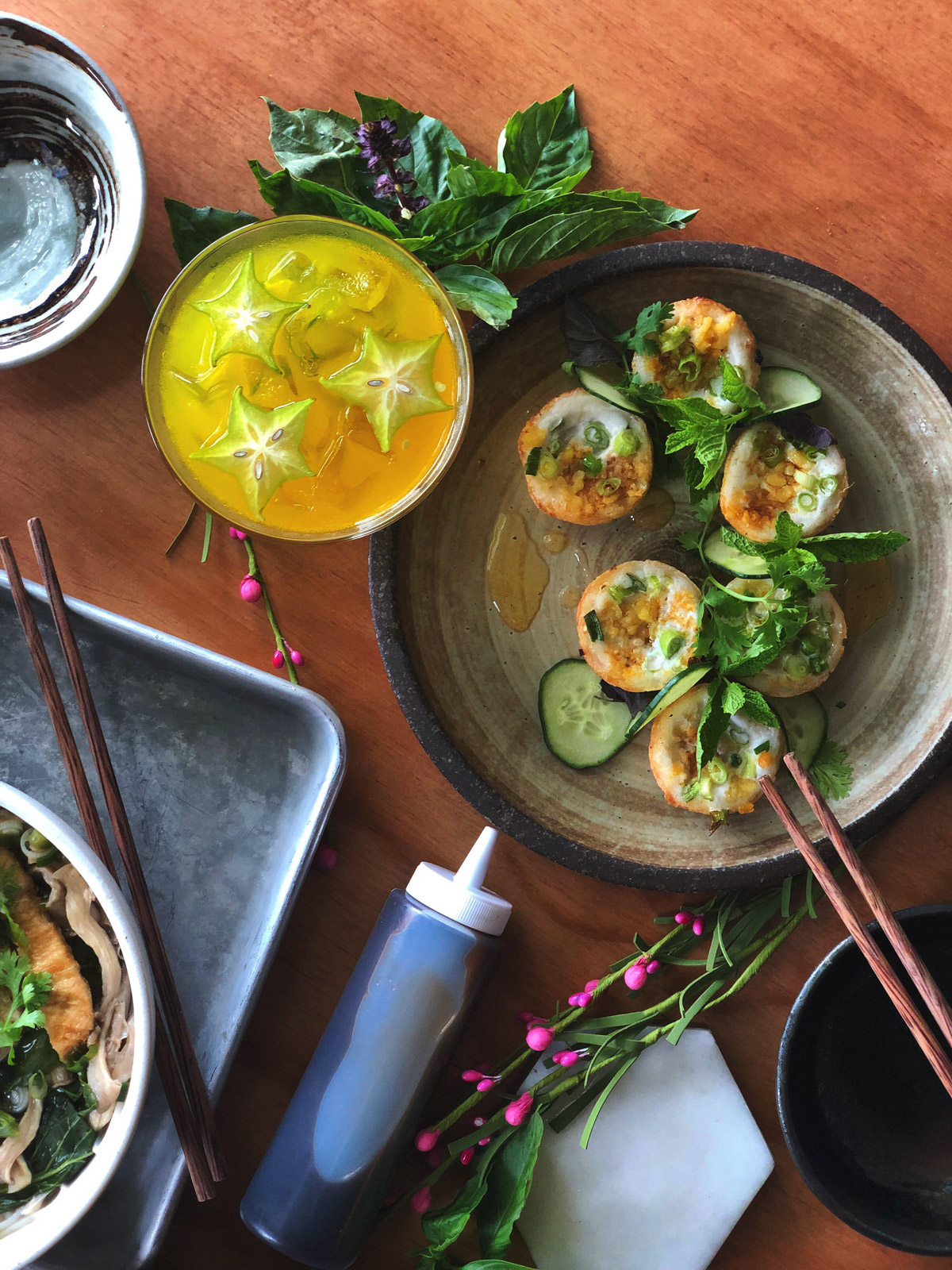 Do knew he had to nail a vegan version of a crucial Vietnamese flavour: fish sauce. After many imperfect attempts experimenting with fermented mung beans, he was ready to throw in the towel and leave Do Chay pescatarian: "It just wasn't quite there. It felt like a somewhat worse version of fish sauce." Then he dialled up the caramelization of the sugar, which deepened the colour of the sauce and balanced the funk of the fermented mung beans.
This "ish" sauce is served with the restaurant's bánh khot, coconut rice cakes that traditionally feature ground pork and shrimp. In creating a vegan version, Do ditched the meat and seafood in favour of preserved cabbage, jicama, and shiitake mushrooms that together are reminiscent of the texture of the meat and seafood but impart their own unique flavour.
While Do Chay does cook with Impossible meat, for example in one dish with tomato, tofu, and pickled long beans on steamed rice, as a general rule Do prefers not to rely on substitute meat products. And aside from a couple of items, such as the bánh bột chiên (crispy rice flour and daikon cakes with fried egg), the menu is entirely plant-based. Instead, he uses mushrooms for "wings" with a sweet and slightly spicy glaze, and eggplant in place of beef in a dish with black garlic, red chili, tofu, and yu choy.
For Do, it's about getting creative to produce good food. "The decision we made was to try to build flavour and rethink what a dish should be instead of just taking something out," he says. He crafted a vegan pho from scratch, starting with mushroom broth, and then adding avocado, yuba, yu choy, broccoli, and oyster mushrooms to make the noodle soup vibrant, texturally playful, and flavourful.
Some Vietnamese diners criticized Do's former restaurant House Special for tinkering with traditional recipes, but Do Chay quickly became a community darling. "Because this type of restaurant didn't really exist at that point, the community embraced it in a way that I hadn't personally experienced before. It was a really cool thing," Do says.
The restaurant's innovative Vietnamese cuisine has also captivated vegetarian diners. Osric Chau, an actor best known for his role in Supernatural, remembers giving his high school buddy's restaurant a try. "I've been a vegetarian for years now, and when I tried Do Chay for the first time, my world changed. I've never been so excited about a restaurant in my life. I very quickly became a regular there," he raves, eyes lighting up.
Chau was so enthused that he signed up to be Do and Clark's business partner, with the aim of opening more restaurants. Chau feels passionately that Southeast Asian cuisine needs more respect in the city. "Southeast Asian food is always considered to be lowbrow. We want to elevate the food and shine a new light on it," he says. Clark, for example, curates a seasonal beverage program at Do Chay to show Vietnamese food can be paired with cocktails and local craft beer.
The trio, along with other business partners, recently launched Uncle's Snack Shop, which features vegetarian items like a cheesy eggplant sandwich and a refreshing pomelo, jicama, and pickled watermelon rind salad. The Chinese Restaurant Awards designated their Asian bites a Game Changer in the dining landscape. In the works is Saola, a modern Asian restaurant that will showcase vegan dishes as well as sustainable seafood.
Do senses possibility when he considers where the restaurant group will go next. "We want to create room for creativity in a cuisine that has been resistant towards that historically," he says. Part of that reinvention involves cooking without meat, because Do believes "that way of eating is going to be more commonplace, to the point of being the norm in the future." Until then, he will demonstrate the merits of plant-based eating, one vegan pho at a time.
---
Images courtesy of Do Chay. Read more local Food and Drink stories.