With Campagnolo's sad announcement that it won't be reopening, we look back at the mark its co-owner and chef, Robert Belcham, has left on this city's restaurant scene and a new generation of chefs. This story from our archives was originally published in 2015.
---
Last winter was one for the ages in Toronto, with the windchill, the snowfall, the imperiousness of nature. But in the midst of it, one evening was full of warmth, light, collegiality, and really good food. Robert Belcham, chef and co-owner of Campagnolo and Campagnolo Roma, went to Toronto to cook with three of his former chefs, at Porzia, nestled in Parkdale. The chef and owner there, who met Belcham at Toronto's 2014 Terroir Hospitality Symposium, is Basilio Pesce, and he thought it was a grand idea to have the group together, bring Belcham in, and make a grand old time of it, talking about the current and future state of the profession, and feeding a room full of diners.
Pesce's restaurant is a hit, and he gladly points to Belcham in Vancouver as foundational for him. "The idea of collaborating with Rob was very exciting," he says. "His contribution to the Vancouver restaurant scene is unmeasurable. Including some of his former cooks—who are now some of Toronto's best chefs—made the dinner a once-in-a-lifetime event. It reunited teacher and students." The other chefs involved, all alumni of Belcham's: Tyler Shedden, who was executive chef at Cafe Boulud, Toronto (he is currently on sabbatical); Charlotte Langley of Scout Canning, Toronto; and Geoffrey Hopgood, Hopgood's Foodliner, Toronto. Luke Kennedy, former executive sous chef at Cafe Boulud and now chef de cuisine at Jump, one of the Oliver & Bonacini restaurants, and who introduced Belcham and Pesce at Terroir, was there to share in the experience as well. The pedigrees of this group of chefs, so fine, exemplify the importance of good, honest mentorship, and Belcham, himself once a "student" of Ocean Wise co-founder and seafood pioneer Robert Clark, takes this part of his job very seriously.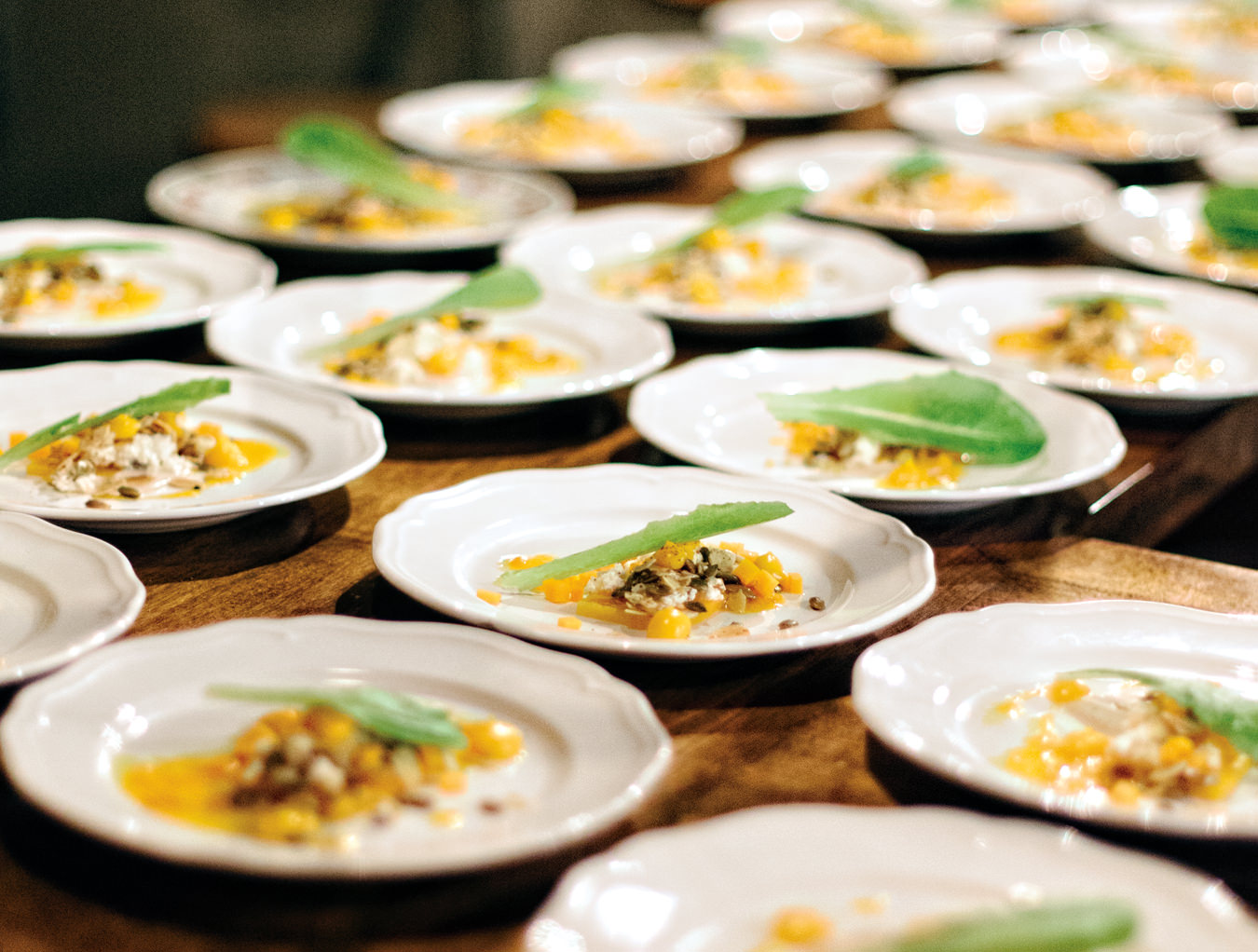 "I think of sustainability as not only about food sources, but of chefs, too," says Belcham. "It still amazes me that young cooks, coming fresh out of this culinary school or that, don't know how to butcher an animal. They are being taught the industrialized way. It concerns me, because if that becomes a lost art, we are really bequeathing control of what we eat to some huge food processing companies." It is not only about that, but the implications of what has become known as "nose to tail" dining add up to using the entire animal, to the 99th percentile. To achieve that, you of course must know how to use even the most seemingly intransigent parts, such as the feet of a pig, or the head. "We make everything we serve right here in the restaurant," Belcham says. "Since we opened, in 2008, 200,000 kilos of heritage pork have gone through the doors"—a fact he is clearly, and rightfully, proud of.
Both of his restaurants feature a charcuterie platter called The Cure, made from Vancouver Island's Sloping Hill's heritage breed pork. Salmon is fished sustainably by the Hawkshaw family from the north coast; the lamb is from the Peace River. One recent morning, Belcham was delightedly sharing a few berries he had acquired from an Abbottsford farmer, "the best I've ever tasted, and he only has a few dozen pints of them each year." For Belcham, this is all part of a big picture: "We need to support local farmers, and create direct connections between people and what they eat. A meal is something a craftsman does, and it is served with pride and passion."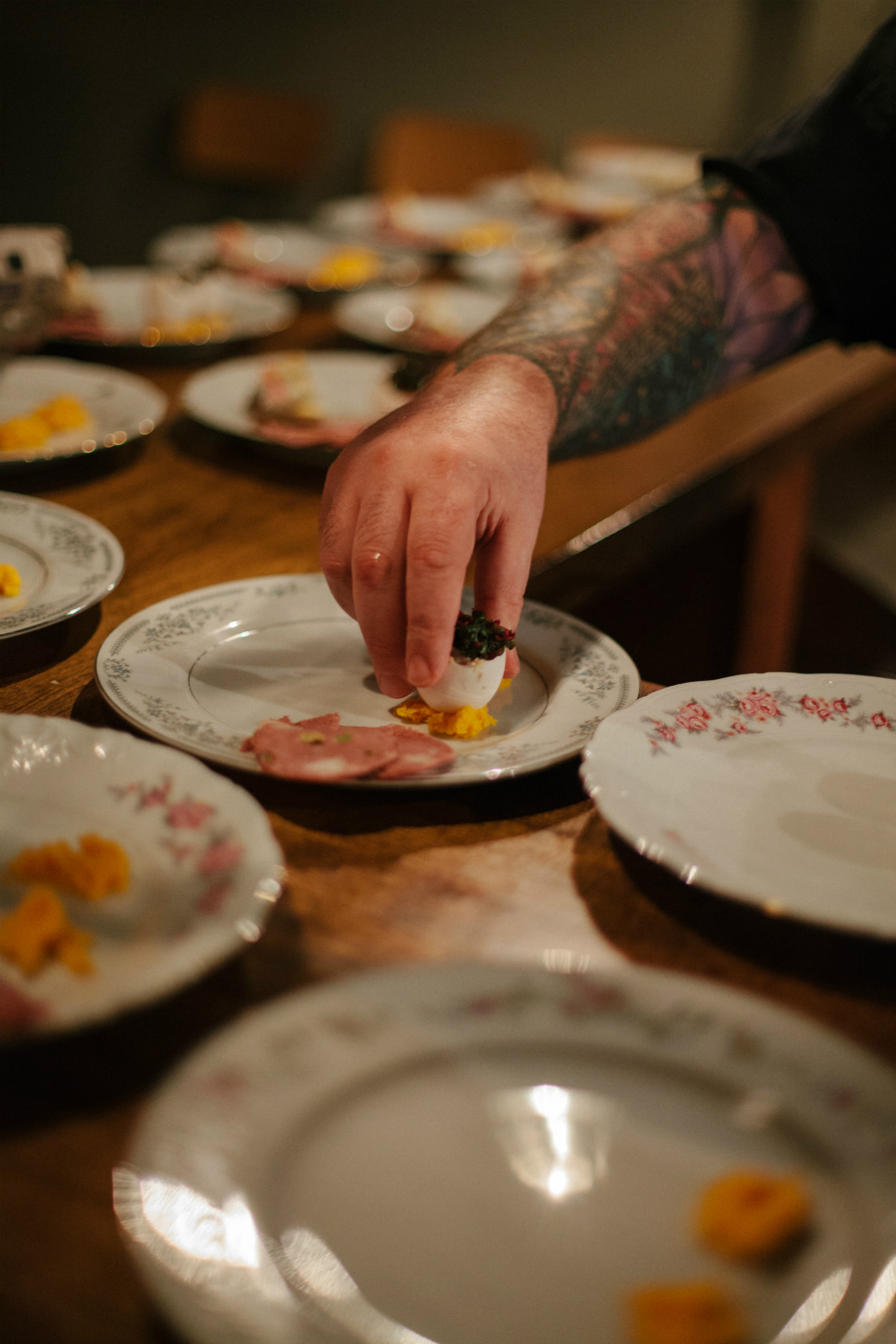 Some menu highlights from the Porzia dinner exemplify Belcham's approach: the collaborating chefs in turn represent the importance of teaching. The evening began with a schmaltz candle; schmaltz (chicken fat) is shaped into a candle and allowed to melt down and mix with crispy, seasoned chicken skin. From there, it was squash carpaccio with fromage fraiche and smoked chestnut; albacore tuna with veal bone marrow, capers, and parsley; dandelion agnolotti with ricotta and parmesan brodo; veal sweetbreads with shaved shank, spiced jus. Wind chill? What wind chill?
Belcham began his career over 20 years ago, and was at the dearly departed C Restaurant with Clark, until he opened a great place in 2006 called Fuel, eventually re-named Refuel. But Campagnolo stands as his apogee, a hands-on everyday statement about what cooking and eating are all about. "Becoming a cook is one of the most thankless things there is. You have to touch the right way of doing things, all the time, even though most people don't even notice." He pauses, and concludes: "A dinner like the one at Porzia tells me I'm right. Going out for dinner is a special thing."
---
This story from our archives was originally published on June 19, 2015. Read more local restaurant news in Food and Drink.