For Kailyn Chun, kimchi is more than just a superfood rich in probiotics to keep your gut healthy; it's an important (and delicious) expression of culture and community.
Recognized as an important part of Korea's cultural heritage, making kimchi is about teamwork, says the founder and owner of Salty Cabbage, Vancouver's locally produced line of freshly made, small-batch kimchi.
Traditionally, Korean families, neighbours, and communities gathered in early winter to make enough kimchi to share, to ensure that everyone had enough and no one would go hungry through the harsh months ahead. Today, the fermented, generally cabbage-based side dish remains a staple of Korean cuisine, and this noodle salad, Chun says, is one of the most loved recipes using kimchi.
"It's a very appetizing and refreshing dish, so my mom and grandma made it a lot in summer," she says, "when everyone is battling with the heat and has no appetite."
"Usually, Mom will make the salad in a huge bowl for the whole family or when friends come for visit," adds Chun, whose own recipe for kimchi soared to popularity when she started making it at Ma Dang Goul restaurant in Vancouver's West End. After several years of honing her skills, she struck out on her own with Salty Cabbage in 2019.
This month, Chun shares her traditional recipe for Kimchi Noodle Salad with us, for our series celebrating Asian Heritage Month with local chefs and restaurateurs. Watch for more tasty recipes throughout the month of May.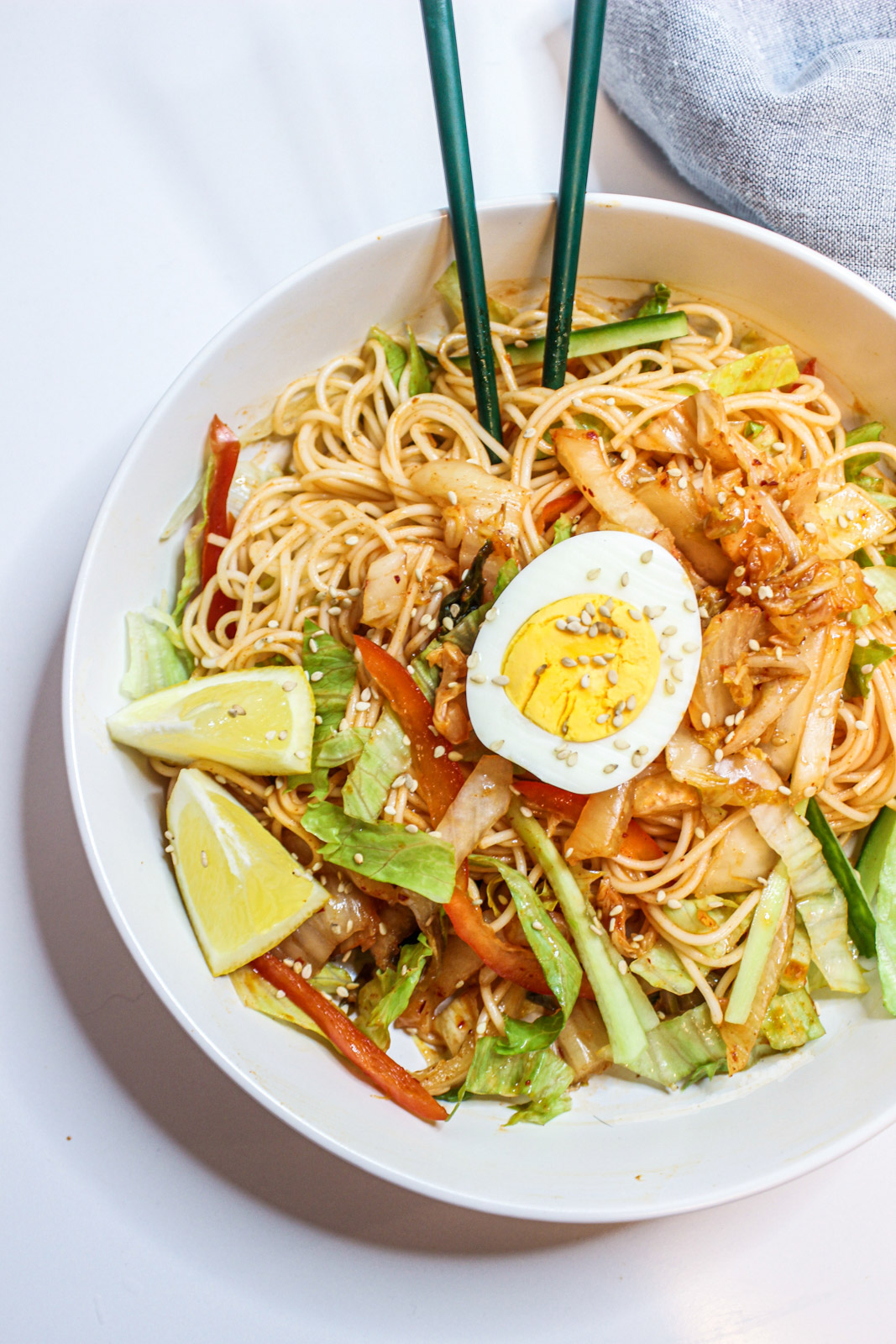 Kailyn Chun's Kimchi Noodle Salad
Serves 2
Ingredients
For the sauce:
3 tablespoons gochujang
2 tablespoons sugar
4 tablespoons vinegar
½ tablespoon soy sauce
½ tablespoon sesame oil
For the kimchi topping: 
1 cup chopped kimchi
½ tablespoon sugar
½ tablespoon sesame oil
For the noodle salad:
1 cup lettuce
¼ cup red bell pepper
1/2 cup cucumber
1 pound somen noodles or soba noodles
Boiled eggs (1–2 eggs to top the salad, cut in halves)
1 tablespoon sesame seeds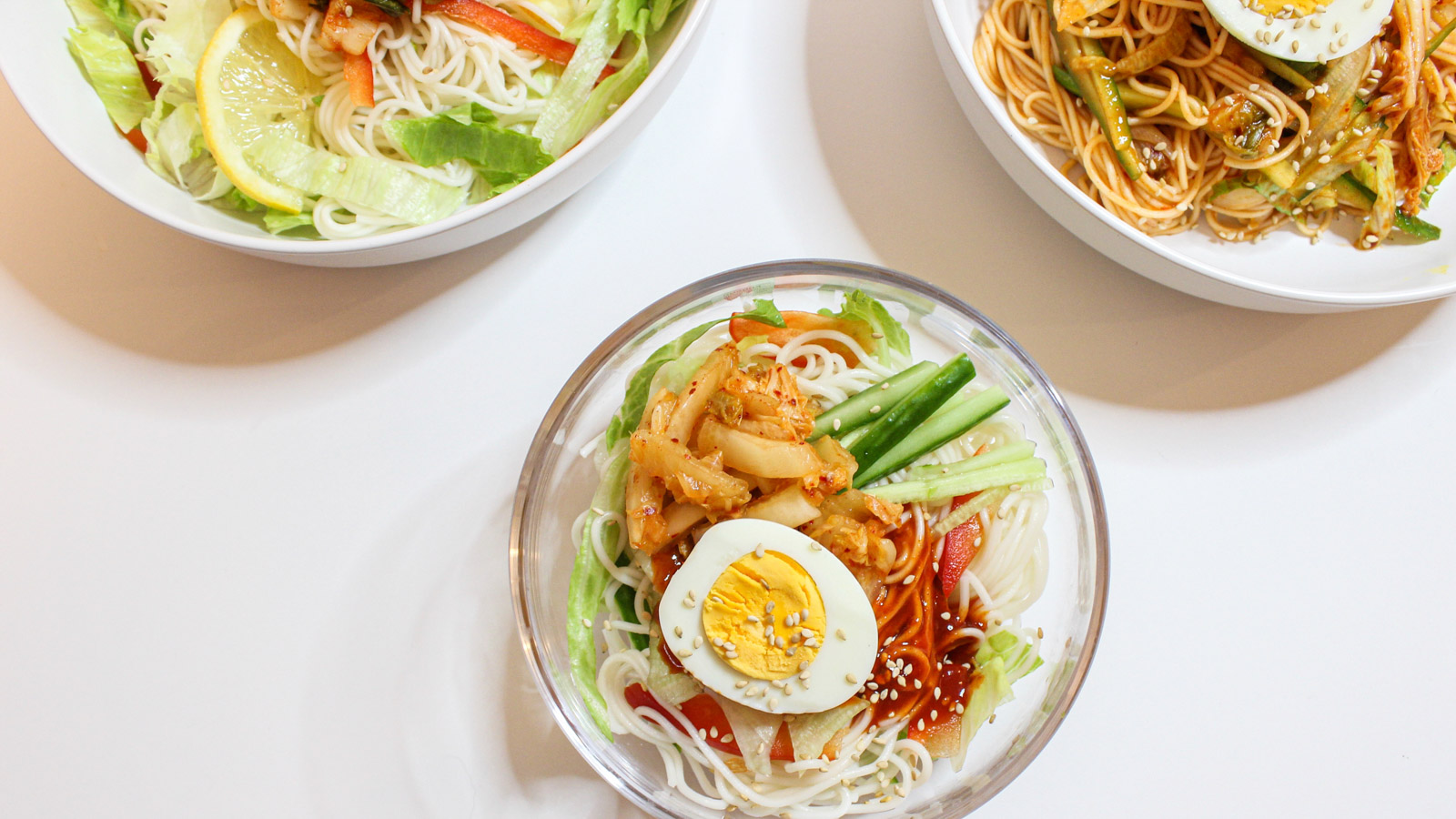 Method
For the sauce:
In a small bowl, add the gochujang, sugar, vinegar, soy sauce, and sesame oil. Mix well and set aside.
For the kimchi topping:
Marinate chopped kimchi with sugar and sesame oil. Set aside.
For the noodle salad: 
Chop lettuce, bell pepper, and cucumber. Bell pepper and cucumber are julienned. Add any other vegetables that you like.
Boil eggs in a pot, then leave in cold water so the shell comes off easily. Cut them in half.
Bring a large pot of water to a boil. Add the noodles and stir to avoid them sticking together. Boil on high heat for 3–4 minutes. Drain and wash the noodles in cold water.
Mix the cooked noodles with the chopped vegetables, garnish with kimchi topping and top with boiled egg halves. Add the sauce to the bowl before serving or serve it on the side.
Tip: When cooking the noodles, the water might boil over. Keep a bowl of cold water and add it when it's about to boil over. This will prevent water spilling out of the pot and makes the noodles chewy and bouncy. The kimchi noodle salad is a great match with barbecued or grilled pork belly. Tomatoes and cooked mushrooms are also good additions.
---
Read more recipes from local chefs.