"I'm very grateful to chef Jaeger for piloting this and shining a light on our program, our business, the young people, and the need."
At Social Crust Cafe & Catering inside Vancouver's Pacific Coast Apartments, a low-income housing residency owned by Coast Mental Health, the non-profit's chief executive officer Darrell Burnham speaks about its new pilot project, Guest Chef Nights. The events bring students from Coast Mental Health's Culinary Skills Training Program together with notable chefs from around the Lower Mainland for special ticketed dinners, from which all proceeds go back to the organization. Tonight marks the debut meal of the recurring series, bringing in Scott Jaeger of Burnaby's lauded The Pear Tree Restaurant as guest chef.
Coast Mental Health was established in 1972 as a Vancouver-based initiative working with individuals affected by mental health in the community. Focusing on young people between the ages of 19 and 30, it provides necessary tools and resources for rehabilitation back into society, with access to adequate housing, support services, and employment and education programs.
In May 2018, a City of Vancouver report revealed that 43 per cent of homeless people living here suffer from a mental health issue. "Coast Mental Health's mission is to actually promote recovery of persons with mental illness," says Burnham. "So, this [culinary] program is working with young people who have been bruised by an experience of mental illness and are trying to get back on their feet—and here's an opportunity to give them really good life skills, work skills, and hopefully fire up a passion for the food industry." Coast Mental Health also offers a vocational landscape program, an addiction recovery centre in Coquitlam, and a resource centre on Seymour Street in Vancouver with nurses, showers, and psycho-social services. There are additional low-income and supported housing units across the Lower Mainland.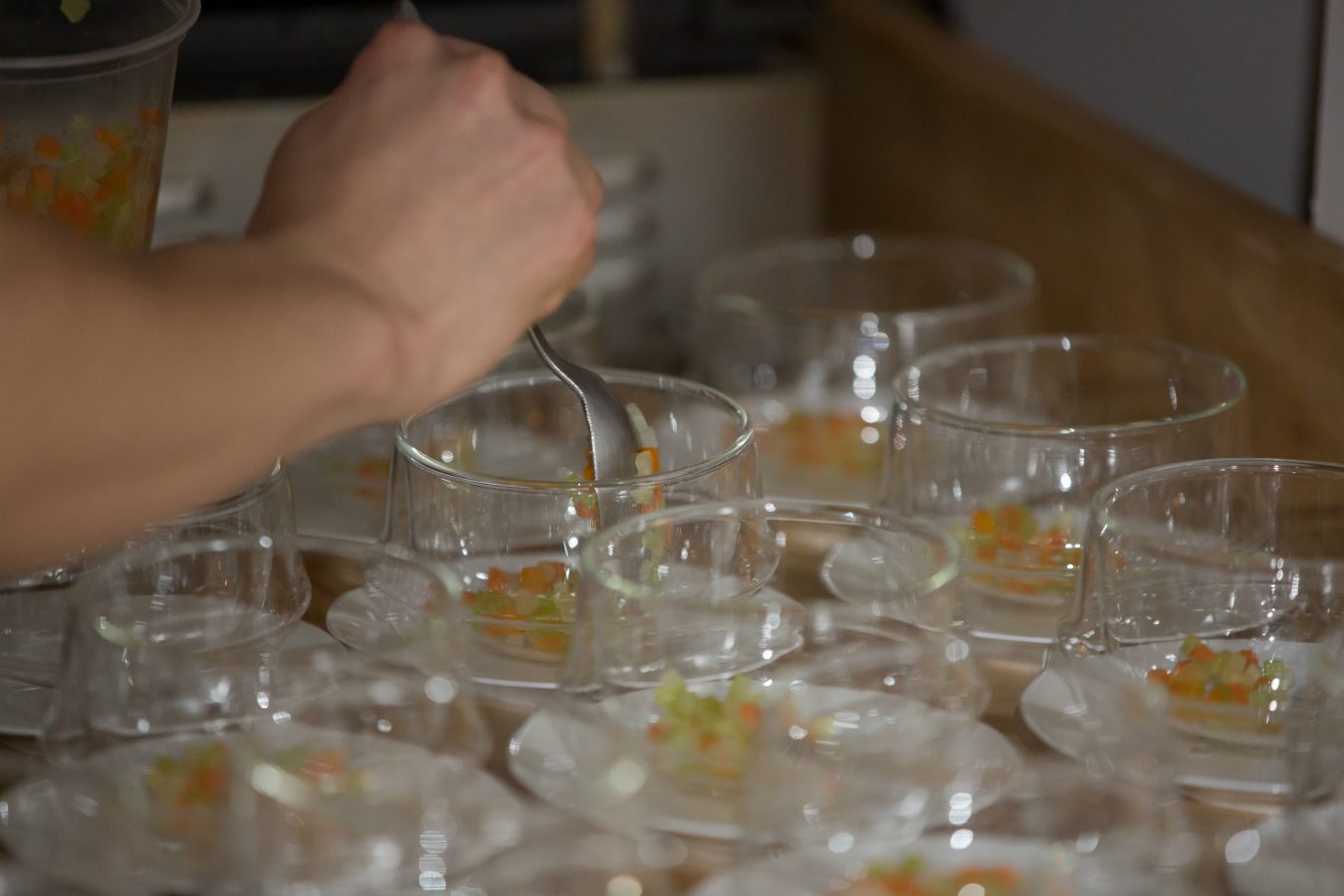 Guest Chef Nights are just one leg of the larger five-month Culinary Training Program at the organization, which allows participants to work alongside Red Seal chefs in the commercial kitchen here at Pacific Coast Apartments. After learning to cook, prepare, and create meals, the students—many of whom have been diagnosed with schizophrenia, autism, depression, or anxiety, or are recovering from addiction—are then employed for a six-week practicum at the Social Crust, during which they prepare and serve food for the residents at Coast Apartments while also catering business meals around the city. The program launched in 2014 with grants from the Vancouver Foundation.
"A program like this is amazing to hopefully give exposure to open-mindedness," says chef Jaeger, moments before the feast begins. Jaeger hopes this dining series will reduce the stigma and employment barriers placed on those affected by mental illness. "Hopefully it's an inspirational night, and the students can see something different outside the routine and continue to learn and decide whether they want to learn more or be part of the world kind of we're in," he goes on. "The only prerequisite is really the desire to want to do it." Before opening The Pear Tree in 1997 alongside his wife, Jaeger worked at kitchens in Switzerland, England, France, and Australia. Tonight, a candle-lit table is topped with Time wines and a four-course meal: scallop consommé; a slow roasted Pemberton sunchoke medley on a grain salad; Yarrow Valley duck; and signature chocolate pear.
"If somebody comes in here and they have a real hard time forming relationships or speaking to other people, and when they leave, they can operate in a social situation, they have more confidence, they have essentially a better quality of life—that's an outcome," says Culinary Skills Training Program coordinator Glen Lamont. He mentions that the initiative is just as much about socialization and team building as it is about gaining skills necessary for employment. "If anything else, it's just to fire their passion for themselves," adds Burnham, "and have confidence in themselves so they can tackle the world a bit better when they go forward." There is perhaps no more delicious community endeavour than that.
---
Read more from our Impact section.