It was a foolish and romantic notion. They knew it, but they did it anyway.
When Alishan Driediger and Rhys Pender purchased a five-acre parcel of Cawston land in the Similkameen Valley in 2008, it was with a goal to grow small-batch, minimal-intervention wines that reflected their site. The parcel came with a slightly run-down, century-old house, and a mulberry tree.
This wasn't retirement folly—quite the opposite, in fact. The couple, and their two daughters, had outgrown their home in Peachland, so they sold their bakery (Okanagan Grocery Artisan Breads) in Kelowna, and turned their focus to making a modest living from wine. Anyone who has ever taken the same route understands the challenges of farming: it truly is blood, sweat, and tears.
Born in Canberra, Australia, Pender's first connection to wine came from working in a liquor store as a teenager. After university, he strapped on the requisite backpack and headed to Europe. Meanwhile, halfway around the world, a like-minded Driediger plotted a similar course. Born in Vancouver and raised in Kelowna, Driediger was no stranger to wine country, and she already had a robust appreciation for food. After meeting in London in 1996, the two spent a couple months in the South of France. Driediger immersed herself in a culinary course in Avignon, while Pender delved into studying language. It was a love formed by mutual interest.
Pender followed Driediger back to Canada and, over the next several years, they maintained their ambitions, hungrily educating themselves with professional culinary courses, food sciences, winemaking, and wine courses through the Wine and Spirit Education Trust. Together, they worked in hospitality for many Okanagan wineries and, for extra income, Driediger sold her artisan breads at local farmers' markets. The bread was a hit, which led them to opening the bakery. Simultaneously, Pender was consulting, teaching wine classes, and embarking upon his journey toward the highest wine knowledge designation, the Master of Wine. If not daunting enough, they were also raising daughters, Madeleine, born in 2004, and Elodie, born in 2007.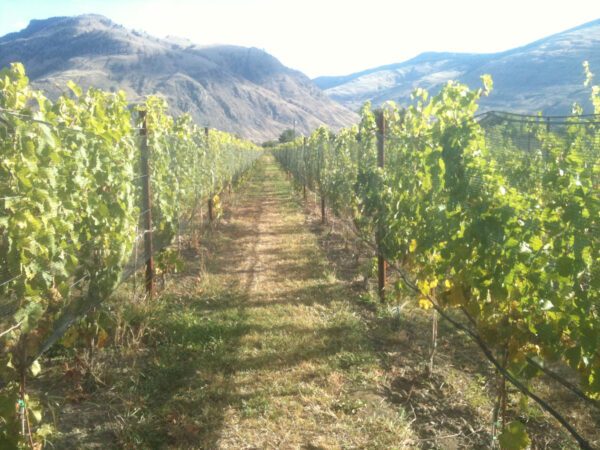 The property in Cawston was a windfall. Having recently visited the Similkameen Valley, west of Osoyoos, Pender was impressed with the arid landscape of the fruit-growing region. Land prices were more affordable than neighbouring Okanagan Valley, and the farmhouse, while somewhat dilapidated, offered sufficient room for a family. Most importantly, it provided them the opportunity to achieve their dream of making wine.
In 2009, four acres of chardonnay and riesling were planted. The varieties were chosen to show the best expression of the vineyard, its soils high in calcium carbonate (similar to Chablis and Champagne). The single mulberry tree lent its name to the vineyard, and the estate itself became known as Little Farm Winery—derived from the French term paysan, which means small farmer. The first winter was a harsh one, and Pender estimates 70 per cent of his vines died. However, they were slowly replanted over the next three years. The estate has been farmed organically since day one and is now certified through the Pacific Agricultural Certification Society. The first vintage, in 2011, was a meager but exhilarating 56 cases, and that number grew as the vines matured. Still, Pender underlines they will never be big—no more than a 1,000-case production. "We wanted to plant a vineyard and make wines which reflect their place," Pender stresses. "We always knew it was going to be geek wine, harvested earlier, lees stirred. We knew those [styles of] wines were never going to sell tons." Additionally, small production is sustainable when it is just him and his wife working the farm.
Truly, the wines are unique, boasting a distinct mineral character. It's no secret the couple has a passion for natural wines; they encourage biodiversity in the vineyard and keep the crop level low, which promotes intensity and varietal expression. By harvesting early, they are able to maintain higher acidity, and leaving the yeast lees in contact with the juice (stirring and aging them together) adds complexity and texture. Sometimes a little romance, and a little risk, is just the thing.
---