Many new things are in store for the future of the Vancouver Art Gallery, as we found out in our Winter 2020 feature with director Anthony Kiendl. But back in 2016, we explored the hidden collections underneath the gallery in this story and video from our archives. 
---
Tom Meighan walks around behind the lobby of the
Vancouver Art Gallery
, down a hallway, and taps his key card at a large white door. It beeps and unlocks, letting him through to a set of stairs that descend into the depths of the gallery's basement—the underbelly of what used to be a courthouse.
Through another set of doors, Meighan proceeds along a long hallway stuffed with wooden crates, footsteps echoing along the concrete. Soon, he reaches another door: beep. And so he enters the vault—the temperature-controlled room where all of the art not currently being exhibited at the gallery lives. Well, hardly all of it; the institution's collection has grown so big that it is currently employing three offsite storage locations. But this vault, the main shebang, is like a candy store for art fiends. Here, shelves and shelves of artworks are stacked next to crates both full and empty. Beyond, tall racks on stationary tracks hold hanging paintings, photographs, and prints—each one displays multiple artworks, and pulling any given trolley out from its resting place reveals gleeful surprises: a gilded frame; a watercolour; an oil painting; a familiar picture. Of course, it's not a surprise to those who work there.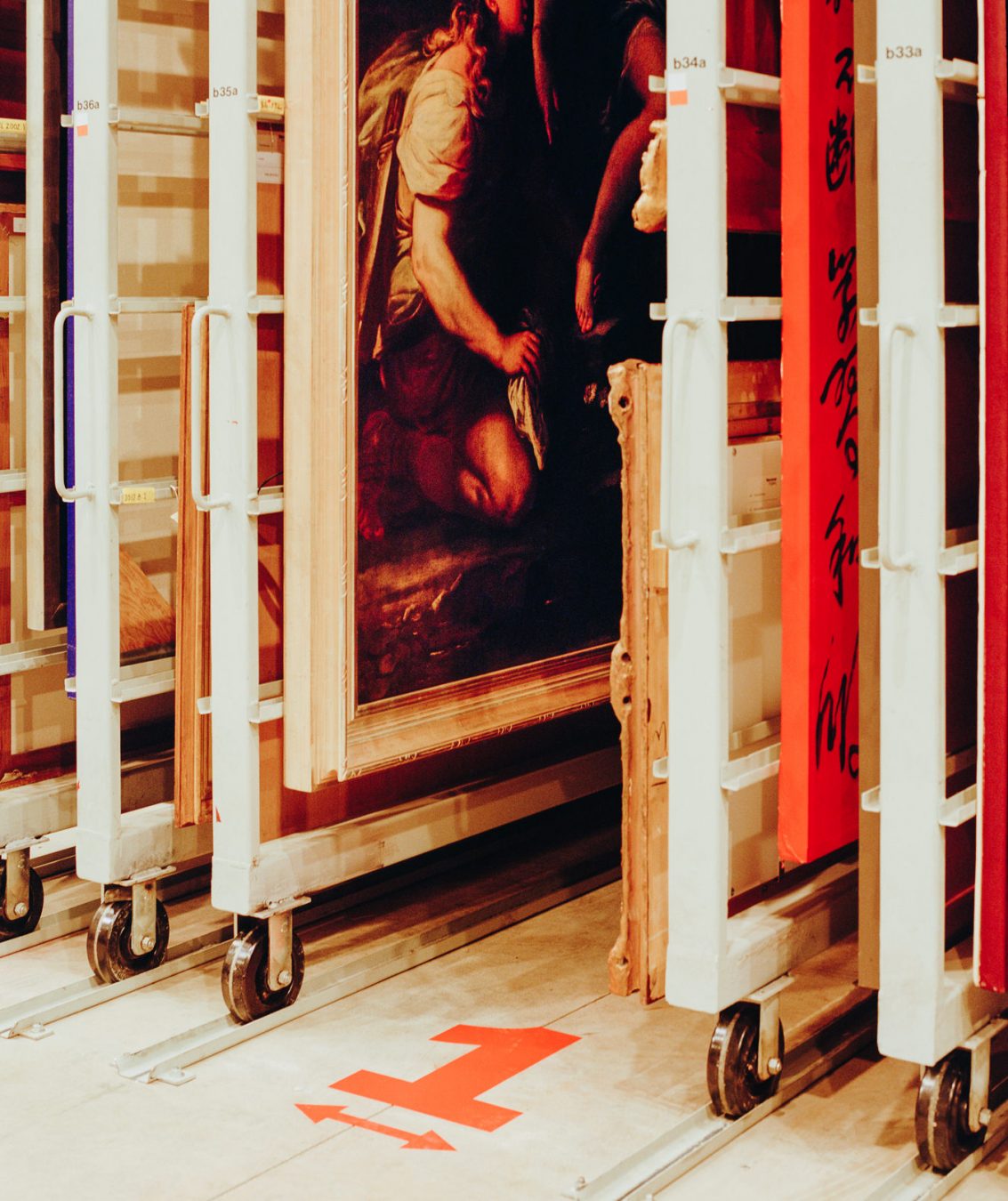 "The vault is there to protect the artwork first and foremost," Meighan explains. "If items are moved either to go on loan or to go into the gallery spaces, they're recorded. There's a very strict protocol in place that we have to record every time we move an artwork. And that's put into a database." Meighan is the gallery's associate director of operations and museum services, a fancy way of saying that he controls a lot of moving parts. There is the aforementioned vault, where a team handles every artwork that comes in and out of the gallery (both in the house collection and on loan for an exhibition); then there is an audio/visual department; the photography team; the rights and reproduction department; preparation; and conservation. There are also catalogues and artist archives stored in what used to be the holding jail cells for accused persons waiting trial—the dark, low-ceilinged catacombs are eerie and hot, just creepy enough to keep you from wandering too far (there are talks of a ghost named Charlie). Never recently open to the public except for a short spurt of private tours led by artist Geoffrey Farmer, the catacombs have become a subject of public intrigue, and their hallowed halls seem to go on endlessly into the darkness.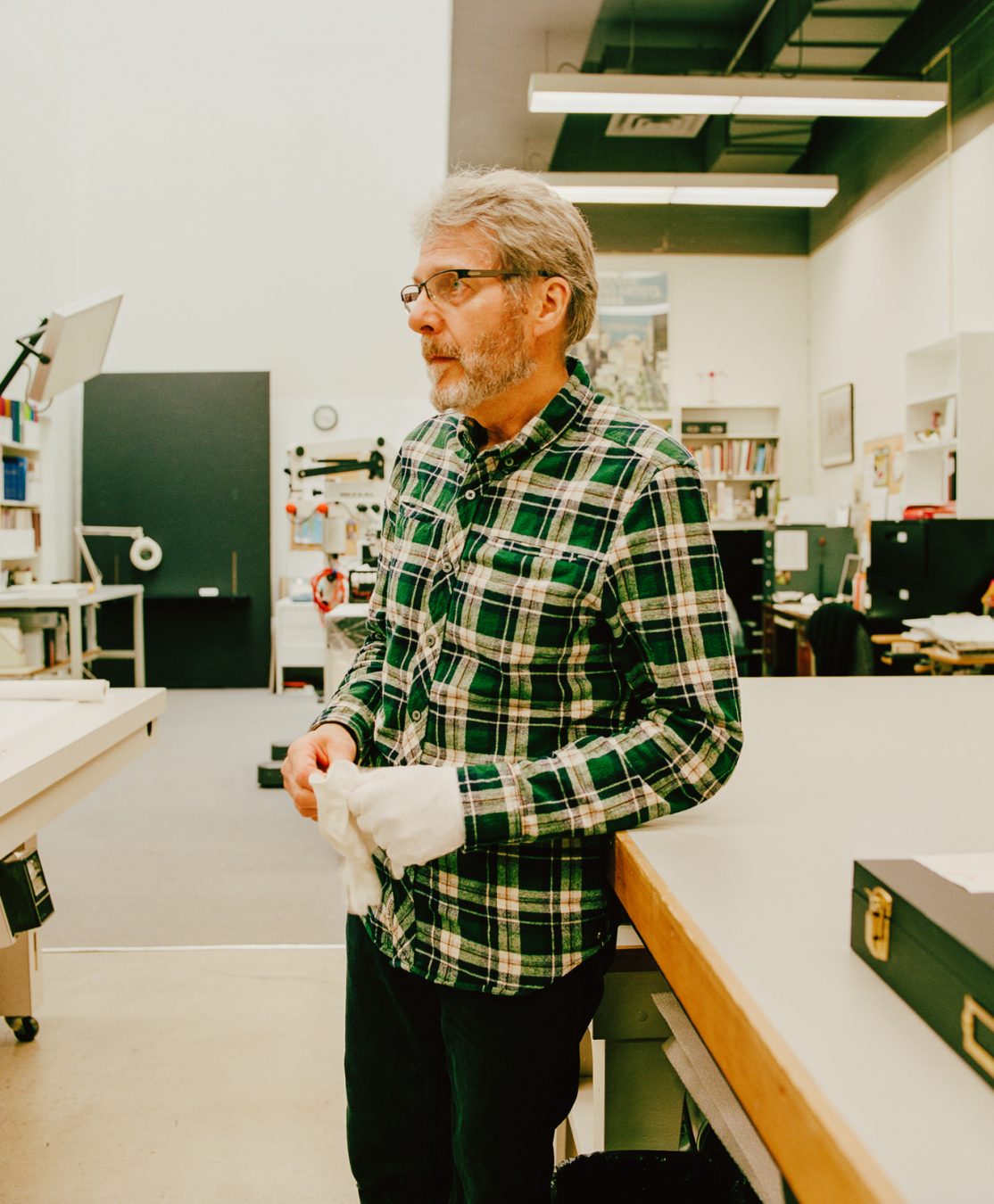 It all makes up the art gallery's museum services division, and each mini hive buzzes to life beneath the ground, directly below the exhibition space that visitors wander through each day. While you are picking out a book at the gift shop, someone underneath is carefully restoring a painting with a Q-tip. When you gasp with delight at the sight of Barbara Kruger's site-specific "Untitled (SmashUp)" in the foyer, someone below is photographing artworks for an exhibition program. And while you munch on that sandwich from the cafe, someone beneath is logging the movement of yet another painting. The hidden worker bees do this in a place that, historically, was not meant for art. What is now the exhibition space was built as the law courts in 1906, and the annex was added in 1914. Years later architect Arthur Erickson was enlisted to redesign it, and it opened in 1983 as the gallery it is today. But not for much longer. "We're living with the issues that they designed back in 1982 and 1983," Meighan says. "What we do here is brilliant, whether it's exhibitions or events, but as far as how we get there, we always have to find creative ways. We've outgrown it."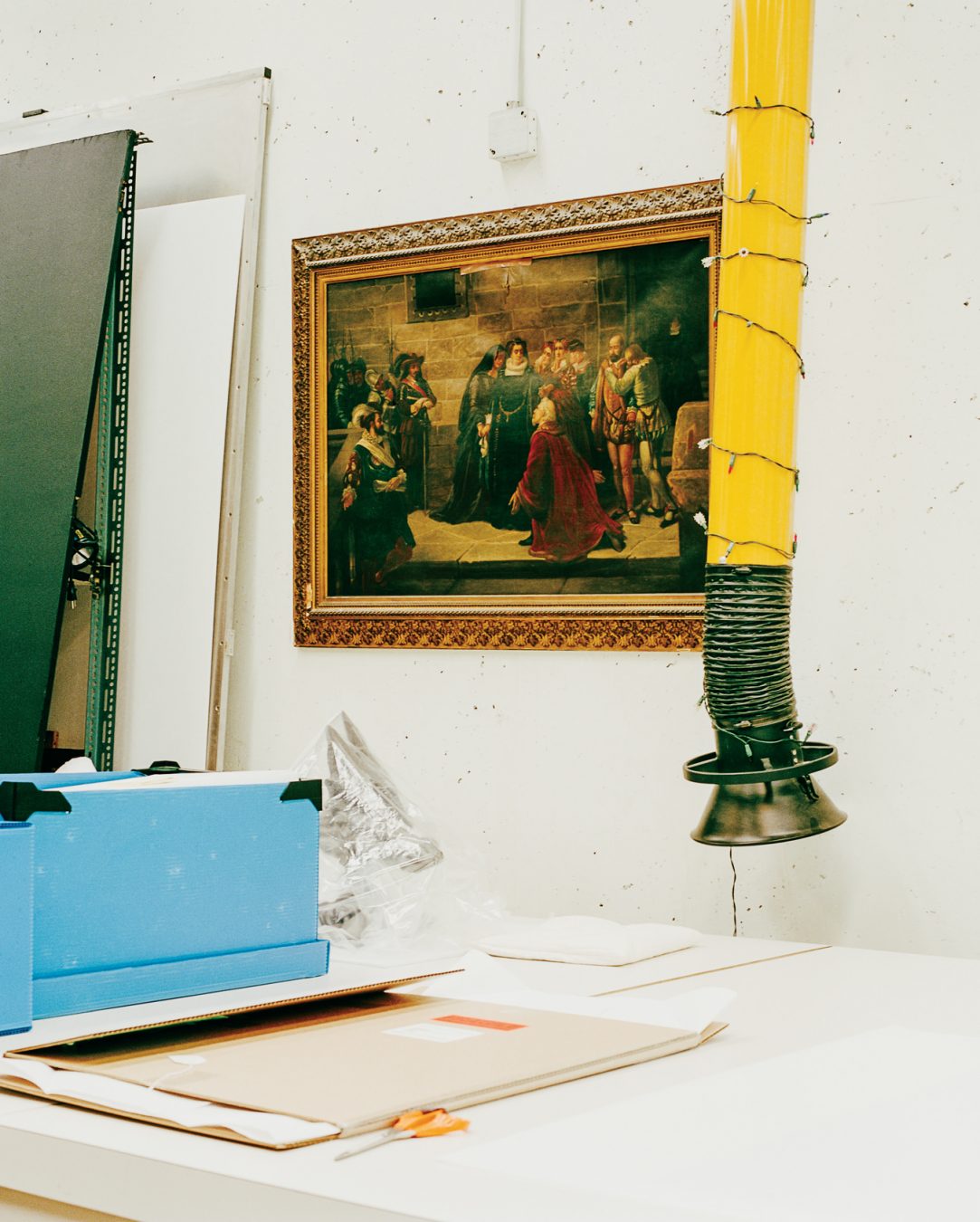 In September 2015, the gallery revealed its proposed plan for an entirely new, state-of-the-art, purpose-built space. Designed by famed Swiss architects Herzog & de Meuron, the projected wooden-exterior gallery would effectively double the exhibition space, taking it from 41,400 square-feet to over 80,000 square-feet. "The general message is that we show about three per cent of the collection, but we'd argue that might even be less," Meighan says. "That number changes the more works we bring in. Moving into the new building, we'll be able to show a lot more." About half of the new exhibition space will be dedicated to the gallery's permanent collection—most of which currently sits unviewed, underappreciated, below ground. The City of Vancouver donated the plot for the forthcoming gallery, which will sit at the corner of West Georgia and Cambie streets. "A new space will be lots of different gallery spaces, different heights, different sizes," says Meighan. The design renderings were met with mixed reactions from the public, with some wanting more both from the iconic architects and for the gallery now synonymous with those grand pillars and stairs—but the main issue that stands between the institution and its new home is the money. An estimated $350 million needs to be raised for its construction, and for that, Vancouver Art Gallery director Kathleen Bartels says they are "working extraordinarily hard" to make strides with both the public sector and government partners.
The new space will, they envision, become a gathering place for the city. "It's going to be like a mini convention centre—there's so much for people to be involved in and do," says Meighan. Aside from the massive extension of gallery and storage space, it will have a library, archives, publicly accessible resources, an open courtyard, outdoor exhibition space, a new store and cafe, and underground parking. "I think this is an opportunity to show not just Vancouverites, but the rest of world, the importance of art-making in British Columbia," says Bartels. Until then, the basement of the courthouse will continue to hum to life each morning, with a dedicated and highly trained staff weaving together the ins and outs of running a massive city gallery—you know, the stuff you forget goes into making the building tick on time for us each day. But beyond the present, it's about ensuring Vancouver continues to have a large and welcoming cultural institution. "When I started here 16 years ago, the only gallery I'd ever really been to was in Glasgow, which was the museum that had everything: you would see an historic artwork next to a suit of armour, next to a dinosaur," says Meighan. "That's what I grew up with. So when I was hired by the gallery, it was the first time I'd really been involved with contemporary art, and I didn't really know what to do with it. But I've come to learn a lot and appreciate it a lot differently. It's had a big impact on me." But the biggest impact has yet to be made.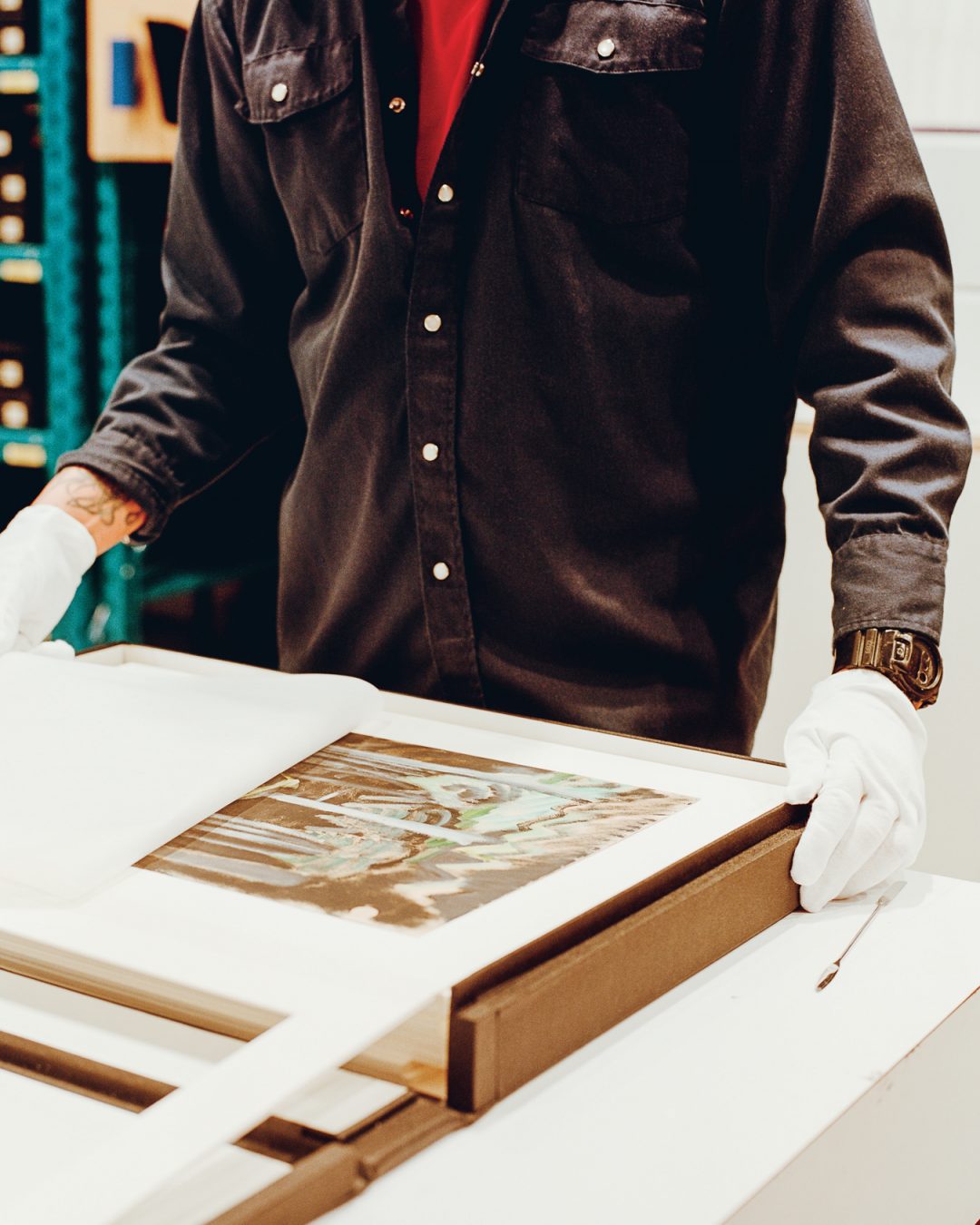 ---
This story from our archives was first published September 19, 2016. Read more from our Arts section.