Didier Guillon was browsing the First Nations art at Spirit Gallery in Horseshoe Bay when he came upon a piece that he knew he simply had to have.
Crafted by Merritt-based Métis/Cree artist James Michels, the piece is a bentwood box—as in, made of wood that has been steamed and bent to create the shape. In this particular case, the top and bottom are bent red cedar, and the middle is thick etched glass. It is titled Infinity Box, after the infinity symbol, which is prevalent in Métis heritage and represents the endless existence of a people and the coming together of two cultures.
Guillon fell in love with this Infinity Box and purchased it on the spot. But instead of taking it home to Switzerland with him, he had other plans for his new possession: it would become a permanent member of La Fondation Valmont Collection, starting with a display inside the new La Maison Valmont boutique at Oakridge Centre. "We need to acknowledge the First Nations people who live here," he says passionately, standing beside the box inside the shiny retail space. "I will leave it here as a tribute to the First Nations communities." Guillon is clearly passionate about getting to know the places in which he opens new La Maison Valmont locations; as the luxury skin care brand's president, it would be easy for him to push that task onto someone else. But instead, he travelled all the way to Vancouver to personally understand its communities and neighbourhoods, and readily references some of his inspiring discoveries, including local sneaker brand Six Hundred Four that commissions artists to design special paintings that adorn the shoes.
That notion of the intimate experience is central to La Maison Valmont's corporate ethos. The brand dates back to 1905, when it opened as a wellness and treatment clinic near Lake Geneva; it was not until the 1980s that it started producing its own cosmetics, but the products are now what La Maison Valmont is known for around the world. Brimming with the skin care secrets of the Swiss, the various collections—focusing on everything from energy to hydration—use an exclusive extraction process to harvest anti-aging macro-molecules. There is also an even higher-end line, l'Elixir des Glaciers, which is created using water collected from an ancient glacier, and plant extracts from the Valmont conservatory. No products have added fragrances, meaning the delicate scents of the actual ingredients can shine through.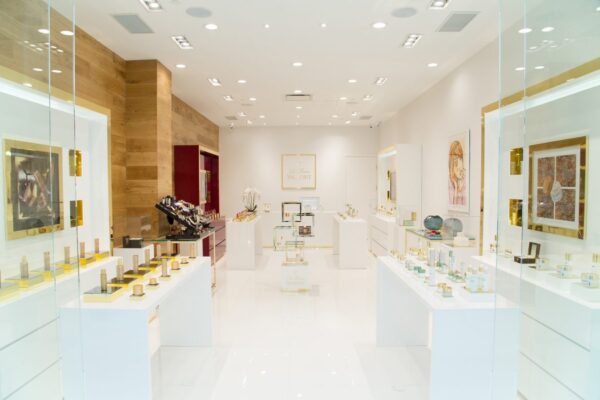 Vancouverites unsure of which lines or items are right for them can now simply wander into the pristine Oakridge store, which is covered in white, with accents of gold and warm wood. The brand has long been distributed via third-party retailers, such as Holt Renfrew in Vancouver, but has just recently begun expanding into its own brick-and-mortar international presence. The Vancouver outpost is only the fourth in the world, following Berlin, Hong Kong, and Tokyo. "People here have a lot of interest in skin care," says Valérie Garot, the brand's marketing director for North America. "We felt there was a market for our luxury product."
And that does not just mean anti-aging skin care to take home. Aside from the items themselves, La Maison Valmont is known for its unparalleled facials. Typically lasting an hour and a half, these treatments involve a proprietary butterfly movement technique in which the facialist uses only her hands—no machines. Two treatment rooms at the Oakridge location mean anyone can book a deliciously relaxing appointment for an array of signature rituals including Hydration: Source of Bisses, which helps diminish wrinkles and reinvigorate plumpness.
Beyond that, the craft Italian perfumery Il Profvmo is also under the Valmont umbrella, manufacturing unique blends that are truly enhanced when applied to the wearer's skin. And art, as indicated by Guillon's appreciation for the bentwood box, is an important pillar at Valmont. Every location hosts original pieces by the same artist on its walls, all selected by Guillon himself, thus creating a sort of international rotating exhibition. Germany's El Bocho was on show when the Vancouver store opened, his colourful image of a young girl staring out from one wall. And just to her right, atop a glass case filled with La Maison Valmont products, sits Infinity Box—an homage to Vancouver's original inhabitants, a piece truly unique to this city, and a celebration of a brand that sincerely defines beauty in so many ways.
---
Discover our Beauty archive.