The thunderstorm threatened, and the skies did open up briefly, but the ribbon-cutting ceremony, led by Mikimoto president Hitoshi Yoshida, at the company's splendid new 12-storey boutique in Tokyo's Ginza district, went off as planned. A battery of balloons sculpted to look like pearls strung on skin was released into the wild, invited guests slowly and very politely entered the new store (the lower six floors are all retail), and the new life of Mikimoto in Ginza 4-chome was underway.
The façade, designed by architect Hiroshi Naito, consists of 40,000 glass pieces, which refract and reflect natural light. It is an imposing site, unique and beautiful, with enough retail space inside to encompass a wide variety of client wishes and desires. It seems a very long way from 1893, when Kokichi Mikimoto first perfected the process of making cultured pearls in semi-spherical form; he achieved fully-spherical pearls by 1905. The brand's founder was also a master of marketing from the earliest days, his creations making great impressions at such venues as the 1926 and 1939 World's Fairs. So, this magnificent new store is completely in keeping with his original vision for the company, his self-driven desire to bedeck in pearls women from around the world. Once the cultivated pearl process was set, Mikimoto sent his head designers to Europe to study Western jewellery and augment their already prodigious understanding of Japanese design. The company then became the leading pearl jewellery designer in the world, and has steadily maintained that position to this day.
"Regardless of the format or the event, we are always clearly Mikimoto," says Tadaaki Koizumi, the brand's manager of public relations and advertising. "Our materials are globalized, so it becomes a matter of emphasis, sometimes towards social media, sometimes towards more traditional marketing, but brand consistency is vital." Mikimoto began life as a pearl house, and that remains the foundation, but, as Koizumi explains, "with jewellery design, and haute jewellery, we have not been sitting still. The brand evolves. We take into account also other forms of luxury, and keep fully informed about what is happening in fashion, beauty, travel." He smiles and adds, "Stay informed or fall behind. We are careful, but not conservative."
Mikimoto's house overlooks the Mikimoto Pearl Farm in Ago Bay (it was relocated there in 1949). The bay sits a six-hour train ride from Tokyo, and remains the main source for the house's pearls. These precious spheres are cultivated using the age-old process of inserting a tiny foreign object, by way of a miniscule opening, into the oyster. Cultured pearls rely on an oyster's natural reaction to any irritant that finds its way inside the shell; Mikimoto uses pig-toe clam shells sourced from the Mississippi River. This insertion causes an annoyance for the oyster, which then begins covering the irritant in nacre. This is what a cultured pearl actually is—the nacreous layers, coating over the pig-toe shell.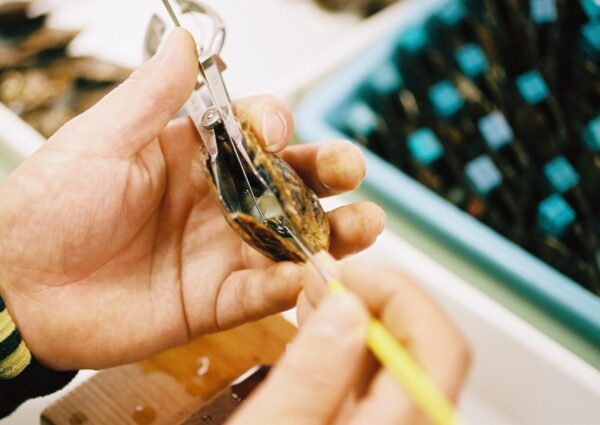 Individual oysters are placed in pouches on platformed cages and allowed to rest below the ocean's surface for two years, after which they are resurrected to the top and the pearls are taken out of the shells. The oysters are harvested each May; similar to a vineyard, the quality, and most importantly the size, of the individual pearls vary from harvest to harvest. Each yield is calibrated and evaluated, and this information is eventually passed on to the Mikimoto design team. The evaluation takes into account five factors: lustre, shape, surface perfection, colour, and size. Some colours are exceedingly rare, and of course those pearls have much higher value.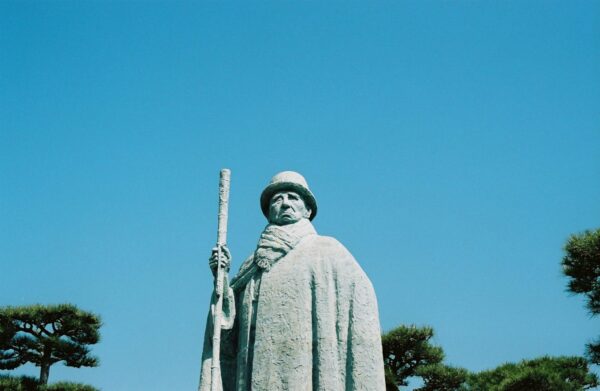 Sumiko Matsubara is a senior designer at the company, and she explains the process from there. First, the executive director, the design chief, and the art direction chief announce, for both spring and autumn, a specific concept or theme. Then, as Matsubara explains, "Our group of just over 20 designers are given the theme, and split into small teams. They all do dozens and dozens of sketches, all of which are evaluated." Crucial to this process is that "each harvest is unique, so availability of pearls for specific designs must be taken into account. We cannot create a piece unless the right millimetre pearl is actually available." Roughly one in 30 sketches makes the final list for production. But Matsubara is also responsible for the extensive Mikimoto bespoke program. In Japan alone, she says, "we do over 500 events a year, of various sizes, but always with a one-on-one option, so clients can speak directly with one of our designers." Customers generally know what they want, but most often ask for recommendations to optimize their desired outcome.
There really is no such thing as mass production at Mikimoto.
Everything, right down to the stud backings for earrings and the bracelet clasps, is made in-house, so quality control is absolute. Each component of a piece of jewellery has the Mikimoto stamp on it, even if it is microscopic in size. Artisans use the approved designs, and painstakingly assemble individual pieces. It is quite a sight, to see several large and multi-coloured pearls laid out in a display box, while an artisan prepares the necklace and brooch combination that will ultimately hold those pearls. The tools used often resemble a surgeon's, all fine points and delicate clamps.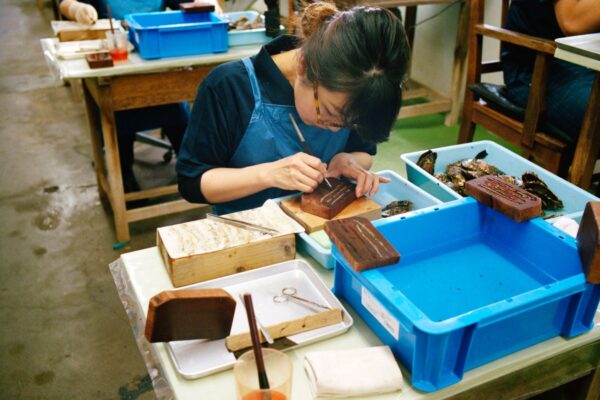 There really is no such thing as mass production at Mikimoto. Each piece, whether it is one-of-a-kind or destined for retail boutiques across the globe, gets the same minute attention to detail. Wandering quietly through the new Tokyo store, it is impossible not to be impressed with the wide variety of beautiful jewellery, and the astounding amount of pearl necklaces, brooches, and bracelets of all description. It is easy to remember what Matsubara had to say, when asked which words she would use to best describe the Mikimoto style and culture. She really did not hesitate: "I was sculpted in the Mikimoto way a long time ago, since I have been here for 30 years. Our craftspeople also fully know the style: gentle; beautiful; elegant. And most of all, balance." Looking at piece after piece, from the approachable bridal items, to the necklaces, to the haute jewellery displays, it is not difficult to know exactly what she means.
---
Read more about jewellery.