There's something deliciously unrecognizable in the gin. Of the nine aromatics, our table names five: juniper, coriander, lemon peel, cinnamon, and a hint of licorice. But there are four left, with one in particular that no one can place.
"Spruce tips," says Taylor Larson proudly. "We hand-pick them for our gin."
We're a little perplexed, as Larson couldn't have simply foraged a few spruce tips for one or two bottles. She is the assistant distiller for Park Distillery in Banff National Park, Alberta. The distillery produces 25,000 bottles of spirits per year.
Larson explains that spruce trees form new needles every year. There's a small window, about three weeks each March, during which she and a troupe of fellow staff members venture into the forest outside of the park boundaries and pluck enough of the soft lime green buds to make a year's worth of gin. "They're almost citrusy at that stage," she says, and they give a wonderful taste of place.
Park Distillery is not alone in this hyperlocal production philosophy. The farm-to-fork, sea-to-table mindset is one chefs, brewers, growers, and food purveyors across Canada have adopted because, in part, it celebrates our very own Canadian cuisine.
But what is that exactly? Is it as simple as lobster in the East, salmon in the West, bannock in the North? How do we account for the great mélange of cultures that have settled here for hundreds of years? The French in the 1600s. The Ukrainians in the 1800s. And where do First Nations traditions come into play? Our country is so vast, so diverse.
One thing is constant, though: we crave a certain terroir.
No Canadian destination better exemplifies this than Banff National Park. Over four million visitors entered the grounds in 2017 alone; they come for the epic landscape, the quintessential mountain towns, the roaming wildlife. And, increasingly, visitors have an appetite for the native fauna and flora. "It's about connection," explains JW Foster, executive chef at the Fairmont Banff Springs Hotel. "Whether it be through bison or wild boar or wild berries, people get a connection through food, and then a real sense they've experienced what the Rocky Mountains are all about."
At 1888 Chop House, one of the 12 restaurants Foster runs at the Fairmont, the menu is focused on prime cuts of Alberta beef and sustainably sourced wild game raised from local farmers and ranchers. He is proud to support people such as third-generation farmers and brothers Douglas and Michael Munton, who run Benchmark Angus, where chef gets a lot of his high-quality beef. "We have a huge responsibility to people like them. They're doing it for the love more than anything," Foster says to me. "And the taste reflects their passion."
Three Ravens Restaurant and Wine Bar is another local culinary standout, located on Treaty 7 Territory at the Banff Centre for Arts and Creativity. The campus is known for pushing boundaries, and that's exactly the kind of thinking that drives executive chef Sébastien Tessier's all-Canadian menu. His pork belly, for one thing, is a tender cut sourced from a small pig farm in Irricana, Alberta and served with twice-cooked rabbit leg and a mead glaze from Fallen Timber.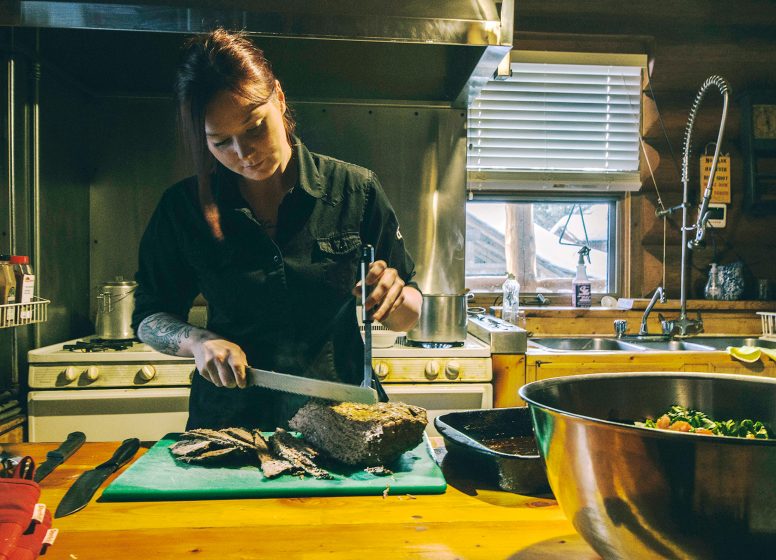 Or there is The Bison Restaurant and Terrace, where the surprises begin as soon as the menu is placed in my hands. It notes that the cuisine is regional, seasonal, and Canadian, but also shows on a map exactly where the food is sourced. I see that the grass-fed, naturally raised bison is from Springbank, a ranch in nearby Lethbridge, which is run by Claude Bauvery and his family; the restaurant's bread is sourced from Vulcan's Grainworks, which proudly touts its legumes and custom-milled flours as being "snail certified"; milk, eggs, oils, and much of the restaurant's produce is obtained from Galimax Trading, a collective of organic Alberta-based growers.
Also keeping things local are Pat and Connie O'Connor, who run two hotels (with a third in nearby Yoho National Park). To meet the growing demand for Rocky Mountain cuisine, they use their family land—which consists of 600 acres of sweeping foothills—to create the Canadian Rocky Mountain Ranch, where they raise hormone- and antibiotic-free game.
At Sundance Lodge, which is a trek into the park's backcountry, one young, salt-of-the-earth chef named Skye Jackson is cooking up Sunday-style dinners that many Canadians would consider classics in their own households. She makes no apologies for the larger-than-life portions, which diners will likely devour. "I just love cooking, and making people smile," says Jackson. "Especially up here in the mountains."
A bricolage of sweet and sour berries flourish in this topography, such as bearberry (also known as kinnikinnick), black huckleberry, bunchberry, and cloudberry. In the peak of summer, these lesser-known ingredients give a lightness to traditionally heavier dishes. In the winter months, find them in rich sauces and chutneys. It's a landscape made of clichés, "home to imposing 3,000-metre peaks, alpine meadows rich with colourful wildflowers, brilliant blue glacier-fed lakes," as Parks Canada boasts on its website. This is the terroir that feeds the brewers and distillers here, too.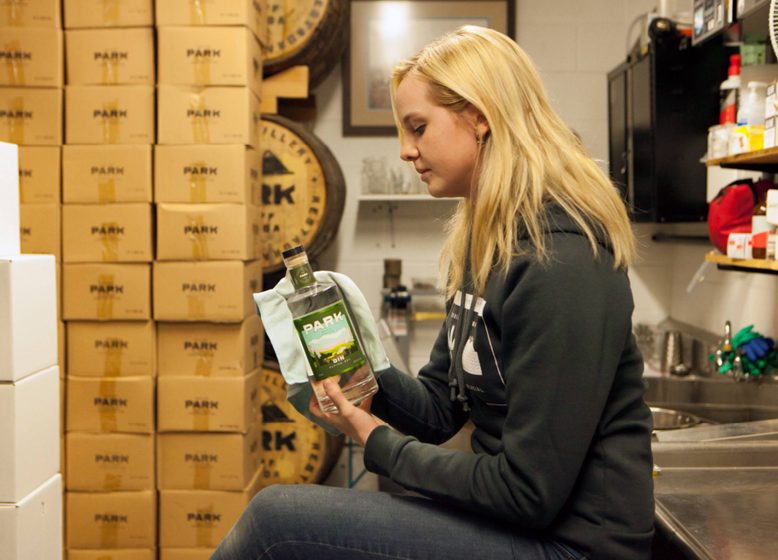 Beer culture may be rampant across our great country, but there's something different about a pint from Banff Ave. Brewing Co. Along with choice barley, hops, and their own strain of yeast, brewmasters here use pure glacial water in their beers, and leave all the minerals that go with it intact. The IPA, for example, has that desired hoppy punch, but it's also incredibly balanced.
Park Distillery (where our table has yet to guess the three last aromatics in that outstanding gin with the foraged spruce tips) uses water from six glaciers in the Canadian Rockies to create its rye, vodka, and of course, the aforementioned gin. "Orange peel, orris root, angelica," Larson kindly tells us, revealing the spirit's final secret ingredients. Enticing and beautiful, they tell a story of our home and native land.
---
Still hungry?