The question has plagued hungry urbanites since the dawn of white tablecloths: "Where should we go for dinner?" Old standbys are great—the predictably delicious—but in a city like Vancouver, with a dining scene bursting with new, exciting, and unique restaurants, it's a question that deserves a bit of attentive research. Four culinary stars—AnnaLena, Ancora, Kissa Tanto, and Savio Volpe—are serving up more than just tempting fare, but also expert service and ambience. These places eschew trends and hype, instead offering insightful, intriguing, and delectable musings on dinner.
Michael Robbins's restaurant couldn't be mistaken for anyone else's. Tucked onto a quiet Kitsilano street just off Burrard, AnnaLena, which opened in 2015, reveals a sort of split personality: a skater boy on the streets and an artist on the plate. Having designed the place himself, Robbins offers a tongue-in-cheek take on restaurant decor: a Michael Jordan action figure and Ronald McDonald-inspired trinkets dot the room around diners, as fresh Northwest oysters finished with fluffy shaved frozen foie gras are served. There's plenty of fun to be had with the menu, too—a dinner of buttermilk fried chicken with cranberry jelly and mustard seeds can be finished with that same crispy chicken skin for dessert, this time coated in chocolate. The wine list is expertly led by general manager Jeff Parr, who offers enticing options such as a Tantalus Rosé to start, followed by a stunning Jean Foillard Morgon Côte du Py from France—light enough to pair with delicate steelhead trout dressed elegantly with dill. Skate culture has never been so refined.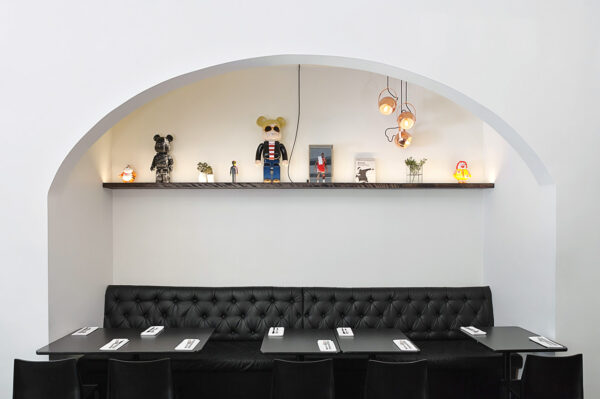 AnnaLena. Photo by Allison Kuhl.
In another study of seemingly unlikely combinations, Ancora brings together the cuisine of two cultures, these ones oceans apart. Blending Peruvian and Japanese styles and flavours, the restaurant opened in 2015 on the waterfront of Howe Street. The combination makes not only historical but also gastronomical sense, as raw food chef Yoshihiro Tabo (formerly and famously of Blue Water Cafe) sends out an icy plate of fresh, citrusy ceviche along with tuna mixed with edamame and scooped up with deep-fried nori. The cold dishes—oysters on the half shell, salmon sashimi—are slurped up along with an authentic pisco sour mixed by bar manager Philipp Karatsyupa. Executive chef Ricardo Valverde picks up next with a sumptuous scallop dish with crispy pork belly and a pisco-parmesan foam that floats ethereally. Sablefish dances between the cultures, draped with emerald-green wakame chimichurri—a perfect harmony between two disparate nations in a single bite.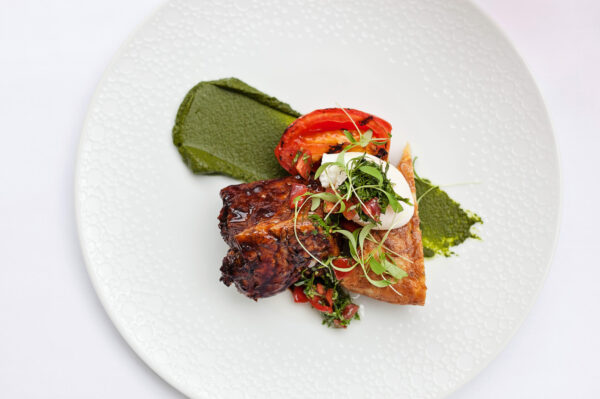 Ancora. Photo by Allison Kuhl.
A similar theme of mixing culinary backgrounds is picked up at
Chinatown
's Kissa Tanto, the second restaurant from modern Chinese brasserie Bao Bei owner Tannis Ling (Ling co-owns her second spot with chef Joël Watanabe and sous chef Alain Chow). Here, Japan meets Italy—an historically unprecedented arrangement with tantalizing results. As at Bao Bei, the decor at Kissa Tanto shines bright. Designed by Craig Stanghetta's Ste Marie (Bao Bei, Ask for Luigi), the interior is reminiscent of a sleek Tokyo jazz club—rendered in plush violet touches and blushing pink booths. Equally fetching is a starter salad of beets and house-made stracciatella accented with pale artichokes.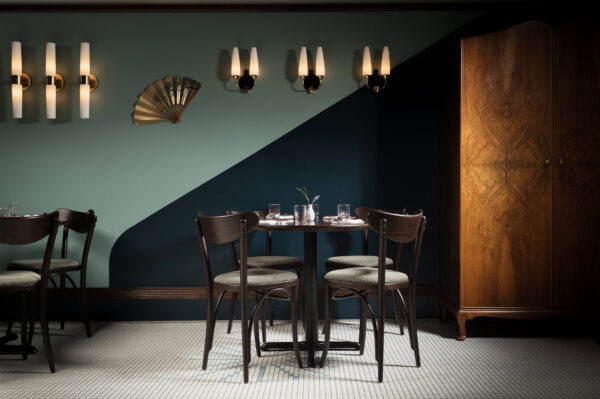 Kissa Tanto. Photo by Knauf and Brown. 
In respect to its speakeasy surroundings, the bar at Kissa Tanto is top-notch, with inventive but straightforward selections such as the My Private Tokyo with amaretto and umeshu plum liqueur relished together with a plum sea salt rim. The restaurant, which opened in the spring of 2016, already has a signature dish securely in rotation: the flash-fried whole fish, scored in bite-sized squares to be picked apart eagerly and dunked into a soy and daikon sauce.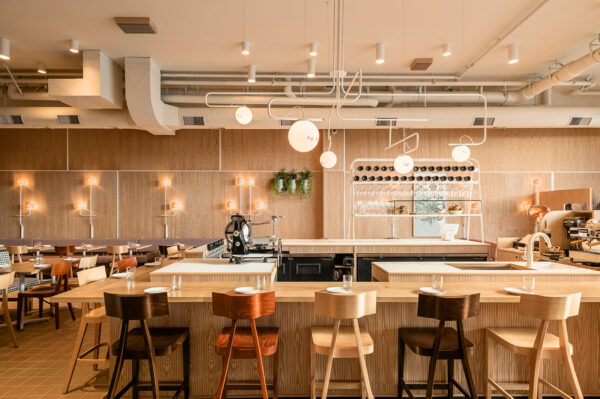 Savio Volpe. Photo by Knauf and Brown. 
A quest for the traditional resumes near the corner of Fraser and Kingsway, where Savio Volpe dives into a delicious journey through "family-style" Italian. This iteration has a little bit to do with the Italian-American version, such as the meatballs in neck bone gravy that can be enjoyed with nostalgic garlic bread wrapped in tinfoil and doused in butter, garlic, and parsley. More authentic versions of Italian food abound, as well—daily fresh-made pastas, the special at one recent dinner being a tender ricotta and bitter greens ravioli with browned butter and crispy fried sage. Partners Craig Stanghetta (the aforementioned interior designer, who also designed this space), Paul Grunberg (co-owner of L'Abattoir), and Mark Perrier (former sous chef at
West Restaurant
 and executive chef at
CinCin
) have established an atmosphere of friendly warmth—important in a part of the city where you're more likely to be seated next to a neighbour than a stranger. In that way, hefty shared dishes are where the restaurant shines. Suckling pig roasted on a spit and brightened with salsa verde is offered regularly on the menu, along with steak and veal chops. It's the ideal place to cozy up with a friend, or four, perhaps at a regular time and day each week. There's bound to be something new worth trying—today and every day.
---
Dig in. Read more Food and Drink stories.