On an industrial road in North Vancouver, up a small flight of carpeted stairs, E.C. Rare Books is an unassuming treasure trove of some of literary history's greatest works of art. Published writings from Aristotle dating from the 1400s and first editions from D. H. Lawrence and Arthur Rackham line the shelves of the bookstore and bindery (known as the Old English Bindery) run by third-generation antique book restorer Richard Smart and his partner Emilie Crewe.
Working in Vancouver as a restorer for nearly 20 years, Smart moved into the book-selling business three years ago with the help of Crewe, who has a background in fine art. "What Richard does, there's only really a handful of people in the world that are at his level," Crewe explains. "So, coming across something at auction that was damaged, others will have to think about how much it will cost to repair, but Richard, he has the skills."
The shelves in the shop are filled with the work of famed authors and illustrators. "Women in Love by D. H. Lawrence, this is one of only 50 copies," Smart says, showing the creamy brown leather cover and fine gold embossing. "First printing, first issue, and signed by D. H. Lawrence, so it's not the kind of thing that you can readily find anywhere."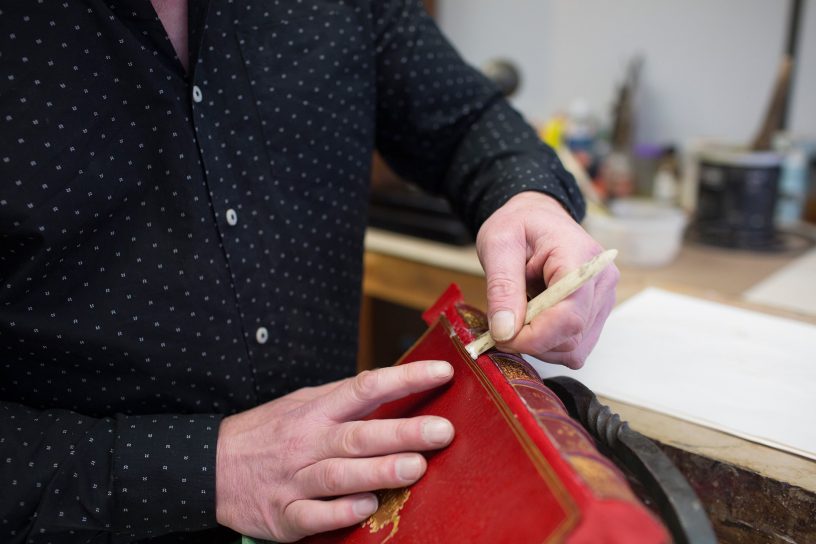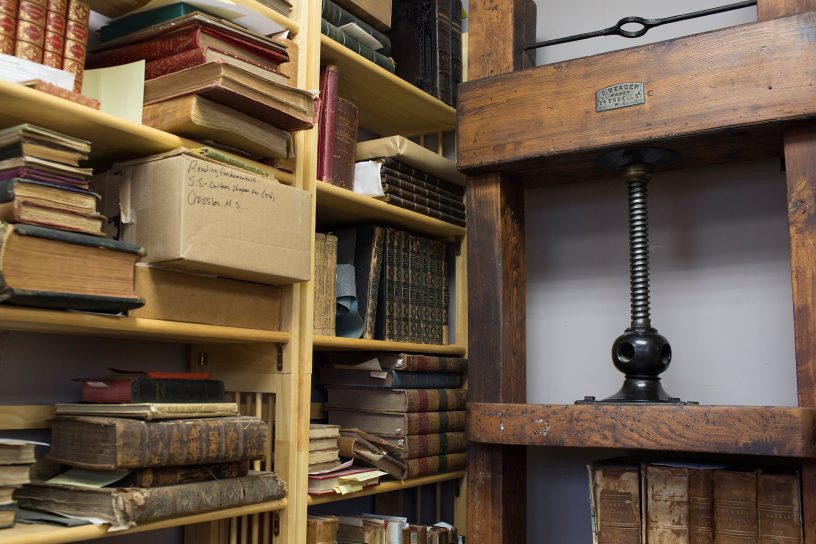 With a collection purchased at auctions and through Smart's intimate network of dealers, E.C. Rare Books specializes in not just the finest antiquities (such as a set by illustrator Arthur Rackham, and several books purchased from the library of Sylvester Stallone), but the rare oddities as well.
Smart moves over to a cluttered workbench, pulling out a piece recently brought in for restoration. "Signed by Thomas Edison, which means he's had this book in his hands," Smart says, pointing to the inventor's signature. The book is nothing more than a photo album of picnics, attended by the masters of the Industrial Revolution like Henry Ford and Harvey S. Firestone—yet seeing Edison's handwriting, outside of a museum and in your hands, is electrifying.
Smart's affinity for his craft is tightly bound to the provenance of the pieces he works on. "It's not necessarily the book, but it's what the book has been through, who has had it," he explains. From Aristotle's writings from the 1400s to a textbook signed by Fletcher Christian during the mutiny on the Bounty—every page holds a debt to its history.
Smart, too, feels he owes something to the books he repairs. "We purchased this Anne Frank [diary] from the Netherlands and we managed to have it placed in the Holocaust centre here," he says, referring to a first-edition printing of the world-famous book (of which there were only 1,500 made). "So, that's just another leg to its journey of teaching people." Passed down from person to person, the canon of literature is no accident; these books are present because of the craftsmen, like Smart, who have cared for them through the ages.
---
Read more from your Community.