When a young Glen Viberg wanted a hockey puck to play with, he would simply make himself one.
He would find a rubber heel in his father's boot factory in Prince George, British Columbia, and use the sanding machine to shape it into an imperfect circle. It was a clever solution to a classic Canadian conundrum: losing pucks in the snowbanks surrounding outdoor rinks. Viberg's parents couldn't keep buying him pucks—money was tight as they were building their business, Viberg Boot—so he had to manufacture his own steady supply.
Today, about 60 years later, Viberg is still shaping heels with a sanding machine—but now they're firmly attached to boots that were originally designed by his father. And now he's also fulfilling a different kind of demand: one for handcrafted, heritage footwear. "A lot goes into making a pair of shoes or boots," he says above the whirl of the machine as he carefully bevels the edge of a boot heel like he's sharpening a knife.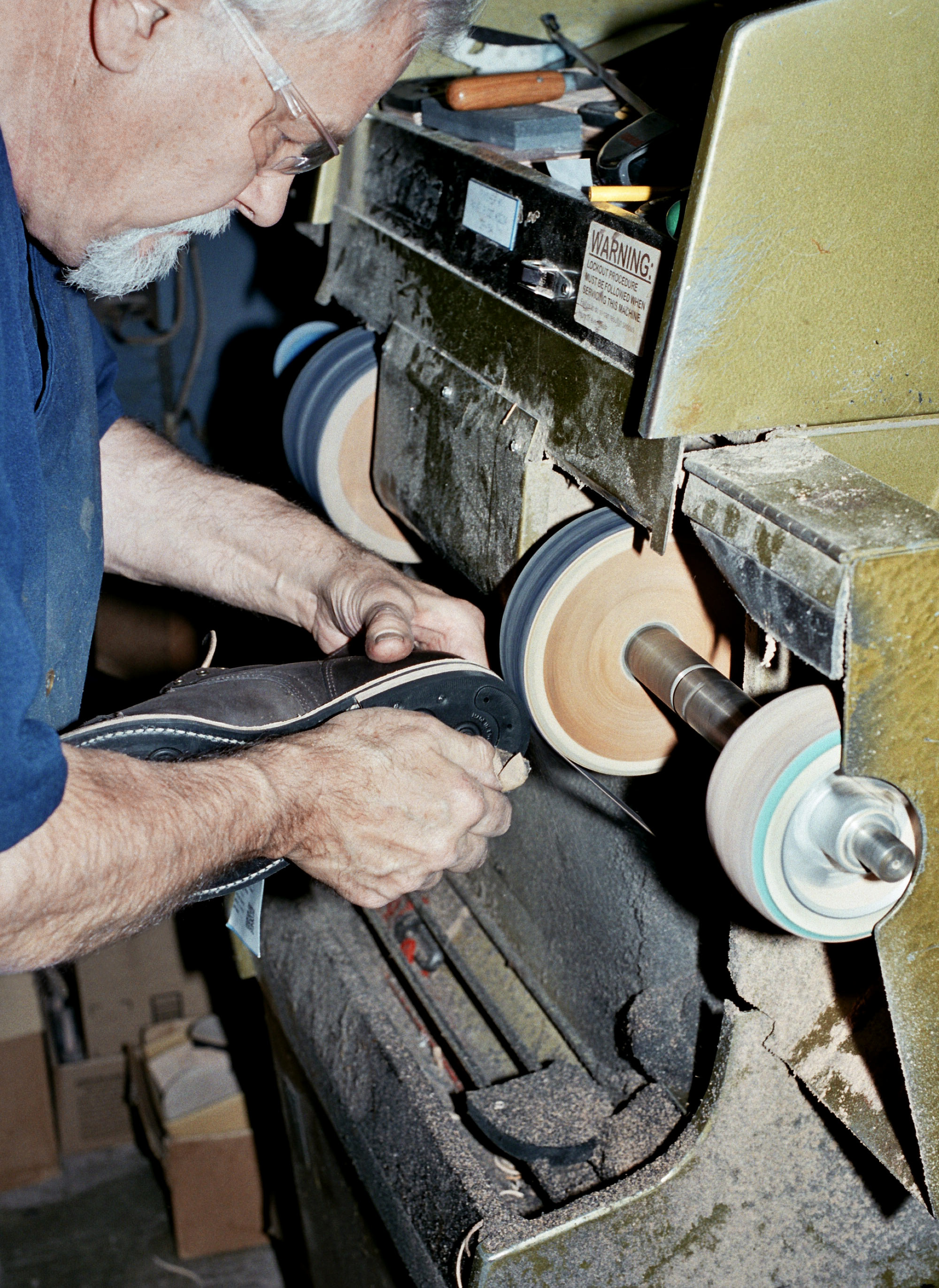 Indeed, in the factory in Victoria (where the company is now based), every piece of footwear goes through about 200 steps, and some 30 craftspeople are at work cutting, sewing, lasting, bottoming, sanding, and finishing, using a combination of modern and traditional techniques. From the original boot to the only sneaker entirely made in Canada, about 30 different styles of footwear are created here with the best components in the world, including shell cordovan (premium equine leather) from Chicago, natural rubber made with tree sap from a small village in France, and custom linen laces from Italy.
Wearing a monogrammed blue smock and jeans, Viberg is on the floor daily, and his hands touch every piece of footwear that leaves the building. "Every boot's got my name on it, so it means a lot to me," he says. "It's my father's legacy."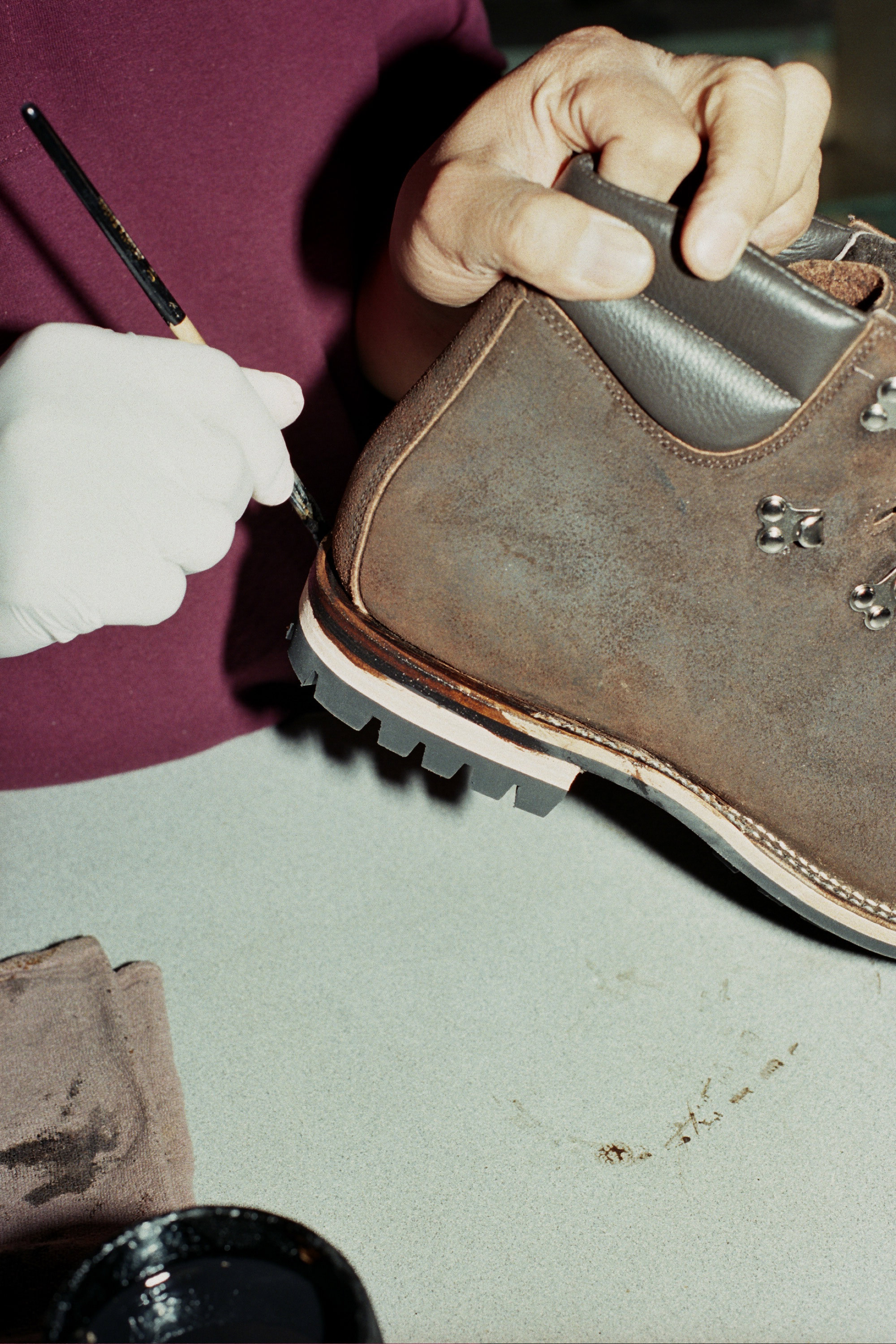 Edwin Viberg, a Swedish immigrant, started the company in Saskatchewan in 1931, making an honest, reliable work boot for folks in the farming industry. The Service Boot is still made today and is the company's most popular model. When logging boomed in B.C., the Vibergs followed the business to Prince George, the epicentre of the industry. Viberg recalls joining his dad as he drove around to sawmills in a Volkswagen station wagon stuffed with boots. The footwear soon became a must-have.
The family later moved to Victoria, and Viberg took over from his father in 1989, after working for him for years. "He taught me to be meticulous, and if something doesn't look right, don't pass it on," he says. "That's the way I've been with everything that passes through my hands."
This uncompromising approach to quality caught the attention of Japanese retailer Nepenthes in 2003, and Viberg worked with the company on a custom boot. At the time, the Japanese were hungry for traditional North American products, and the collaboration was a hit. Within months, about a dozen other Japanese companies approached Viberg, and he soon found himself signing shoeboxes in a boutique in Tokyo like a bestselling author. "I thought it was kind of ridiculous," he recalls, "until the guy that owned the store said that some people were selling the empty boxes on eBay for $50."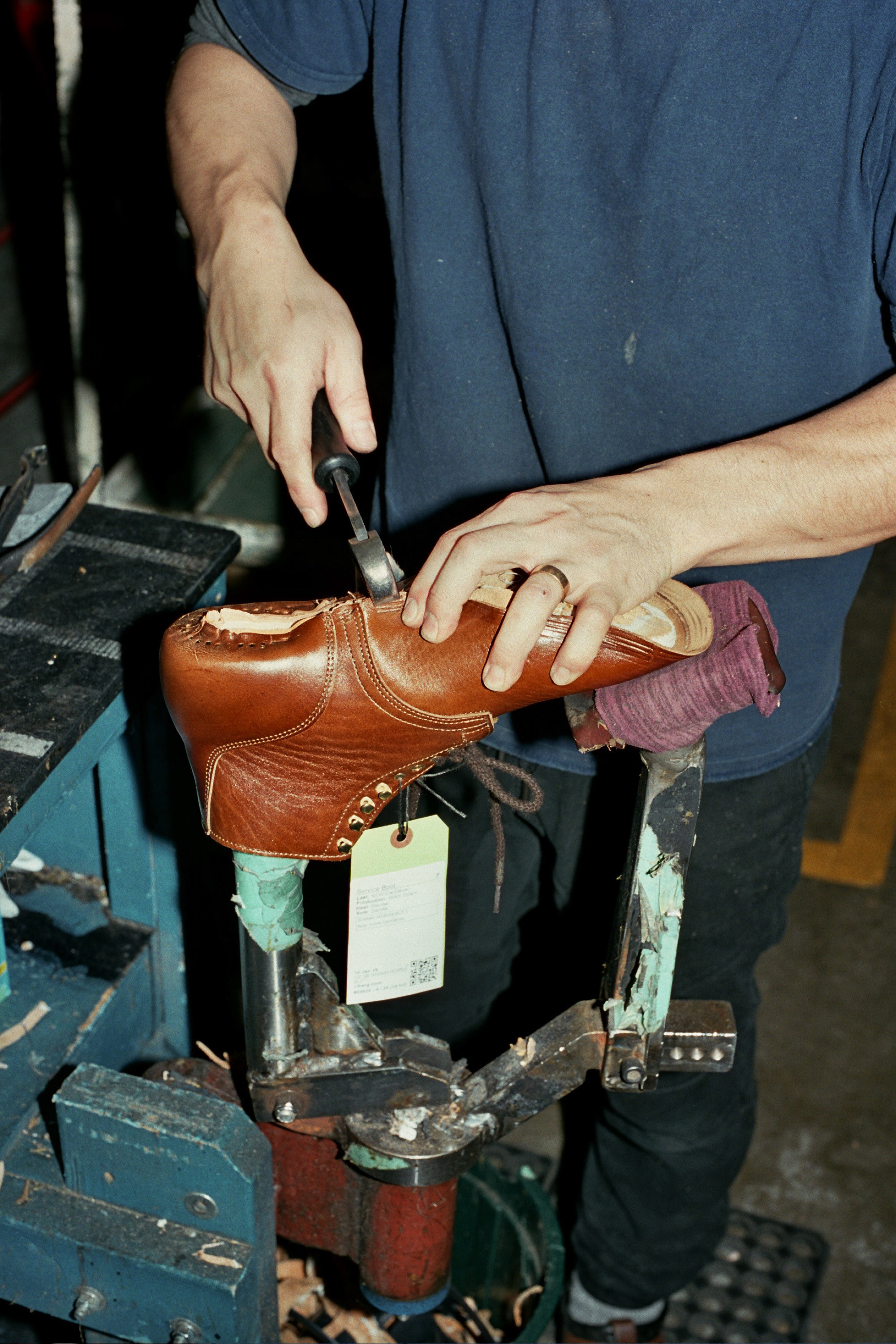 Viberg's son Brett, creative director of the company, stickhandled the international expansion, which saw the brand get strong footing in Asia and Europe and shift its focus from industry to lifestyle. The shoes have since been on runways and are carried in boutiques around the world; Viberg Boot has also collaborated with the likes of Nike, Ralph Lauren, and British designer Nigel Cabourn. In the past five years, its production has more than doubled, and now its offerings are expanding into women's footwear.
The future of the company is exciting, but Viberg gets a bigger thrill from the stories of the past. Victoria native and former NHL player Geoff Courtnall is a loyal customer, and the first time he came in, he shared with Viberg his memories of visiting the factory when he was preschooler, watching Viberg's dad measure his own father for a pair of custom logging boots. Courtnall later bought his son a pair. "That's three generations in Viberg boots," Viberg says. From misshapen hockey pucks to handcrafted shoes, the best products tell the stories of their makers—and Viberg footwear does so with tradition, charm, and panache.
---
Discover what's new in Style.