The bus ride from Hotel Balneario Las Arenas to the Ricardo Tormo Formula One race track in Valencia, Spain takes about 45 minutes. If you were to return to the hotel, unfettered by traffic, driving the Lamborghini Aventador S Coupé, make that 10 minutes. Maybe less. Driving this car gives an entirely different meaning to the phrase "rush hour."
The worldwide Dynamic Launch of this Italian supercar, of which only 3,500 were manufactured at the company's Sant'Agata Bolognese factory, featured laps around the race track to show what it can do: go from zero to 100 kilometres per hour in 2.9 seconds, with a top speed of 350 kilometres per hour. That is due to an awe-inspiring V12 engine that generates 740 horsepower. Head designer Mitja Borkert references the legendary designer Marcello Gandini: "For me, a car begins with easy, smooth lines. With Gandini in mind, we made this car low, wide, with diagonal lines." Borkert says later, over an espresso, that he used "a rocket and a venomous snake" as visual models for the car, and you can see these influences easily.
Maurizio Reggiani, head of research and development, goes into great detail about the totally new aerodynamics on the Aventador S Coupé, boasting a full 50 per cent more efficient downforce for the car, greatly aiding its traction and stability. The S Coupé model is basically a reinvention of the Aventador. The new car has 4-wheel drive, but also 4-wheel steering, four driving modes, and a completely new magneto-rheological suspension, fully integrated with the steering. There are newly designed tires, too—a partnership with Pirelli, called the P Zero.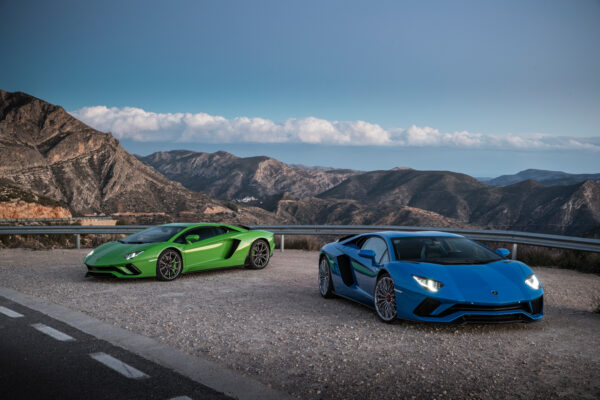 A nice drive through city streets is one thing. The Tormo track is another beast entirely. It doesn't take long to reach the upper limits of your comfort zone in a car such as this, where acceleration is so profoundly quick, something best taken at degrees so you can adapt and learn. But the pace car and its three trail vehicles are not about to go gently, instead letting the Aventador S Coupé show the depth of its power. After a first set of four laps, you could be shaking a little from the tremendous rush of adrenaline. The pilot driver might just saunter over, with a big grin, and say, "That was pretty good, but you can trust this car even further next time around." Next time? Yes indeed; three more times, in fact, and amazingly, the track gets easier (a relative word, here) with each round.
Speeds on the longest of the two straightaways can get to 200 or more kilometres per hour, and it feels like a picnic in the park. But those tight curves, sometimes a whole sequence of them, are where the test comes, for driver and for car. Let's just say the car passed with flying colours, holding its traction, never under-steering, always concise and tight to the road surface.
"It is a great moment for our brand," Lamborghini chairman and CEO Stefano Domenicalli says to a group of North American writers later in the day. "The Aventador S [Coupé] is here, which we will always keep to 3,500 or so per year, and then early next year, our SUV will come to market. We will be virtually doubling production, with a new factory space at Sant'Agata dedicated to the SUV only." Later, caught alone for a few moments, he adds, "Canada is one of the top growth leaders for us in the entire world. We are grateful for Canada."
As the final evening in Valencia winds down, there is time to take one last look at a white Aventador S Coupé, parked just outside Contrapunto restaurant, situated in the Palau de Les Arts and looking out towards the City of Arts and Sciences buildings and canal. The car is lit the way movie stars are as they walk the red carpet in Cannes or Hollywood, and it is none the worse for wear for it. Still, with the rousing cacophony of the day's racing laps still vibrantly ringing, it takes no imagination at all to get back behind the wheel, the famous Gandini-designed scissor door slammed gently shut on the driver's side, the rear window apparatus opened to let that powerful engine roar in, and race towards anywhere at all in the dead of night, just for the hell of it.
---