It was just another day on the family farm in Saskatchewan. Young Mark Jakobsen was following his grandfather around, quietly observing his every move like an earnest understudy, though the boy was still in elementary school. When the elder Jakobsen noticed the pump in the pond wasn't working, he headed to the workshop, grabbed some plywood, and slapped together a punt in a matter of minutes. Back at the pond, he launched his boat and made the repair as his grandson looked on in awe.
"When you grow up on a farm, if you need something you just make it," says Jakobsen, taking a break from building a traditional wooden sailboat tender in his workshop in Courtenay, a small ocean-hugging city on Vancouver Island.
The soft-spoken owner of Hilmark Boats raised the 800-square-foot workshop in three weeks after taking the helm of the company three years ago, despite having no boatbuilding experience.
Today, a few boats sit in the workshop at various stages of completion. Jakobsen has started steaming and laying the western red cedar planks on the Sunshine Tender, a model that was first built in Maine in 1914, and a fibreglass Tyee Rowboat awaits a few finishing touches. In addition to handcrafted wooden boats, the company also makes fibreglass reproductions with wooden accents—this one is trimmed in mahogany and features a yellow cedar burl embedded in the bow. The Tyee was originally designed in Campbell River, north of Courtenay, in the 1920s, specifically for the fishing and environmental conditions in the nearby Tyee Pool.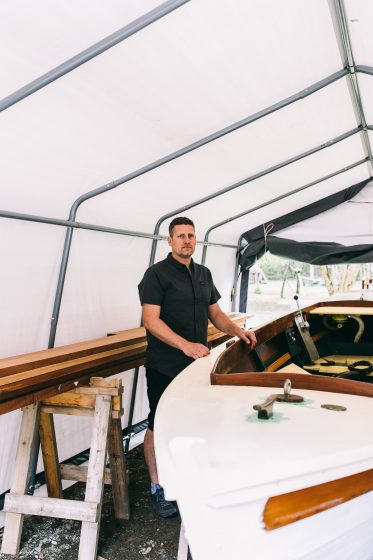 "What's interesting about these boats is the history behind them," says Jakobsen, who makes more than a dozen models, from canoes to sailboats, for clients such as an ex-NHL player, a United States Congress representative, and a local fisherman. "I think a lot of people dream about building or having a wooden boat. It's kind of like owning a vineyard."
That was true for the original owner, Hilford Burton, who started the company in the early aughts following a cancer diagnosis. While Burton was putting down the roots of his company, Jakobsen was following his roots to the southernmost point of Norway after the death of his grandfather. There, he admired and built timber-framed homes, and took a keen interest in the popular wooden picnic boats known as snekke and the culture surrounding them.
Back in Canada, Jakobsen worked in decorative concrete and homebuilding while researching wooden boats, which led him to Burton, who he courted for several years before buying the company. "Now he says I'm the Mark in Hilmark," Jakobsen says. "It's very challenging, which I enjoy. It's also very calming, like being out on the water."
When Jakobsen is doing the meticulous work of shaping wood with his grandfather's hardened steel axe, his thoughts often wander to the man who showed him he could make anything he put his mind to. As for the next generation, Jakobsen's five-year-old son recently joined him on a test sail and thought it was pretty cool.
---
Get your personal copy of our Summer 2018 issue delivered right to your door.