Sadly, since we published this article in our Spring 2020 print edition, the opening of Another Brick in the Wall: The Opera in Vancouver has been cancelled due to the COVID-19 pandemic. We hope you'll enjoy the article about its creation anyway, and read more about how Vancouver Opera is pitching in to make masks for marginalized communities. 
---
On opening night of Another Brick in the Wall: The Opera, director Dominic Champagne sat in the audience next to Pink Floyd co-founder Roger Waters, lyricist and composer of The Wall. It was 2017, and two years of work by Champagne and composer Julien Bilodeau, both unproven in the opera world, would be visible for all to see and hear. Opera fans and Pink Floyd superfans alike eagerly anticipated a spectacle of some kind—ideally, one that would validate and affirm Opéra de Montréal's decision to commission the work for the city's 375th anniversary.
Champagne didn't know back then how Another Brick in the Wall would be received, that it would be staged in Vancouver, or that it would be his final project. On opening night, he was focused on two things: what was happening on stage, and Roger Waters beside him.
"At the end of the show I was in tears, and I watched him and he was in tears as well," Champagne recalls, from his home in Montreal. "I felt good that I had touched the man's heart."
In many ways, Another Brick in the Wall brought the Pink Floyd bass guitarist's own story full circle: the band's groundbreaking concept album can be traced back to a 1977 show in Montreal where Waters lost it on an unruly fan, spitting on him from the stage. Reflecting on the chasm that had grown between the band and its fans, Waters created The Wall, basing the main character—a jaded rock star named Pink, whose increasing self-isolation feeds his ego and paranoia—on himself and band member Syd Barrett.
"I think Waters is very strong," Champagne says. "He was very honest. To describe himself as this ugly and fragile rock star, and to really move with truth to this moment of redemption—I think we all somehow need to feel that experience, or to revisit The Wall these days."
Celebrating its West Coast premiere on April 23, 2020, Another Brick in the Wall opens the fourth annual Vancouver Opera Festival. It's been a long journey for Champagne and Bilodeau. Bilodeau grew up listening to his father's Pink Floyd records but never imagined he'd be tasked with composing his own interpretations of such iconic songs. His first memory of the band is when he was five years old—around the time The Wall came out—and being captivated by the band's 1970 album Atom Heart Mother.
"It was a very special album from the Floyd because there is a choir, there is a horn section, and a brass section, a lot of voices, and also a cello," Bilodeau recalls. "I was a great fan of their music during my teenage years. And then, you know, life went on."
Nevertheless, when Opéra de Montréal approached Bilodeau, he was skeptical.
"I'm not a fan of pop arrange­ments, so my first fear was that they were thinking about making a classical arrangement of the music of The Wall, which I was not interested in. On the other hand, I remembered the movie version by Alan Parker and that the storyline, the curve of that story was very powerful. I thought, this is an opera story, for sure."
That storyline sees Pink beginning to build a metaphorical wall around himself following the death of his father during the Second World War. This self-enforced detachment continues, even as he becomes famous. After hallucinating that he's a fascist leader and his concert is a neo-Nazi rally, Pink puts himself on trial for cutting himself off from humanity. His sentence? To tear down his wall.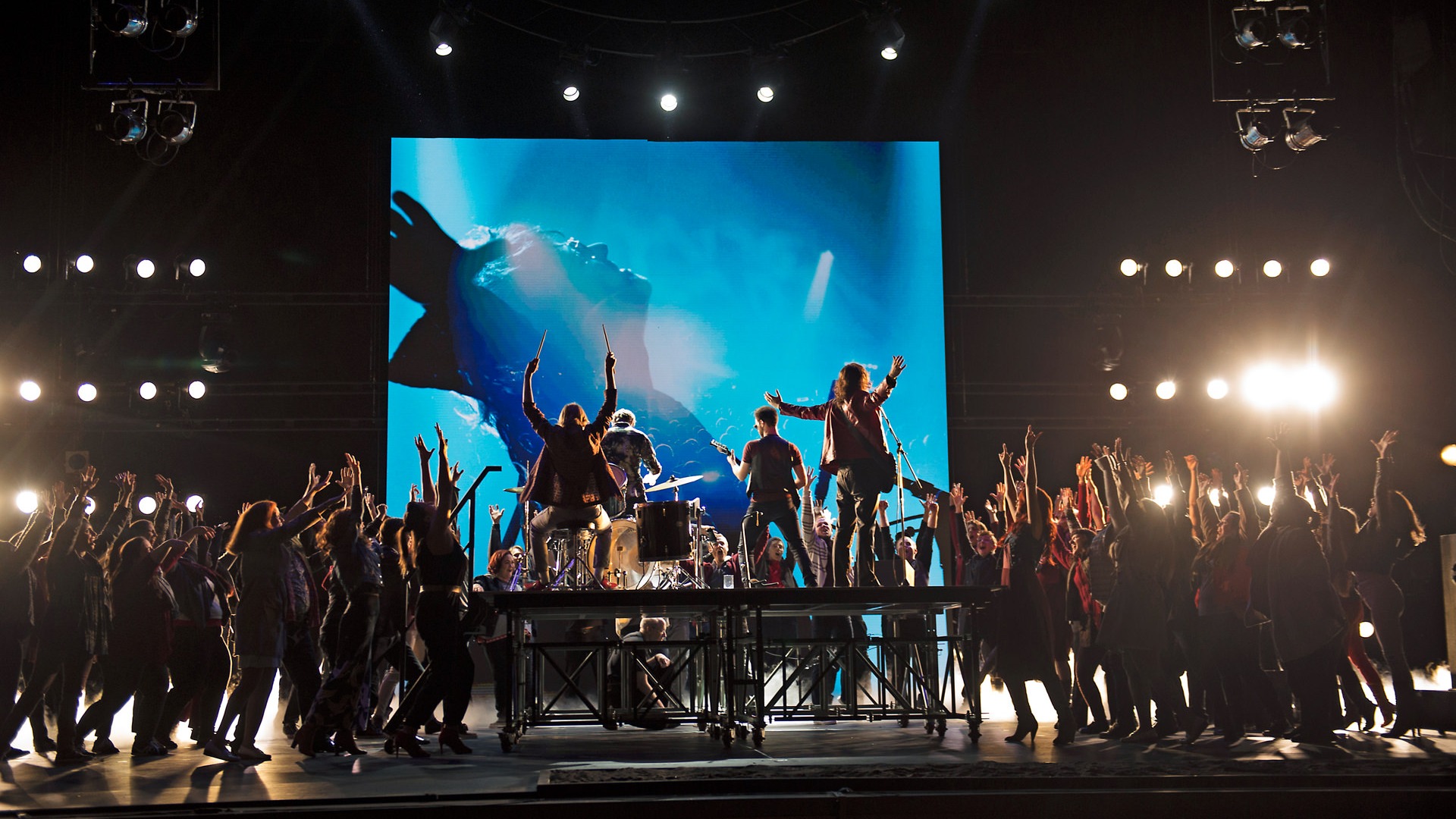 Champagne also saw the story's operatic potential, and had some experience adapting iconic pop music to the stage, having worked with the surviving Beatles to bring Cirque du Soleil's Love to Las Vegas in 2006. During that production, Waters had briefly consulted with the director, interested to hear how The Wall could be turned into a theatrical experience. When they approached him in 2014 with the idea for Another Brick in the Wall: The Opera, Waters made it clear he wasn't interested in mounting a straight rock opera. Champagne and Bilodeau insisted that wasn't their intention, and eventually persuaded Waters to meet. After hearing short passages of Bilodeau's compositions and discussing Champagne's video concepts, Waters finally agreed.
The song structure of Another Brick in the Wall closely mirrors its source material, but this is not a singalong—or even a hum-along—experience. This is dramatic, crescendoing choruses, the thunder of crashing percussion and brass, the trill and hum of woodwinds, and the hypnotic ache of strings.
"If you open your mind to the fact that you're not going to just hear The Wall, you're not going to hear some guitars and drums, you're going to hear opera singers—which is something that many people have difficulties with because it is a lot," Bilodeau laughs. "Just try to dive into this story, and you're in a position to appreciate what we are trying to do."
In common with many of opera's great tragedies—from the intense isolation of the titular hunchback trying to protect his daughter in Giuseppe Verdi's Rigoletto to the escalating madness of a grieving Lucia in Gaetano Donizetti's Lucia di Lammermoor—The Wall takes the effects of trauma seriously. Pink's trauma is deeply tied to the politics of his time and, as Champagne and Bilodeau began to dig into the story's themes, the contemporary parallels were not lost.
"In the original work, all the things were related to the Second World War and Hitler," Champagne explains. "I tried to bring another reading to it… Of course, there were and there are still so many echoes with the Trump administration. This opera should be produced in every opera house in the United States, because in the end, The Wall is the work of a human being trying to understand how he became a monster and how he can be redeemed."
For himself, Champagne has done his own soul-searching and says Another Brick in the Wall is his last production—at least for now. He is suspending his artistic career to focus on fighting the climate crisis.
"The old Greeks said that tragedy was the human capability of standing still in the middle of chaos," he notes. "And I think this is what we are experiencing now."
---
This article is from our Spring 2020 issue. Read more about the Arts.