"I'm getting my scream on." We're driving along a jagged backroad in the Callaghan Valley as Kanye's "Black Skinhead" careens around the 36 speakers of a crisp AKG Studio Reference sound system. We've escaped the city in this monster of a classic vehicle—snacks in the built-in fridge, the sun pouring through the panoramic sunroof—and the driving is not just easy but way more fun than I expected. The Escalade may come with a trunk-full of pop-culture associations—for better or worse—but this Premium Luxury Platinum model is smooth, fully loaded, and astonishingly easy to handle.
It's also comfortable: my 6-foot-6-inch son doesn't just fit into the second row (of three) seats, he can stretch out with ease and no risk of bumping his head on the roof (he spends a lot of car journeys with his head at an awkward angle). He can also dive into the rear entertainment system, which isolates sound and offers streaming capacity on one of the two 12.6-inch screens set into the back of the front seats. Meanwhile, teenage wannabe music producer son is up front putting the 38-inch OLED display console through its paces. The touch screen is bright, the icons are large and clear, and it is pretty intuitive. Yes, the kid gets the measure of it pretty quickly, but the less digitally savvy will find their way as well. In terms of navigation, the augmented-reality system keeps us easily on track.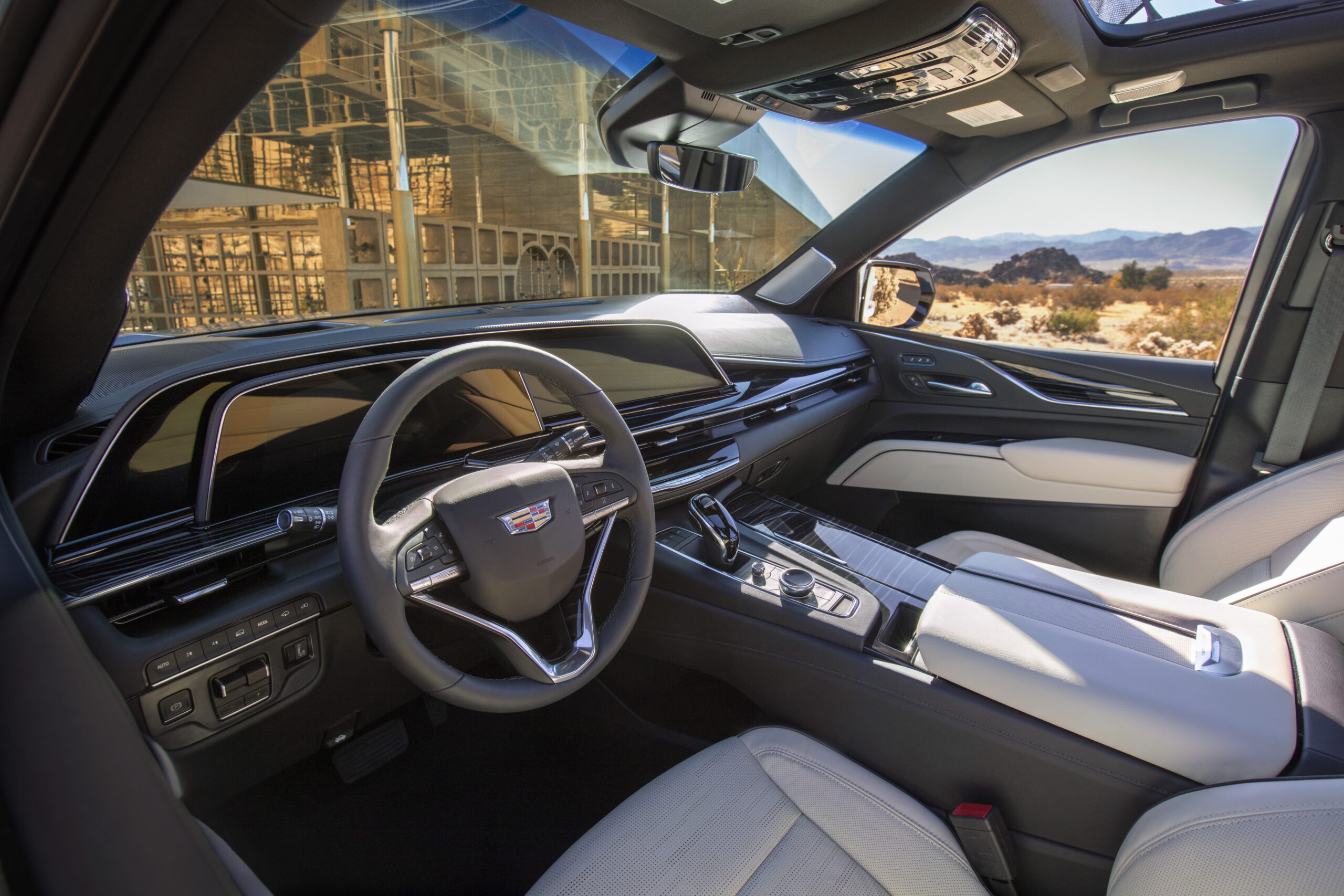 The attention to detail is evident the moment you open the door and climb in (using the running board that appears automatically, of course). The plush interior of dark auburn (more like a muted eggplant) semi-aniline leather is set off beautifully with swaths of polished wood trim and impeccable stitching; the visible luxe quotient here is high. The overhead is lined with suede, and the ambient interior lighting is adjustable. With 16 possible settings, the seats accommodate pretty much any shape or size, and not only are the first and second rows heated, but the front seats include a suite of massage options. I cannot begin to describe the joy of jumping in the Escalade after cross-country skiing to have my back tension gently kneaded away.
I'm unused to driving such a large vehicle and anticipated issues with handling and parking. After a few nervous city-street moments making it through tight spaces, I eventually relaxed and put faith in technology: the exterior of the Escalade is chock full of sensors that vibrate should you get too close to something (as well as very effective front and rear pedestrian sensors). If you find yourself on a highway approved for it, there is the semi-autonomous Super Cruise mode to really test the limits of these electronic eyes. Less excitingly—but perhaps more importantly—I employed them mostly to park.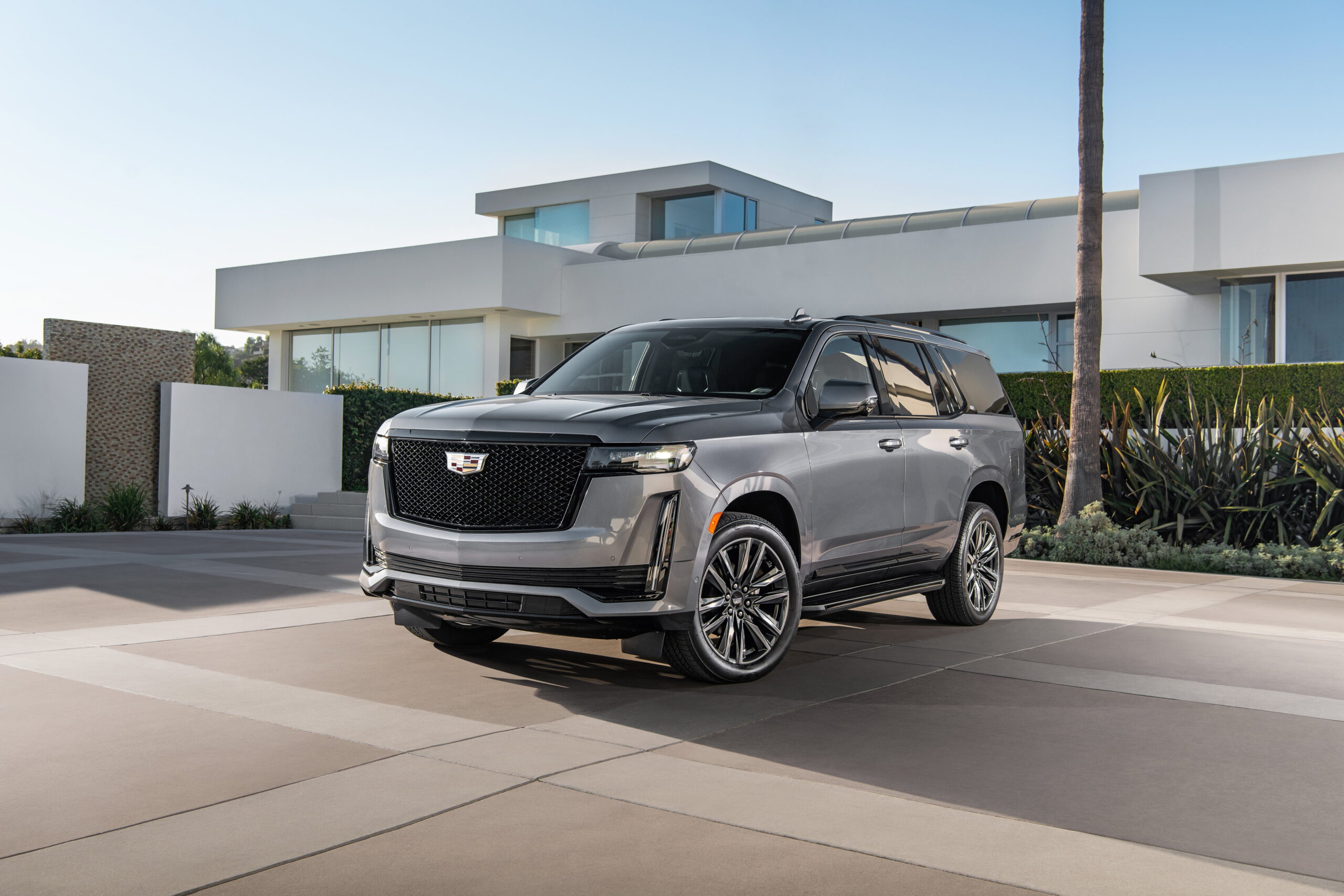 "Don't touch it!" Teenage son puts his head in his hands as I—for the umpteenth time—fail to let the car park itself. In my defence, I have trust issues, and sitting and watching a steering wheel move automatically as the car I'm driving swings round to parallel park backwards down a hill is a test I retake several times before literally sitting on my hands and holding my breath. Thankfully, the Escalade did what it was supposed to, squeezing into spots I would have dismissed as far too small. Even in a low, tight, underground parkade where the satellite didn't work, I managed to rely on the mirrors and sensors to reverse park into a sliver of a space.
The 2021 model is the first major redesigned Escalade since 2015, and its fifth generation. Gearheads will be excited by the new chassis and independent rear suspension providing a smoother ride and more legroom in row three, as well as freeing up more cargo space. The 6.2-litre V8 engine is plenty powerful, and there's no denying the road presence you feel behind the wheel. No prizes for fuel efficiency, but no one who favours a truck this size is prioritizing gas consumption. Status is what this car is all about, and the blunt nose, horizontal headlights, and bumper-to-roof vertical tail lights help it wear its swagger well.
Unapologetically flashy, with plenty of chrome, 22-inch alloy wheels, and an imposing front grille, this is an attention-seeking, loud and proud 6,000-pound beast.
---