A decade or so ago, two friends walked the back alleys of Vancouver, fantasizing about opening a restaurant. She was a musician whose performing career had stalled; he was a chef back from working Michelin-starred kitchens in Europe. Fuelled by passion and purpose, smart enough to work out how to give it a go, and young and idealistic enough not to worry about all the ways it could go wrong, they believed there was a gap in Vancouver's dining scene only they could fill.
"Most things I do are kind of out of body," laughs Shira Blustein, the almost-40-year-old owner of the Acorn vegetarian restaurant—about to celebrate nine years on Vancouver's Main Street with a cookbook to be released in November.
"I had already written the business plan for my own restaurant," she recalls. "I had started taking business courses in the evenings. I don't know why—I was simply compelled."
A vegetarian since her teens (in Calgary, no less), Blustein lived the reality of meat-free dining out long before plant-based eating moved mainstream. "At the time, you could go to a nice restaurant and have the vegetarian option—or go to a vegetarian restaurant where there was always something missing," she notes. "Some didn't serve alcohol, others determinedly avoided creating an atmosphere, or the service was at a basic level. It was a series of compromises, and we wondered what it would look like without any compromises. That was the goal from day one."
Blustein and her friend Brian Skinner (now chef and owner of Frankie We Salute You! in Kelowna) brought to the Acorn a gung-ho, DIY attitude that some might consider foolhardy but was born from years of inherent nonconformism. "I was an angry teenager," Blustein, dressed (as always) all in black on a sunny summer day, admits.
Punk rock offered her a way to channel that anger, develop her artistic leanings (her mother is a composer of concert and commercial music), and at the same time, find a community whose values she shared. "What the punk movement taught me—and what it has kept for me through my entire life—are all the values you'd want your kids to have," she says. "Treat people fairly, be critical of the information that is being presented to you—take care of your community. It's funny that people find that so threatening."
The Acorn's chefs are not usually vegan, Blustein says, but approach food from a delicious standpoint first. Their inventiveness is apparent in the presentation of the dishes.
From the start, it was obvious the Acorn was not going to be another brown rice and Birkenstocks joint: the vibe was cool, and the food clearly brought something different to the table. "Our chefs are not usually vegan or vegetarian," she says. "If they were, that would be a bonus, but we seem to attract people who approach food from a delicious standpoint first and are up for the challenge of using the skill and the knowledge and the palate of someone used to working with meat."
The inventiveness was immediately apparent: there were pâtés made with cashew cream and served with whisper-thin taro chips, zucchini noodles (before spiralizers became ubiquitous) dressed with candied olives and edible flowers, and plating worthy of an upscale room. Skinner's time in Europe had included a stint at the game-changing Noma in Copenhagen, known for experimentation with unusual and foraged ingredients, and the influence on this young chef—though nascent—was clear.
Still, there were, Blustein admits, hiccups and missteps (initial reviews, while enthusiastic for the concept, noted a few teething issues in both food and service), but the spirit behind the space was seductive, its reception enthusiastic.
"The Acorn didn't just elevate and innovate plant-based dining, it also forced other upscale restaurants to be more creative about their vegetarian options," Globe and Mail food critic Alexandra Gill notes. "A decade ago, vegetarians in Vancouver were really treated like second-class citizens. Most chefs really couldn't think beyond risotto or pasta. Honestly, there was risotto everywhere."
Mia Stainsby, food critic for the Vancouver Sun and Province newspapers, agrees and believes the Acorn team continues to hold other restaurants' feet to the fire: "They're still leading the pack not only culinarily but in the small-eco-footprint cuisine that this planet desperately needs."
"We started to grow into the local food movement and build relationships with farmers. Now it's really about showcasing what's most in season today."
Blustein is more modest. "I think at first our primary directive was simply that we were going to be elevated, and we were not going to use any fake meat," she says with a self-deprecating smile. "And then slowly, as we grew into ourselves, we started to grow into the local food movement and build relationships with farmers. And every chef who came in took a deeper dive into the local food movement, strengthening those relationships. Now it's really about showcasing what's most in season today."
A decade on, depending on the season, that could include wilted radish tops turned bright and beautiful with a dressing of flowering currant ponzu and garnished with a mushroom escabeche, or a small bowl of fresh peaches served sweet and sour with lime leaf, padron peppers, and charred corn. Gently roasted warba potatoes sit in a pool of seriously moreish smoked butter, wild garlic, and chèvre and buttermilk sauce, while a sense of humour is evident with the kelp-brined oyster mushrooms served on foraged oyster shells. (Vegans receive theirs on ceramic oyster shells made by Blustein herself.) There are multiple ingredients on each plate—a tiny house-made pickle, an edible flower grown in the Arbor's patio garden, a splash of their own vinegar—each a manifestation of the total commitment by Blustein and her team.
Her success as a restaurateur is all the more impressive because it is only one of her occupations and obsessions. She could just as easily have been an internationally famous rock star. Indeed (on a small scale), she was exactly that for a while. That chapter began with a classmate taking her to see a punk band in her early teens.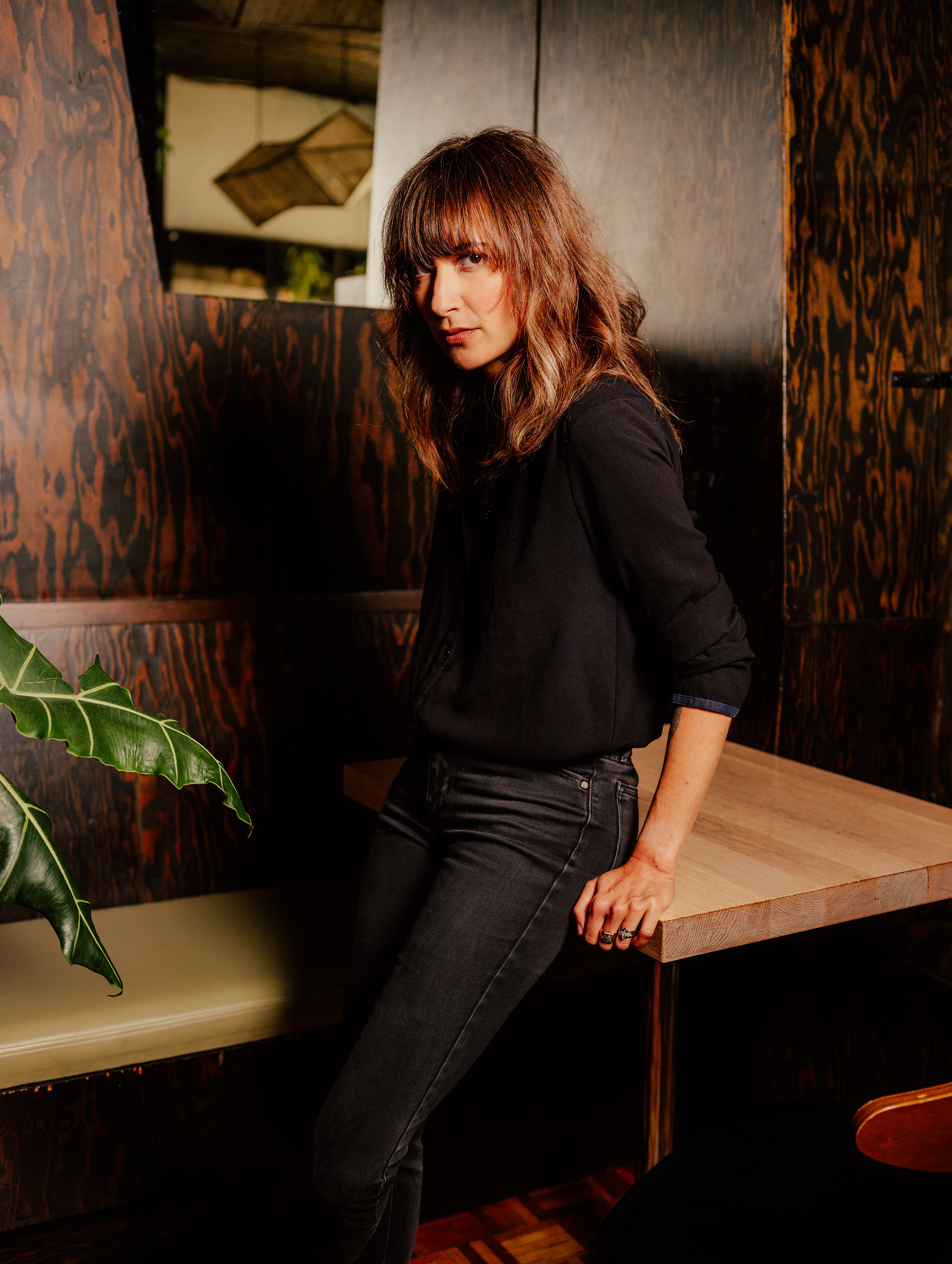 She quickly became immersed in the Calgary punk scene, and after an impromptu screeched rendition of "Walk Like an Egyptian" while a band she was watching rehearse took a break, she was invited to join their group. She was 14. "My parents let it happen," she says, sounding almost surprised (she is the mother of two girls under four). "They did not approve, but they let it happen." They wouldn't, however, sign a document allowing her to go on tour. "I got kicked out of the band."
She did tour with her next band—three consecutive school summer holidays navigating basements and left-field venues in the U.S. and Canada, gaining essential skills en route in how to adapt and roll with optimism. After high school, it was film school in Vancouver, before joining alt-country band Blood Meridian with a couple of other Calgary expats. Signed by Richard Branson's label V2, they experienced a short burst of success before the label let them go as part of a restructuring in 2007. But not before they toured through the U.K. and Europe with the Black Keys—the tour conditions, she notes, were a significant upgrade to her teenage travels. "We may have had to share a bed," she laughs, "but at least it was in a hotel room."
She took a job at Portland Hotel Society ("where I learned how to work really hard"), played with a few local bands on the side, and took business courses at night, leaving in 2011 to start making the fantasy of opening the vegetarian restaurant she believed Vancouver needed and wanted a reality.
Though she still plays music (her first live gig as keyboardist with the band Ashley Shadow since a prepandemic show at the Vogue is set for September), it's hard to imagine where she finds the time. She lives above the Acorn with her husband, Scott (the restaurant's graphic designer and general Mr. Fix-It) and their two daughters, Verona (Vee) and Alita, just a couple of doors down from the Arbor, the more casual "playful, bratty sibling," in her words.
I wonder how she prioritizes who she is first: a restaurateur, a musician, a mother? "Oh, my goodness," she says, looking slightly horrified. "I was so resistant at first to adding mother in, but now it really is all three. When you double down on it, there's not much point in pretending otherwise.
"I'm so proud of the body of work," she adds seriously, and I have to assume she means the food, the music, and the kids.
"Just proud of bringing it all into existence."
---
Original photography for MONTECRISTO Magazine. Creative Direction: Sandra Zarkovic. Hair and Makeup: Melanie Neufeld. Photo Assist: Patrick Menard. Read more from our Autumn 2021 issue.