Perfumery is drenched in storytelling. To create a fragrance is to weave a narrative that finds influences in art, poetry, and nature. Perfumers are observers who distill the essence of beauty and life, and yet we don't often hear from the noses themselves. How does one take the rippling reflection of the sun on water and craft a scent? Master perfumer Francis Kurkdjian is uniquely positioned to speak about this, the artistry of fragrance.
When we speak over Zoom, he tells me the story of Élisabeth Louise Vigée Le Brun, who was commissioned by Marie Antoinette to paint the young royal's portrait in 1783. "I was looking to create a rose scent: delicate and velvety and quite sheer and contemporary," he recalls. "So I started to dig into my memories. I started to dig into books about roses, and then I found this." He pulls up a picture of the painting onto the screen.
Hiring a woman was already groundbreaking for the 18th century, but the initial painting, entitled Marie Antoinette en gaulle, depicted her holding a rose in a plain chemise, with a simple hat and very little background—befitting a peasant more than a queen of France. The portrait was so controversial that it was removed from the Salon at the Louvre after just days on display. Vigée Le Brun quickly painted a second portrait that was identical in pose but with powdered hair, jewellery, a blue gown, and a more fitting background for a queen—the Marie Antoinette à la rose painting most often referenced today and inspiration for Kurkdjian's À la rose scent.
In 2015, Kurkdjian created a sensory exhibition for the Grand Palais in Paris as part of a large retrospective honouring Le Brun, the perfume she inspired scenting the air and a monumental looking glass adorned with ornamental roses referencing the famous hall of mirrors in Versailles. "I loved the story," he concludes. "I thought it was a timeless history of miscommunicating. A kind of photoshopped version of the first painting—there was modernity in this work. And I loved the name."
He is poised on camera from his Paris apartment, with a backdrop of books behind him indicative of the hours of research he does before starting a new scent project. He speaks slowly, precisely, and often through examples, each one framing a new facet of his process. The story of Vigée Le Brun not only conveys how rigorously he examines art, literature, and even music when he creates scent, it also reveals how every fragrance created under his own label, Maison Francis Kurkdjian, begins with the name.
The maison's newest products—he draws a distinction between a new creation and a new product—is a reimagining of the now 12-year-old Aqua perfumes. The cologne forte collection was released in May, and the three fragrances are meant to represent freshness, a concept, Kurkdjian says, that can be expressed in many forms. The name is a nod to traditional cologne, and forte comes from the musical term. In this context, forte is meant to represent a stronger iteration of the previous versions. Kurkdjian compares his original collection to a melody played by a chamber orchestra; the current version he describes as symphonic.
The story of Vigée Le Brun not only conveys how rigorously he examines art, literature, and even music when he creates scent, it also reveals how every fragrance created under his own label, Maison Francis Kurkdjian, begins with the name.
"I start working once I've got the physical feeling of it. It is not just the idea," he muses, reaching for the words to clarify how he makes the metaphysical tangible. "Once I have that feeling in my body, then I try to create a sense of formula and blend the ingredients I need to reproduce that feeling." It is a matter of instinct, the way he has always worked. "From the first perfume I have created to now, I have always worked the same way."
His 26-year career may be in its adolescence by old European standards, but Kurkdjian's reputation precedes him. He has brought the redolent visions of the world's most famous designers to life, starting with Jean Paul Gaultier's Le Mâle in 1995. Dior, Armani, Versace, YSL, and Guerlain followed in subsequent years, making him a household name in perfumery circles but an unsung artist to the masses.
After five years in the United States, Kurkdjian returned to Paris, disillusioned with the early 2000s trend of celebrity fragrances. "Perfumes in the U.S. are seen as a commodity," he observes. "You produce perfumes the same way you produce deodorant." While he admits that it is changing now—there are more independent brands emerging and there is glamour in perfume once again—he is cynical about that time in the industry's history.
That's not to say his experiences creating his many custom bespoke fragrances for design houses or scented novelties for hotels and businesses were bad. Indeed, one of his most beloved eaux de parfum, Baccarat Rouge 540, was made to celebrate the crystal glass manufacturer's 250th birthday and is named for the temperature at which the crystal turns red.
He co-founded Maison Francis Kurkdjian in 2009 with best friend and businessman Marc Chaya, finally creating fragrances under his own name and revealing to the world that he was capable of pushing the boundaries of scent. In the last decade, he has created several massive-scale olfactory installations, seamlessly blending performance, design, location, and fragrance. Perfumed bubbles ascended to the heavens in 2010 for the Shanghai World Expo, and a lemon grove shrouded in scented clouds of mist greeted visitors at Palazzo delle Stelline during the Lille3000 cultural event in 2015.
In 2019, Kurkdjian partnered with Swiss Canadian experimental photographer Christelle Boulé to express his perfumes as actual art pieces. Perfume drops were laid on silver paper, dried, exposed to light, and bathed in photo development fluids to reveal an abstract neon image, each one unique. The series, Expanded Drops, was on display at Art Basel Miami the same year.
Art and culture run through Kurkdjian's veins. Born into a fashion family, he aspired to be a designer. His aunt worked with Christian Dior in the 1950s, and his grandfather was a tailor. But when he realized early on that he couldn't draw—a skill he considered essential—he had to rethink his plans. "I felt that drawing was very important in terms of material and being able to design and sketch," he says.
He originally had ambitions to be a professional dancer, but—although he continued to study ballet right up until his work with Gaulthier—his nascent career ended in 1983 when, at 13, he failed his audition for the Paris Opera ballet school.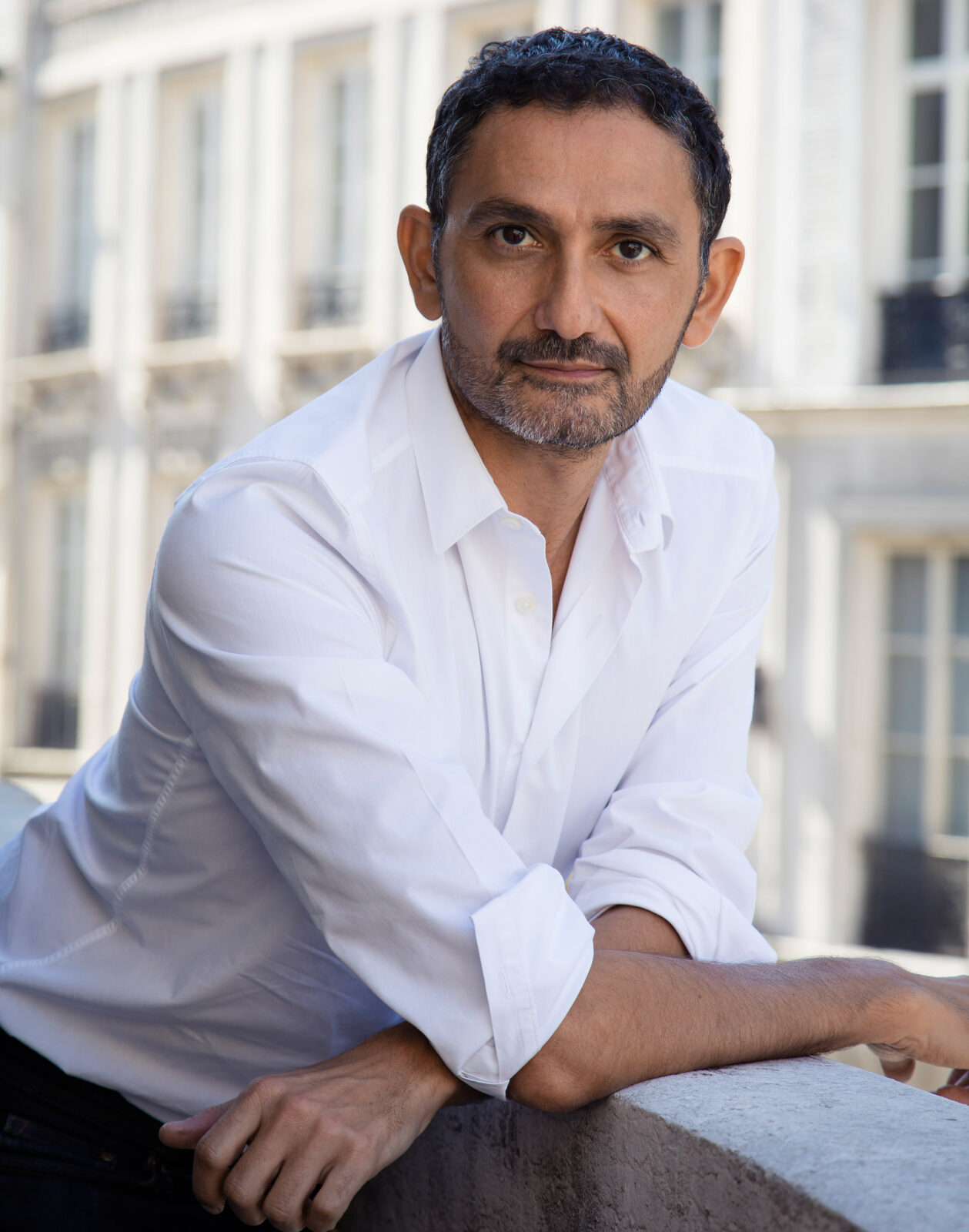 Meanwhile, he became fascinated with scent, eventually studying at Versailles' celebrated fragrance and cosmetics school, ISIPCA. "I felt that perfume was the only craft next to being a fashion designer," he explains. "I thought, if I can't design dresses, I will design the perfume to go with the dresses."
His 20 years of rigorous ballet training were not wasted, he says, even though he describes it as a war against himself, constantly striving to redo and do better. Dancing gave him a sense of perfection he now applies to perfumery, and a strength and resilience that have made him unafraid to fail one day and come back the next. "The more you work, properly and wisely," he says sagely, "the better you can be."
He approaches fragrance with the soul of a designer, even going so far as to call perfumes an accessory just like sunglasses or a handbag, the only difference being you can't go out with the bottle strung around your neck. A perfume has to speak for itself, he insists, with its own unique signature, just like a designer monogram; Kurkdjian signs his maison creations with a flourish.
"A good perfume is not only a perfume that smells beautiful but one that stays up in the air for a long time. It should have its own aura."
Many mistakenly identify the juice in his bottles as a strong concentration, but Kurkdjian says it's actually more diffusive. "A good perfume is not only a perfume that smells beautiful but one that stays up in the air for a long time," he explains. "It should have its own aura." He has worked hard to make sure his perfumes, while all different, share a commonality: you can't identify individual ingredients but you can sense the emotion.
Recently the world has been filled with emotion, much of it negative. But Kurkdjian has identified one big shift that makes him hopeful. "I think now we are conscious of how important the sense of smell is to our integrity as human beings," he says. Anosmia, or smell blindness, is one of the indications of COVID, and as someone who has built their whole life around that sense, Kurkdjian can't help but dwell on how the pandemic has brought his vocation into the forefront of public consciousness. "What happened with COVID is that people are conscious about smelling, about breathing. Before it was, 'We are alive, therefore we smell,' but I want to say, no, it's backwards: We smell, therefore we are alive."
---