In 2011, the Contemporary Art Gallery (CAG) celebrated its 40th anniversary. Coinciding with my recent arrival as executive director, this marks a time of reflection, leading toward renewal and reinvigoration across all aspects of our operation and heralding a new spirit. The task of being asked to trace a line through this history was challenging. Each artwork, installation view or catalogue cover shown here stands in to represent the exhibition it came from, and should be seen as an attempt to indicate the breadth and range of what has gone before—a palimpsest. The selection is a mere sample; there is no pretense at being comprehensive, and I wanted to take personality away from the choice as much as possible. What seemed key was to show exhibitions that demonstrate the particular contribution Vancouver has made to the larger global conversation in contemporary art and the role the CAG has played within that. Inevitably there was not enough room to include everything I wanted, in part hampered by the scarcity of documentation from the early 1980s and prior.
Originally the Greater Vancouver Artist's Gallery, the CAG was established in 1971 by the City of Vancouver through federal employment programs for artists. It has consistently remained committed to serving artists and audiences, through its role as custodian of the City of Vancouver's Art Collection in the 1970s, as an artist-run centre in the 1980s and as a public gallery since 1996. In 2001, it moved from its long-standing home on Hamilton Street to its present location, a purpose-built facility on the corner of Nelson and Richards, where it has today become a very different organization.
I see this legacy as one of which we are justly proud; the CAG's existence in a city itself only 125 years old makes for a significant contribution to its artistic scene and endeavours. The initial founding principle, too, is a position that chimes from our contemporary standpoint, whereby it was not about the bricks and mortar of an institution that mattered but about providing a resource for the city. This outward-facing nature, rooted in a local context of international significance, is one that mirrors our current vision of the Contemporary Art Gallery as a transmitter of ideas, proactive in response to a global art conversation and asserting the continuum between art and daily life. In part, the selection that follows should be seen as signifying a conviction that artistic experience is of importance and meaning to all.
The Contemporary Art Gallery exists within a broader network of visual arts activity, too. Our programme—exhibitions, off-site projects, touring shows, collaborations and educational outreach—is crucial to our identity and sets out our discrete niche as a kunsthalle: smart but accessible, agile and responsive. The CAG has provided some key Vancouver artists with their first solo or institutional exhibitions at significant moments in their careers, such as Steven Shearer (the representative for Canada at this year's Venice Biennale), Brian Jungen, and Germaine Koh. We will continue to do so, both in the city and through national and international tours and collaborations. It is simply not enough for us to make exhibitions that present familiar work back to our local audience; we need to take the best of Vancouver and Canada out to the world, and in turn, bring in innovative, challenging work from abroad, the exchange playing its part to help nurture local talent.
In that sense, it is the role of the CAG to epitomize international contemporary art through all aspects of its programme and to foster this important two-way dialogue of mutual benefit.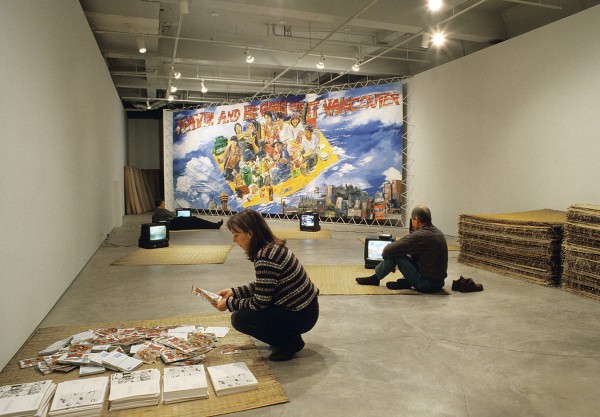 Navin and his Gang (Visit) Vancouver
Navin Rawanchaikul
October 25 to December 6, 1997
Navin Rawanchaikul and three colleagues used dried rush mats (traditional to the Thai home) as portable meeting places in various public spaces around Vancouver as a means to establish sites where dialogue could occur. Here, Rawanchaikul and his colleagues engaged the public, discussing a range of topics, and videotaped the interactions. In the gallery, those recordings were presented amongst the traditional mats and specially created comic books, invoking an experience that blended art and everyday life.
 Installation view.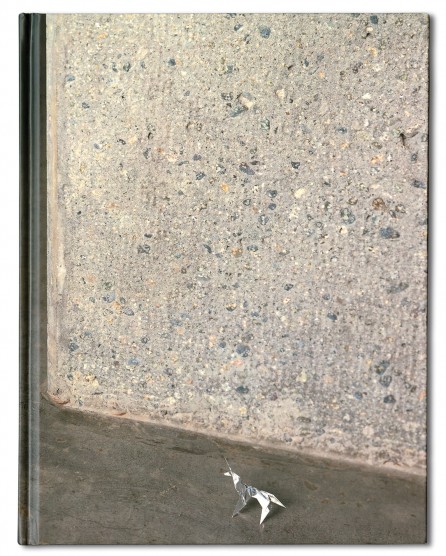 Catalogue
Ron Terada
November 14, 2003, to January 4, 2004
Ron Terada often uses the things normally thought of as ancillary to art itself as raw material for exhibitions: for example, by employing promotional and didactic material as the objects for display. "Catalogue" took the form of an exhibition publication but highlighted the patronage of those who collaborated with the artist in support of the show, by adhering their logos to the gallery walls, making them the actual artworks on display.
Exhibition catalogue.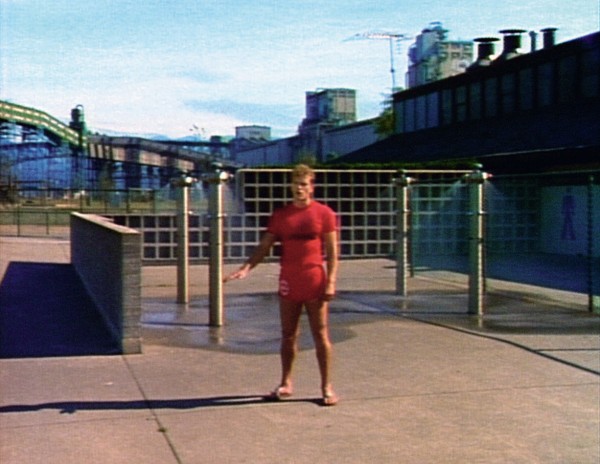 Television Spots/Subject to a Film: Marnie
Stan Douglas
December 3 to December 23, 1988
The exhibition "Television Spots/Subject to a Film: Marnie" marked a key moment for Douglas, with the presentation of two works, and a turning point for the Contemporary Art Gallery, being that it was the last show before the gallery underwent physical transformation into one large space at the Hamilton Street location.
Stan Douglas, Male Naysayer, 1987. Colour still from 10-second single channel video for broadcast television with sound. Image: Courtesy of the artist and David Zwirner, New York.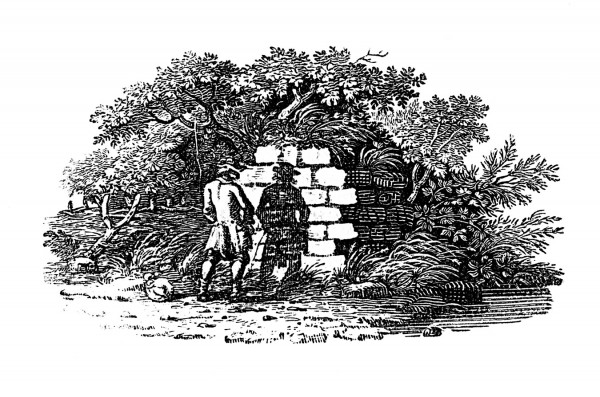 Tale-pieces
Thomas Bewick
September 9 to October 30, 2011
This was the first exhibition in North America devoted entirely to the vignettes of 18th-century British wood engraver, artist and naturalist Thomas Bewick. A contemporary look into history, building a bridge between image-making techniques and endeavours of different eras, these narrative works provide an interesting counterpoint to the work of many internationally established artists in Vancouver who are engaged in image-making that critically examines the city and the socio-economic conditions that surround them. The presentation of historical work, a curatorial first at the Contemporary Art Gallery, was intended to challenge our understanding of what a contemporary art space should show and, as such, reinforces the notion that everything was once contemporary, just as much as what is contemporary now will inevitably become historical.
Thomas Bewick, Man Relieving Himself Beside A Fragment of Ruined Wall, c. 1797. Wood engraving, 3 x 1¾ inches. Image: Courtesy of Ikon Gallery, Birmingham.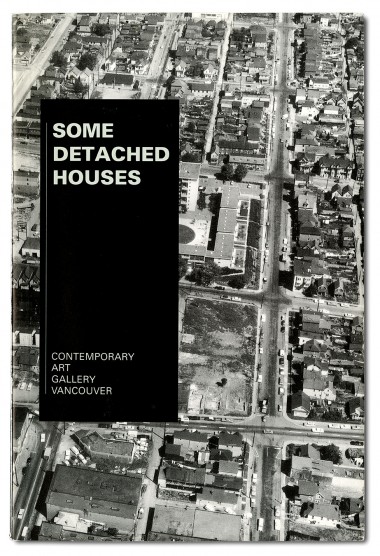 Some Detached Houses
Robin Collyer, Todd A. Davis, Dan Graham, Amy Jones, Bill Jones, Robert Linsley, Warren Murfitt, Margaret Naylor, Ed Ruscha, Nancy Shaw, Greg Snider
March 29 to April 22, 1989
This was a crucial exhibition and publication linking West and East Coast conceptual practices. The photograph on the cover is an aerial view of the Vancouver's east side circa 1960. Included in the exhibition was Dan Graham's New Balloon Houses, Surrey, made in the suburb of Vancouver.
Exhibition catalogue.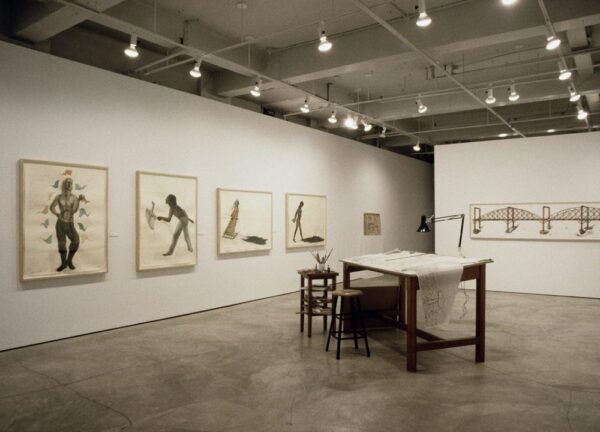 Utopian Territories: New Art from Cuba
Abel Barroso, Los Carpinteros, Luis Gomez, René Francisco, Esterio Segura Mora, Tonel Kcho, Carlos Garaicoa
March 22 to May 10, 1997
A good example of partnership both within the city and internationally, this exhibition was a collaborative curatorial project organized by the Contemporary Art Gallery, the Morris and Helen Belkin Art Gallery and Cuban curators Eugenio Valdés Figueroa and Juan Antonio Molina. Addressing themes of utopia and the position of the individual in Cuba today, it continued in our ongoing presentation of work from Latin America.
Installation view.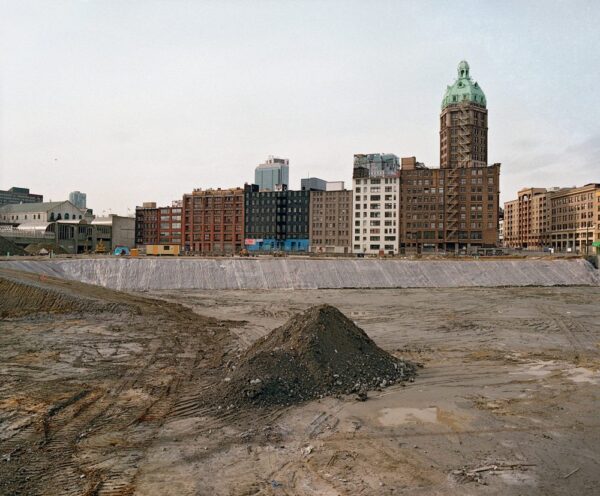 Roy Arden
Roy Arden
April 17 to May 22, 1993
Arden has a long-standing relationship with the gallery as artist, curator and writer, most recently presenting a solo show, "UNDERTHESUN", in January 2011. His eponymous 1993 exhibition marked a significant introduction to his photographic work (for which he is best known), and included many images from the "Landscape of the Economy" series charting the visible and dramatic changes on the local environment by social and economic forces. In 2006, Arden curated the first major solo exhibition in Canada of works by Hans-Peter Feldmann, a German artist who has had a profound influence on the shape of contemporary conceptual art and photography. "Supernatural", a pairing of works by Neil Campbell and Beau Dick, was also curated by Arden in 2004.
Roy Arden, Construction Site and 'Suntower', Vancouver, B.C., 1992, 1992. Archival pigment print, 40.2 x 50 inches. Image: Courtesy of the artist and Monte Clark Gallery.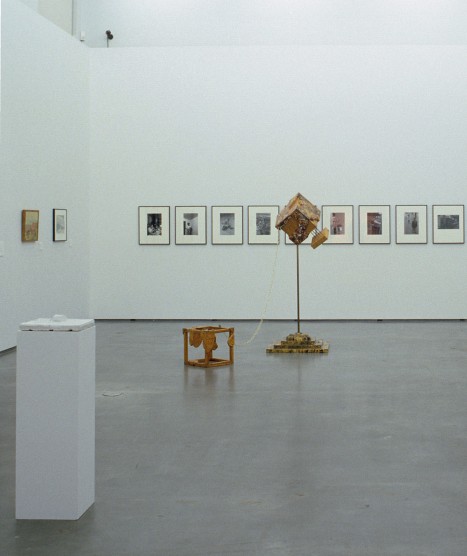 LIP Service: CAG 30th Anniversary: The Collection 1973–1983
Leonard Brett, George Casprowitz, Wing Chow, Michael de Courcy, Robert J. Davidson, Chris Dahl, Bill Featherston, Olga Froehlich, Richard Hambleton, Marken Joslin, Brian Lavery, Gary Lee-Nova, Glenn Lewis, Liz Magor, Marian Penner Bancroft, Chick Rice, P. F. Rosenberg, Irene Smith, Judy Williams
July 11 to August 31, 2003
The Contemporary Art Gallery presented an exhibition from the city collection of which it is custodian, works produced during the federal employment program for artists. Early pieces by now well-established artists were shown alongside works by those who, today, may be familiar only to a few. "LIP Service" showcased Vancouver in the 1970s, when an adventurous civic idea spawned the beginnings that helped give rise to this gallery.
Installation view. Photo: Althea Thauberger.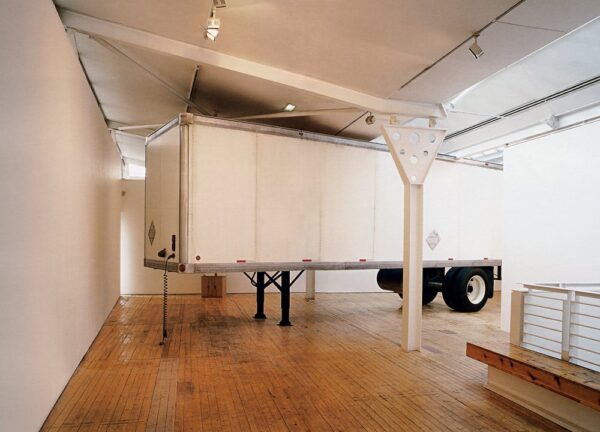 Hammertown
Geoffrey Farmer, Brian Jungen, Euan Macdonald, Myfanwy MacLeod Luanne Martineau, Damian Moppett, Shannon Oksanen, Kevin Schmidt
October 5 to Novebmer 14, 2002 at the Fruitmarket Gallery, Edinburgh, Scotland
"Hammertown" was a touring exhibition (2002–2004) presented at the Fruitmarket Gallery, Edinburgh, Scotland; Bluecoat Gallery, Liverpool, England; and Winnipeg Art Gallery, Manitoba, Canada. Organized by the Contemporary Art Gallery, it highlighted a young generation of Canadian artists with a focus on West Coast practice, many of whom have also had solo presentations at the gallery. The exhibition's engagement with landscape was a touchstone for works that propose a dialogue with social histories and ideas of place. It established a model of working off-site that we have continued most recently with the solo exhibition "A Sign in the Northwest Passage" by Kevin Schmidt at Kunstverein Bielefelder, June 24–July 24, 2011.
Geoffrey Farmer, Trailer, 2000. Steel, fibre board and mixed media. 3.4 x 2.2 x 9.0 metres. Installation view, the Fruitmarket Gallery. Image: Alan Dimmick.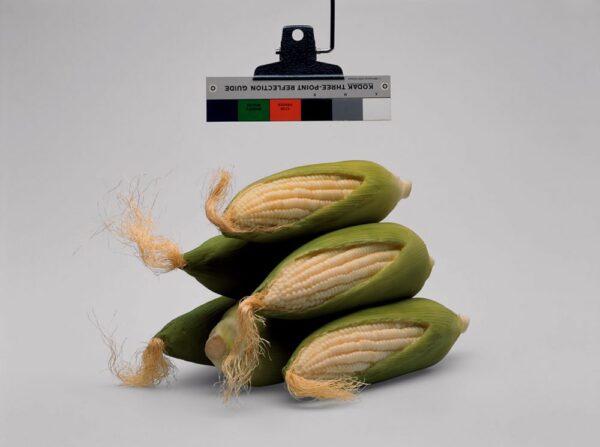 For Example: Dix-Huit Leçons sur la Société Industrielle
Christopher Williams
January 14 to March 6, 2005
A key exhibition for the Contemporary Art Gallery and for the artist, Los Angeles–based Christopher Williams's work grows out of the history of conceptual art of the 1960s and 1970s, which used language and photography to address issues related to painting and sculpture. It was curated by Claudia Beck, an individual, who along with husband Andrew Gruft, has made a significant contribution to Vancouver's artistic scene.
Christopher Williams, Kodak Three Point Reflection Guide, ©1968 Eastman Kodak Company, 1968. (Corn) Douglas M. Parker Studio, Glendale, California, April 17, 2003, 2003. Dye transfer print, 16 x 20 inches. Image: Courtesy of David Zqirner, New York/Photography by the Douglas M. Parker Studio.