Ian Sutherland of Poplar Grove Winery probably couldn't have imagined the dramatic growth that the British Columbia wine industry was about to experience when he planted the first few acres of grapes on the Naramata Bench in 1993. Sutherland's only goal was to make delicious wine, and in 1995, he harvested just enough grapes to make five barrels of cabernet franc and six barrels of merlot. But today, looking back on how the story has unfolded over the past 18 years, Sutherland remarks there have been many interesting chapters.
That first 1995 vintage was a very positive start. The wines were well received, picking up top honours at the Okanagan Wine Festival Society competition, now known as the B.C. Wine Awards. With demand easily exceeding supply, Sutherland planted the rest of his property and then turned to his neighbours to expand production. With the tree fruit business on the decline, it was easy enough to convince them to switch to the booming grape and wine industry. Sutherland directed what to plant and how to manage the grapes, and was able to increase production to more than 5,000 cases over the next decade.
The next chapter began in 2007, when Barb and Tony Holler, who were considering establishing a winery, ended up purchasing a majority stake in Sutherland's business. They agreed that Sutherland would oversee the 100 acres of prime but unplanted vineyard land the Hollers had previously purchased; the union was formed, and Poplar Grove was ready to expand.
Since 2007, the planting of the new vineyards has been ongoing; it is due to be completed in 2012. A second brand has also been created, Monster Vineyards, to allow for the expanded production and at the same time to protect the premium-quality status for which Poplar Grove is known. At full production, Poplar Grove and Monster Vineyards will be operating about 110 acres and producing up to 25,000 cases a year.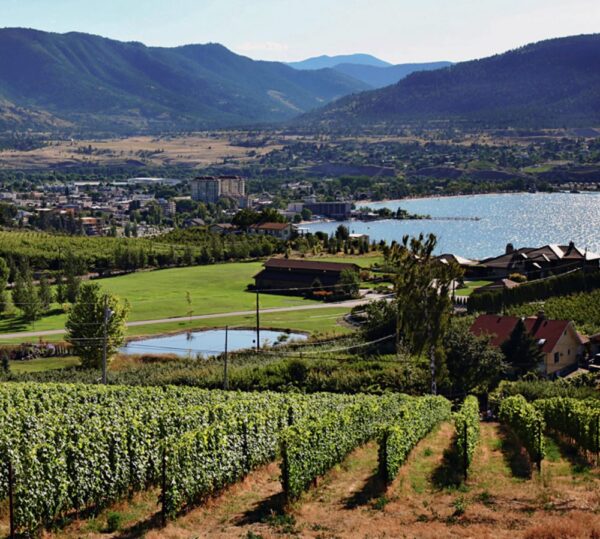 After many years of building and honing the infrastructure behind the brands and the vineyards, 2011 was the time to put up the showpiece winery. Subtle yet dramatic, the new Poplar Grove winery overlooking Penticton on Munson Mountain opened to guests July 1. For Penticton food lovers, a winery restaurant is also scheduled to open at Poplar Grove in spring 2012.
The whole operation is an enviable show. The wines have been built from the ground up under the guidance of viticulturist Valeria Tait and the winemaking team of Ian Sutherland, Stephan Arnason and Nadine Allander. All have made constant, positive adjustments to quality, which might be summed up in their recent achievement of a Decanter World Wine Awards Gold Medal for the 2008 Poplar Grove Syrah.
But even before Poplar Grove found fame for its syrah, it was known for its Bordeaux varietals—merlot and cabernet franc—and its flagship Bordeaux blend, Legacy; the wines combine bright fruit with more complex elements of spice, leather and floral notes, and they age well. The only white wines produced are pinot gris and chardonnay, both of which are excellent examples of their kind.
Sutherland sums up his efforts as being the result of a lifelong passion for wine and food: "It is a synergistic compilation of all the best things we've gathered from spending time eating and drinking on five continents over the last five years." The results are impressive, and Sutherland assures that this is it for a while, even though we know the Poplar Grove story is still to be continued.