In terms of golf, achieving an albatross is nothing short of fantastic: three strokes below par on a single hole.
It demonstrates skill, and sometimes maybe a little luck, but it is always a feat, and accomplishing it is special, especially when playing on a course such as La Jolla, California's famous Torrey Pines Golf Course. Set to host the 2021 U.S. Open, the destination course is also the home of the PGA Tour's Farmers Insurance Open.
But we're not here to talk about the golf.
This is the game of luxury, and The Lodge at Torrey Pines plays it well, with careful and attentive strategy. Situated right on the Rees Jones-designed course, made up of a north and south route, the lodge accommodations are evidently perfect for those playing the holes each day (especially because guests get priority tee times), but it is just as fanciful for those looking for a zero-golf trip. Right along the shores of La Jolla and, as such, overlooking the picturesque ocean, The Lodge at Torrey Pines has the charm of an old clubhouse and the service of a modern hotel. Dark, rich woods and stained glass doors give way to big, comfy chairs at this AAA Five Diamond property.
Open spaces and tall ceilings (inspired by the American Craftsman architecture style) do not take away from its cozy feel. Influenced by the Gamble and Blacker houses in Pasadena—indeed, the Gamble House Trust's Randell L. Makinson supervised The Lodge design team to ensure accuracy of the technique—The Lodge has a post-and-beam frame that plays up the natural tones of its surroundings.
Pulling up to the resort, which from the outside looks like a mix between a luxury cabin and an exclusive country club, guests are greeted by kilt-clad doormen who escort them through to the adult playground that hides on the other side.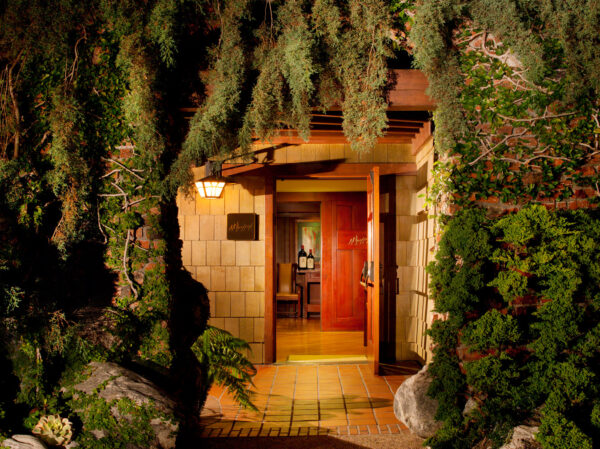 In the rooms, covered in custom-designed carpets, fabrics, and furniture, simple amenities pair with the continued theme of craftsmanship, with rich-coloured drapes opening up to balconies that overlook either the courtyard or the golf course. There are 170 rooms on site, a fact that is surprising simply given the quaint and quiet feel of the place. Two restaurants serve up high-end California-inspired fare, including delicious breakfasts of fried polenta and poached eggs, or fried eggs with eggplant and tomato sauce, on a balcony that hovers above the heated swimming pool, luxurious cabanas and loungers, and nearby hot whirlpool inside a raised gazebo. There is a croquet patch, a 9,500-square-foot spa, communal rooms with fireplaces, and smiling service to top it all off.
A short drive north of The Lodge is La Jolla Shores, a cute little surfer's area of shops and restaurants, including Galaxy Taco (from the chef of George's at The Cove, another popular, albeit definitively more fine dining restaurant). Those more adventurous can kayak into La Jolla's sea caves or snorkel with leopard sharks. And really The Lodge at Torrey Pines is well placed overall, located somewhat in the middle, creating an easy ride south to San Diego proper, or north to Encinitas and the striking beauty of calm Moonlight Beach. Complimentary car service allows guests to travel anywhere in a five-mile radius, although exploring on foot might be the answer considering the near 2,000 acres of sandstone cliffs, canyons, and nature that make up the Torrey Pines State Natural Reserve. Head out with a lover or take a guided tour from The Lodge.
It is a place of refinement, of effortlessness that does not sacrifice provision. Like accomplishing an albatross, The Lodge at Torrey Pines is exceptional.
---