Ola Volo walks through the Settlement Building in Vancouver's Railtown, seeing for the first time her latest exhibition finished and hung. In "King. Queen. Lovers. Fool." the Kazakhstan-born, Vancouver-raised painter and muralist dips her signature Eastern European folklore style into the world of tarot cards, creating a whimsical story of feminine power and spiritual connection. As she stops to discuss one of the paintings, exhibition producer Paul Becker of Art Rapture walks over to her and mentions that someone, before the show even opened, purchased her piece called Eight of Cups.
Volo's face lights up in happy disbelief ("One already sold!"), but a few moments later she lets out a small whimper. "I just finished that one. It was the second-to-last one," she says with a touch of melancholy. "Some of the pieces have been sitting around for six months; I got used to them and am ready to let them go. But others are so fresh." Beneath the wisdom of a woman who works for herself and knows the exhibition needs to sell is an artist with a deep connection to her work, resulting in a kind of sorrowful parting as the pieces find their new homes.
"Out of the nest, here they go!" she jokes, snapping back to her usual goofy self. Dressed in an all-black outfit that emphasizes her tall, thin frame, Volo is an elegant vision; one would never know that she just woke up from a nap at her parents' place in Coquitlam after finishing the final pieces for the show just this morning. Running for three days in October 2018, the exhibit—Volo's first solo show in over four years, which she chose to do in her beloved Vancouver despite the fact that she recently relocated to Montreal—marks a subtle maturation for the artist. After a slew of high-profile commissions for the likes of Louis Vuitton (a "dream collaboration" in which she painted three of the brand's iconic mini trunks) and Starbucks (multiple large in-cafe murals across the States), Volo has returned to the canvas and thus to her inner dialogue.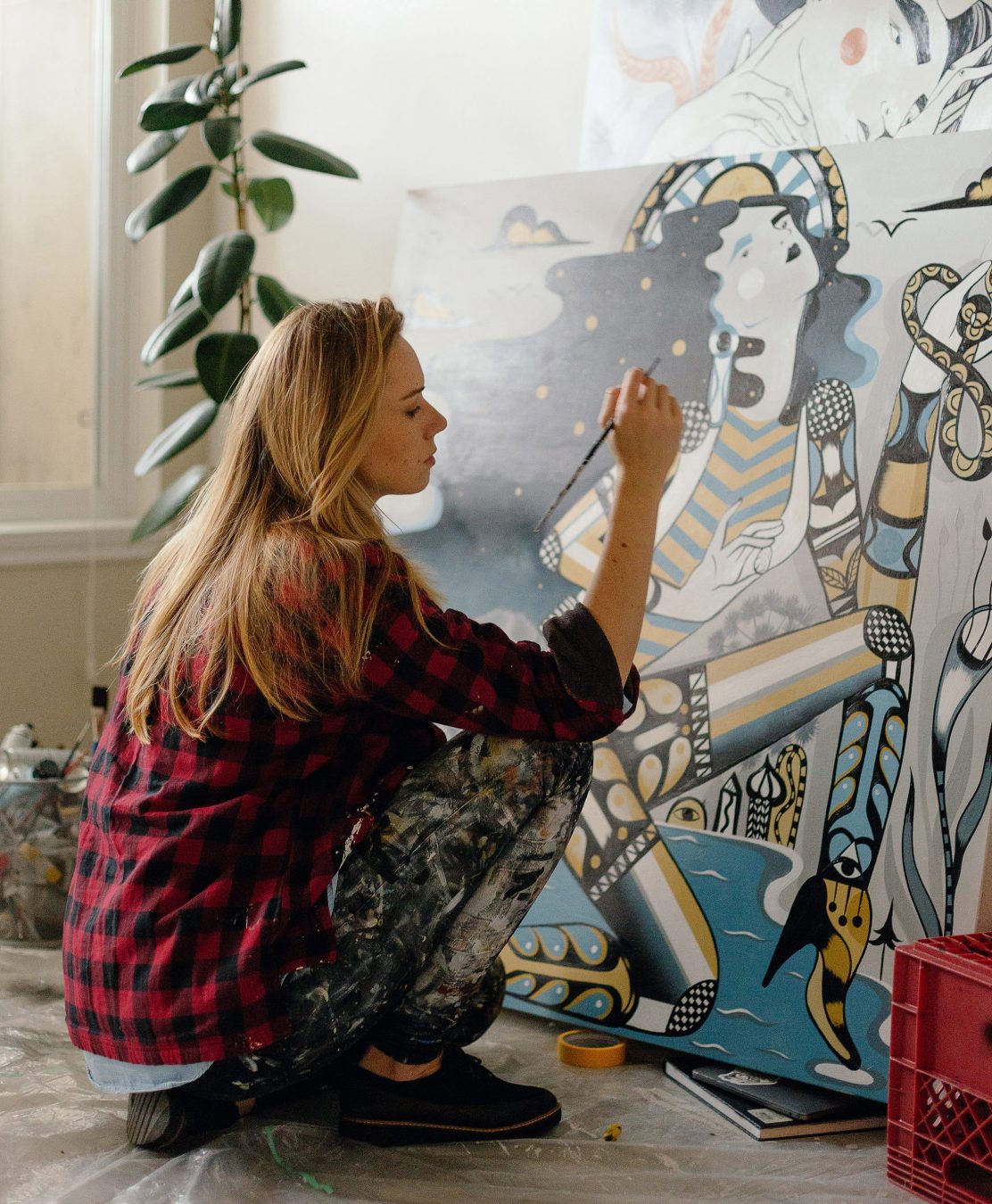 "Let's check in with me: what are my stories, what am I trying to say with my work?" she says of the process. "It's been this really bizarre, moving experience being in the studio." Tears start to gloss over her eyes but she laughs them away. "It's been so one-off, a lot these collaborations or these murals, and now I got deep into the storytelling of this folklore and tarot and it's just been months and months of digging deeper and pulling symbols and characters from all different sides, and making a collection and a world," she continues. "This is a solo journey, doing this thing on my own. I haven't had any opinions or any advice or any feedback. That's why it's like a little world that has been mine for so long."
It's perhaps no wonder, then, that one of the pieces in "King. Queen. Lovers. Fool." is The Hermit. "I was definitely in a particular state of mind for this piece," Volo says, laughing. "Was not feeling very social." So much of tarot is up for personal interpretation, but for her, the Hermit card is about "looking for answers within yourself." Washed in warm oranges and yellows, the expressive man looks out at the viewer, but he is really looking in on himself; his hat features a wide-open eye with rays pointing inwards for internal examination, and his cape is swathed with West Coast tribal-style symbols as fleeting dandelions wisp behind him. Arresting and thoughtful, it encourages reflection, peace, and breath, and offers a perfect absorption into Volo's distinct world.
As a definitive rising star on the Canadian art scene, her signature style has become instantly recognizable across North America. Taking inspiration from the Russian folktales of her Eastern European background, she creates an imaginative place that truly only exists in her paintings. The colourful, textured, busy without being chaotic result is truly immersive and wholly her own, combining layers of paint in the thick, swirling strokes of her brush. "I've been diving into that world since high school, stemming from my nostalgia of being raised in Kazakhstan but not understanding the culture, feeling like I have this part of me that I can't seem to completely understand," she explains of her folktale inspiration. Admittedly (and evidently) also nodding to Austrian master Gustav Klimt, her pieces take on rich patterns that invite people in; from afar an Ola Volo work is a whirling mixture of complementary hues, but up close it summons a special sense of discovery as specific shapes and references are found within her linework.
This artistic calling card is certainly a by-product of her cultural ambiguity, though it was undoubtedly confusing for her as a child; Volo immigrated to Vancouver from Kazakhstan with her family when she was just 10 years old. "We exchanged a couple phone calls with a friend of a friend of a friend: 'Do I bring my fur coat?'" she recalls, laughing at the memory. Upon arrival, her parents put her in "Russian school" so that she wouldn't forget the language ("I remember it was in a Russian church up on Fraser and 52nd or something. It wasn't the friendliest place, there were no heaters"). She had always been interested in art, and when she came to Canada her parents figured classes were a good way to get her engaged as she learned English; she ended up studying art as much as she could throughout her public education. "The schools were running out of art classes to give me, and so I kept transferring high schools," she recalls. "Too many schools later, I started at Emily Carr while I was in Grade 12, two classes in the evening. I was so committed. I was like, 'I suck at math; not good at sciences; history is not my strong suit; but art, you know what? There's no plan B.'"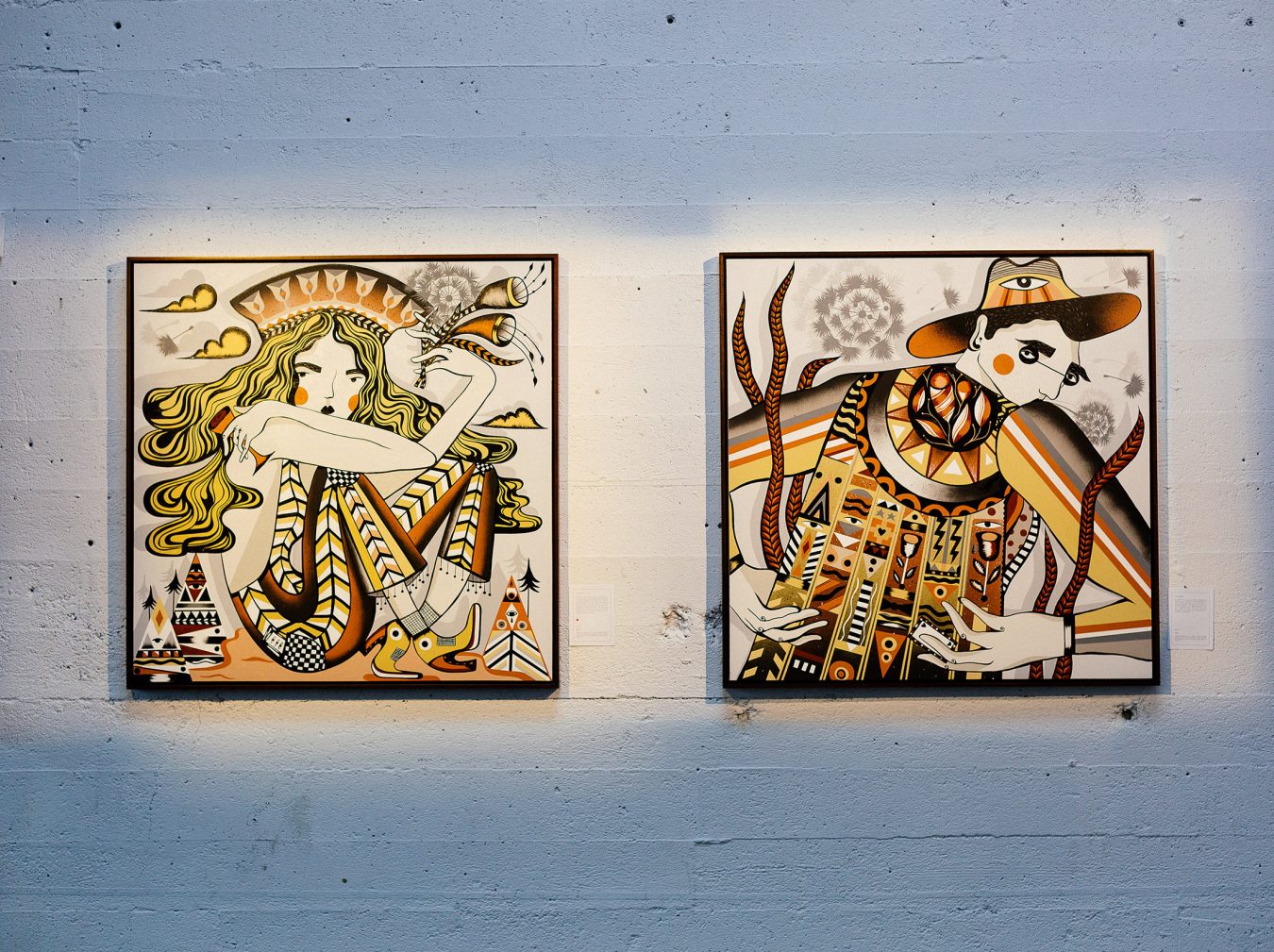 She continued at Emily Carr upon graduating high school, originally studying graphic design—but after a year abroad in Rotterdam, she began to think more deeply about pattern and paint, and upon her return to Vancouver she switched majors to focus on fine art. "I had this assignment for my graduation for Emily Carr, I did a book that had a whole world of mermaids and Baba Yagas which are these Russian witches," she says. "I got deep into the story; what I did was refine a dictionary of how I represent water and trees and women, men, birds—everything. I kept asking, 'What does it look like in my world?'" She spent six months creating this lexicon of symbols and characters, and it became the base of her practise; even today, if she is hired for a project involving scenes she has never considered before, she goes back to that same headspace, that same dictionary. "It lets me refine that language," she says. "English is not my first language, but this thing is definitely my first language."
Back at the Settlement Building, Volo stares at the flowing locks of another piece called The Star. Painted into the character's stark black hair are yellow stars from various distances away—an entire galaxy waiting to be discovered. It speaks to the essence of femaleness, and to the vast possibility of a woman's strength. And it becomes clear through this piece that Volo's work originates in her mind, but it grows so far beyond her; even she, at times, is amazed by the result, as if lost inside the very world she began toying with back in art school. The Star's head arches back in confident control as her hair streams behind her, and her left hand holds a serpent twisting into a familiar shape: infinity. She is forever. She is whole.
---