Gus Stieffenhofer-Brandson is looking a bit distracted. I've walked into Novella on Main Street a week or so before it is due to open, and he's hunched over his computer at the bar, frowning. It's early November, and around the almost finished but still sparse room, various staff members are practising the same pose.
Novella is the latest venture from the rapidly expanding Boxset Collective, whose portfolio includes Published on Main, Bar Susu, and Twin Sails Brewing. In just three years, a respected beer-maker has evolved into a leading player on the Vancouver food and beverage scene, and has been a significant part of the establishment of Main Street as a serious dining destination. But as Stieffenhofer-Brandson and business partner Cody Allmin are quick to point out, this apparently meteoric rise has been a hard-fought enterprise, beset by problems from the get-go.
Published on Main opened in December 2019. A month later, one of the restaurant partners died unexpectedly. "He was the main financier of the project," Allmin explains. "That put us into a tailspin from day one. All of our loans got put on hold, our credit cards. We were essentially handcuffed before COVID ever even happened.
"Fast forward two months and we get hammered by this global pandemic," he continues with a shrug. "It felt like we were just getting the crap beaten out of us."
Added to that, he notes, the group had quietly bought struggling Main Street institution The Whip (now Bar Susu) in the summer of 2019, only to see it continue to struggle, its surface "great-looking bones" proving to be "horrible" underneath. "It had lost a lot of money in the two years prior, and then we had to drag it through COVID."
Allmin and his twin brother, Clay, founded Twin Sails in Port Moody in 2015. They were approached by the original financiers of the space now known as Published on Main in December 2018. Everything was in place except a restaurant concept.
"I told them the first step was to find a chef." Given a couple of names by a well-connected industry friend, Allmin checked them out and, he says, it was clear pretty quickly that he and one of those suggested—Stieffenhofer-Brandson, who had finished a year-long stint as sous chef at Hawksworth just a couple of weeks before—were simpatico.
"We went for coffee," Allmin recalls. "It turned out we knew a lot of the same people, we box at the same boxing gym, we're the same age, everything just felt right."
Stieffenhofer-Brandson puts it simply: "We asked ourselves where we wanted to go and eat in the city, and agreed that the question was getting harder and harder to answer. I wanted Published to be somewhere I would want to eat. And eat often."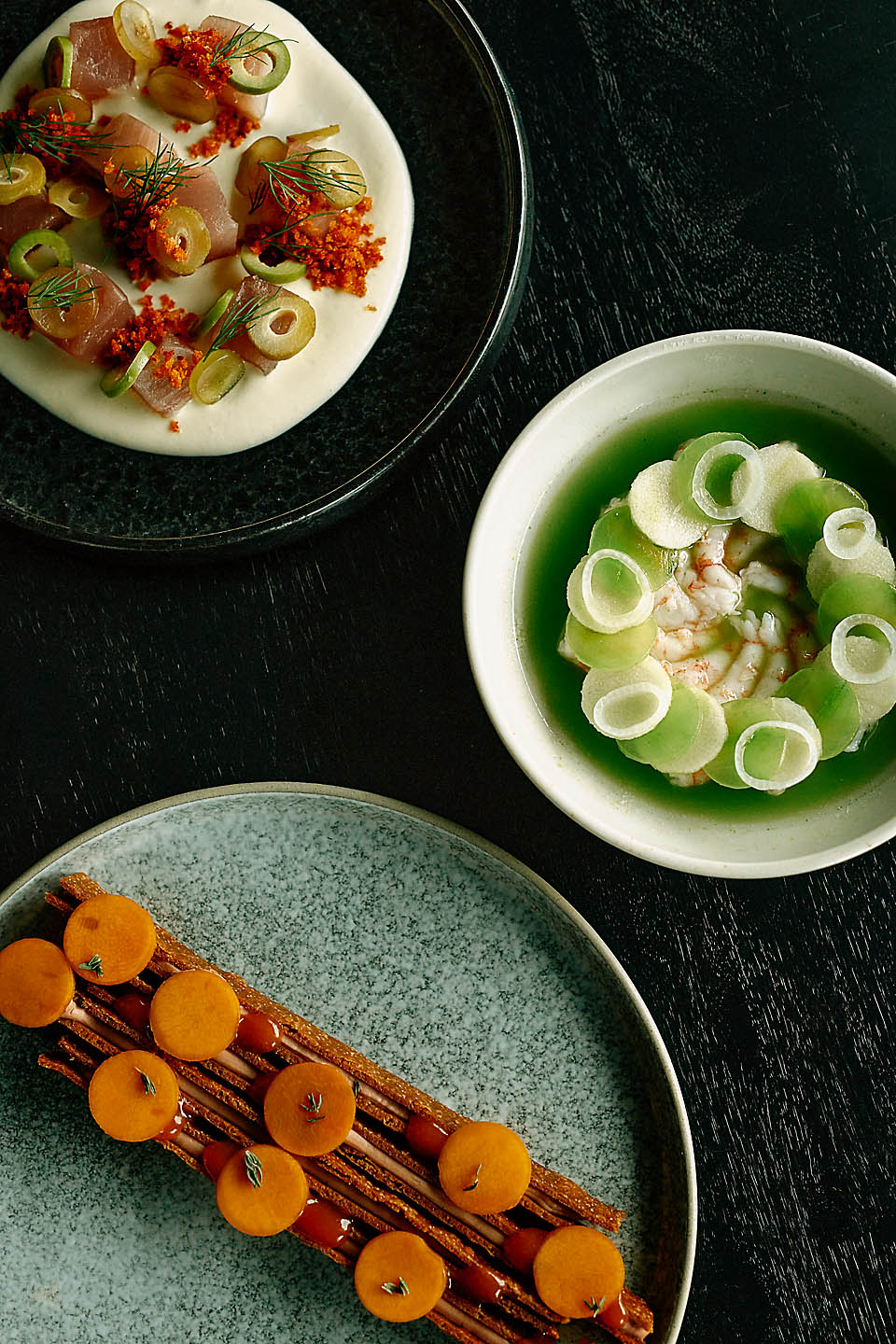 Now Boxset Collective's executive chef across the group, and a financial partner in the restaurants, 36-year-old Stieffenhofer-Brandson began his culinary career by chance—brought in as a dishwasher by a friend who had a job at the local Old Spaghetti Factory. He was 14, and that, as he tells it, was pretty much that. Two years later he had dropped out of his Winnipeg high school and was assistant kitchen manager, sometimes pushing out up to 700 covers on a busy night. Another couple of years on, loving the work—and even more the rock 'n' roll party culture—his path was set when his parents told him if he was serious about cooking, he should go to school and train professionally.
I meet Stieffenhofer-Brandson at Published the week before Vancouver's Michelin stars are to be announced. It's clear the anticipation has everyone a bit on edge. As the restaurant was already crowned top in this year's Canada's 100 Best list, expectations for it are high. But, Stieffenhofer-Brandson admits, the already published Michelin list for Toronto has given him pause. "I'm not as confident now," he says. "I'm definitely a bit rattled seeing the Toronto designations. But it is exciting. I think it's good to have international recognition coming to Vancouver."
We walk downstairs as the doors open for evening service and into a kitchen already in full swing. Bar manager Dylan Riches is flexing construction skills building new storage shelves for the walk-in fridge. At the pass, chef de cuisine Connor Sperling is managing a sudden eruption of ticket orders, calling out courses to a chorus of "oui, chef" from the four cooks on the other side. A dizzying number of dishes, all shapes and sizes, cram the tiny counter, each one plated under Sperling's critical eye. Stieffenhofer-Brandson steps in to try a new menu item, and the two chefs go back and forth, tasting and adding little splashes from an extensive selection of garnishes and sauces lined up in clear plastic tubs. Meanwhile, one of the dishwashers runs to and from the dish pit, picking up dirty hot pans in one direction, dodging Sperling's legs to put clean dishes in place beneath the pass in the other. All the while, music pounds out, driving the tempo. It's a serious business, but where there is sweat, there are also smiles. The atmosphere is focused but also respectful.
"Every cook goes through all the stations here," Stieffenhofer-Brandson explains. "They should leave as a chef in their own right. I want my chefs to be better than me."
The culture in the kitchen is important to him, as is rewarding the team. The schedule was recently shifted to create a four-day work week for the cooks. "I'm very aware that the standard here is high, the cooks work a lot of hours, and they work really hard."
Being present and available, he says, is crucial, as is keeping the energy high and sitting down together every day for a staff meal. As he talks about his team, it becomes clear he is a chef who believes in empowerment, in growth, and in the unlimited capacity of passionate and committed folks pulling together.
"There's a lot of sink or swim in some of the old-school restaurants," he adds. "People are sabotaging each other to climb over each other—I've seen a lot of that. Whereas here at Published, it's been one team, one dream, and everyone's been super supportive of each other."
He may have fallen into restaurant life, but Stieffenhofer-Brandson grew up knowing what good food is: his parents cultivated a large garden, and the family ate well. His grandparents—who immigrated from Germany in 1975—were farmers with a small holding an hour outside the city, and Gus and his brother spent a lot of time there, "pulling weeds, picking potato beetles, helping process stuff."
The European connection came into its own when he was at culinary school: his grandparents had a house in Germany, and Stieffenhofer-Brandson stayed there while doing his practicum. He travelled across France and Spain, Belgium and the Netherlands. "Winnipeg became really small, really quick."
Toward the end of his practicum, Team Canada was competing at the Culinary Olympics in Erfurt. He met Scott Jaeger, chef/owner of the highly respected PearTree Restaurant in Burnaby. "Scott said, 'When you come back to Canada, look me up.'
"I ended up packing up all my stuff into an old Honda Civic. I think I had 800 bucks in the bank, no credit card, no real other prospects. I staged with him and worked two weeks for free, until someone else left, and I got a job."
Jaeger is, without question, a significant figure in the evolution of dining in B.C. and, indeed, Canada, mentoring countless up-and-coming chefs across The PearTree's 23 years in operation (it closed in 2020). Stieffenhofer-Brandson, he says, was young and keen but had "a ways to go" when he arrived in his kitchen. What set him apart, Jaeger says, was the understanding that he needed to take a step back and hone his skills.
"He started at the bottom with me," Jaeger recalls. "He worked every station," improving not just his cooking technique but also the key skills needed to run a serious kitchen. Significantly, Jaeger says, "Gus was able to extract what he needed out of people and experiences, put that knowledge away, and then develop it into his own style of cooking."
After six years, Stieffenhofer-Brandson says, Jaeger was "just instrumental in how I cooked." He left to open Perch at the University of British Columbia, where he started figuring out his own style. When it closed, he headed back to Europe, spending time at René Redzepi's Noma in Copenhagen.
"After that I came back and did what I call my wilderness years," he proffers with a smile. "Private chef, catering, consulting… Then spent a year at Hawksworth, where I had a fun time, created two or three features every day, and vastly increased my repertoire."
He ran the Hawksworth lunch service, where he also built a loyal team, most of whom came to join him at Published.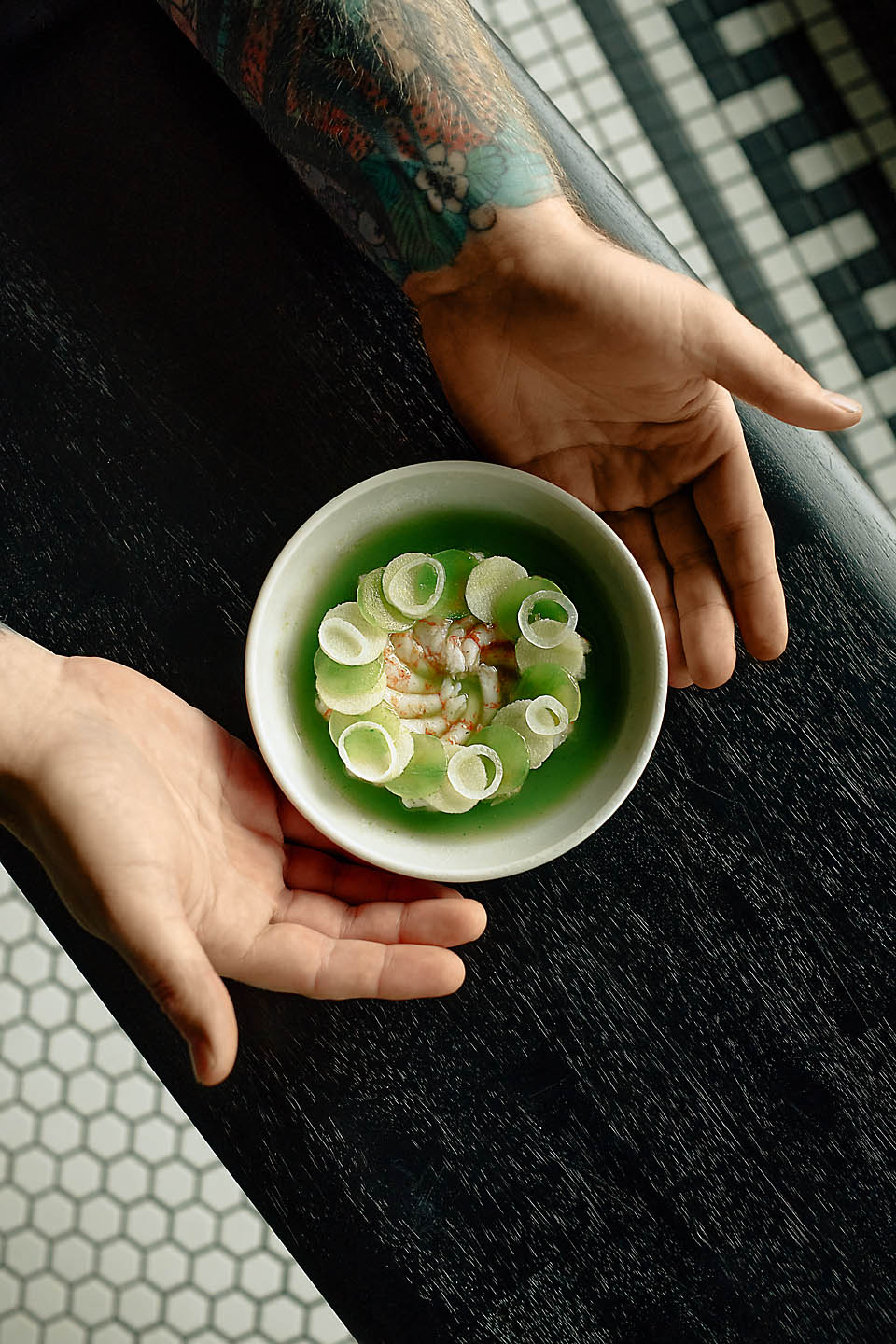 A few days after the Michelin awards, I return to Published and take a seat at the bar. Three ceramic dishes of different shapes and heights are placed in front of me. Between them they hold eight exquisite-looking bites, each unique, each offering different flavour and textural notes. A venison tartare is brightened with the acidic hit of the nasturtium leaf it is wrapped in. A soft and sweet brown butter madeleine is made decadent by the generous amount of whipped salted butter piped across its top. A take on a Chinese prawn toast incorporates spicy mayo, the richness cut with herbaceous shiso, and is served on rye bread—a nod to Stieffenhofer-Brandson's German heritage. An almost-black blood and almond biscuit stuffed with foie gras is topped with a puddle of grape jelly, reminding me not just that it is Halloween but also that this array of amuse-bouches is constantly changing. Modestly monikered "Snacks," this spread is only the first of 11 courses in Published on Main's daily tasting menu.
Only 20 tasting menus are offered each night, at either 5 p.m. or 8 p.m. Any more would be too much pressure on the staff, Stieffenhofer-Brandson explains. The restaurant—which can seat 160–180 guests per service—has been full since the 100 Best award. A week after Published took one of Vancouver's eight Michelin stars, online bookings opened for January. Almost 2,000 covers were booked within three hours.
Keeping the restaurant full at a time when inflation and interest rates are bringing yet more economic uncertainty after an already gruelling period is the goal, and the partners are welcoming the security such accolades afford. Meanwhile, Novella will open as a coffee house by day, and when all the permits are through, chef de cuisine Ash Kurtz will move across from Bar Susu to run the evening program. Michelin Guide Vancouver Sommelier of the Year Jayton Paul will add Novella to his Published duties, becoming Boxset's wine director.
Bar Susu, Stieffenhofer-Brandson says, will become "more bar food focused." He allows a little smirk to cross his face. "But my idea of bar food."
I ask if there is further expansion afoot, and Allmin smiles. "I think we might relax for a few months. But we do have growth plans. Michelin has opened up a bunch of new opportunities that we'd like to explore, and there are some other fun products we've got in the works. But these are all late-next-year things."
And at Published? Nothing changes. "It's just about keeping the attention to detail," Stieffenhofer-Brandson insists. "I told the team: What we have been doing has brought us here. We just keep doing what we do, and doing it at the high standard we have already set."
---
Assistant photographer: Ryan Voigt. Read more from our Winter 2022 issue.