Inside Oakridge Centre's East Galleria, a centre display piece is lined delicately with 22 extravagant haute couture dresses from the likes of Balenciaga, Versace, and Vivienne Westwood. A lavish Valentino dress is feathered on the skirt like a bird, its detailed bodice filled with golden pineapple-shaped pendants and a ruffled neckline. Adjacent is a contemporary Balmain dress, drawing in the eyes with its intricate braided leather pieces, recreating the famous utilitarian look worn on the runway by models Rosie Huntington-Whiteley and Joan Smalls back in 2014. This is not a Vancouver Fashion Week display, nor is it a Holt Renfrew pop-up. Instead, it's an exhibit showcasing couture dresses made by local Langara students. The most amazing part? They're all made out of paper.
For the past five years, this "Brown Paper Couture" exhibit has taken to the halls of Oakridge (this year on display until the end of March 2018), presenting the work of first-year students in the Retail Building Display course in Langara's Design Formation Program. The students have just four weeks to complete their pieces.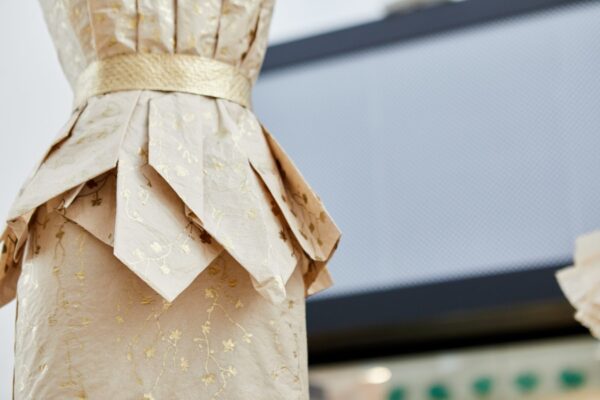 "The key thing about this project is that it is about exploring; it's about materiality, and trial and error, and project management," says course instructor Kevin Smith, standing proudly next to his students' work. "They choose the gown and the dress they want to emulate. Their job is to mimic, and to manifest an actual paper version of that said dress." Students use materials like corrugated cardboard, twine, dimpled packaging paper, and wrapping paper. "Coffee filters, cupcake papers, strings, thumbtacks," Smith adds. "Glue guns, lots of glue guns; wire. It's amazing how they reinterpret things every time we do this project."
This year, some of the most impressive work was done with the weaving of paper twine, which was used in the 2014 Balmain piece. The student wove metres and metres of the material (traditionally used in chair upholstery), layered it on pieces of panel, and lacquered it for a glossy and secure finish. Delicate materials were also used, including white fans, brown wrapping paper with golden painted patterns, and ruffled white pieces of tissue paper to recreate pieces by Georges Hobeika, Marchesa, and Krikor Jabotian. The colour scheme of the whole display is predictably brown, beige, and white, but somehow all together, it creates something truly breathtaking.
Of course, just because it turned out well doesn't mean it was easy. In fact, it's quite the contrary in this case. "The number one thing to remember is that paper is not fabric. You cannot stretch it, you cannot mould it," Smith explains. Different weights of paper were used to create the various lines, looks, and textures, including 20-pound, 40-pound, and 60-pound stock. "Students will crumple that paper, wet it, iron it, just to break up the texture of the fibres," he adds. This allows for a different feel for each dress.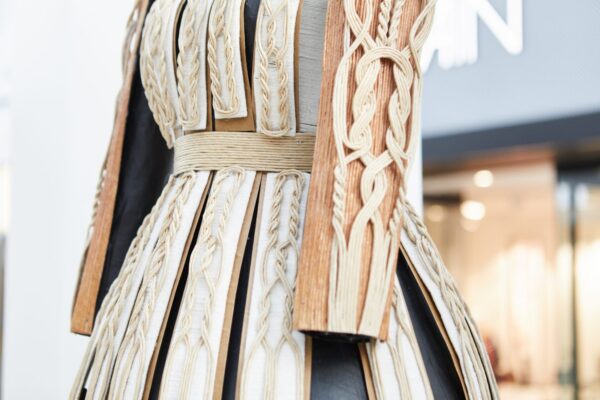 After Oakridge, the dresses will be showcased in Langara's Science and Technology building, and thereafter, the majority will be dismantled and recycled, with a handful to be saved and placed on show for the group's graduation ceremony. Although Smith has been leading this course for 12 years, he admits there were a few surprises this year. "For the first time ever, we have a gown here that you can wear," he gushes. "She startled us all. She built her entire dress to be taken off. It's a Valentino 2016, and she very cleverly hid the Velcro."
Clearly, Smith is thrilled with where the program is going—and he should be. "Something new is discovered every year. They just get better and more extravagant and more detailed and better executed," he says. "It's a superb opportunity for the students." And, thanks to the beauty and craftsmanship of the results, for the rest of us.
---
Stay in Style.