"Leisure Center isn't a very strong or modern name," admits Mason Wu, co-owner of Yaletown's latest one-of-a-kind retail experience, "but when people walk in, they say, 'Wow!'"
Housed within a 1930s heritage building, Leisure Center pays homage to Vancouver's history while also being a platform for the new. Situated on Homer Street, the 22,000 square-foot space (formerly Chintz and Company) boasts designer names from Tom Dixon to Balenciaga against an industrial but sophisticated backdrop. Polished aluminium panels create separation throughout the open-concept floor, but also allow for gallery-like discoveries such as a "time tunnel" that draws visitors towards a key attraction: an exposed vintage 1977 Camaro Sport from local artist Myfanwy Macleod. Venturing further into this impressive space, it becomes evident that Leisure Center is more lifestyle shop than fashion boutique.
Wu and co-founder MuYun Li first combined their passion for avant-garde style and business by importing high-end Japanese fashion brands for the city's retail scene. As they looked to the future, however, they noticed a hole that needed filling. "After seven years of business, we started to think that there was something missing in Vancouver—a gap," says Wu, chatting inside Leisure Center's Wellbeing Bar (which features a selection of plant-based drinks from New York's The Alchemist Kitchen). They felt that the city was ready for—and needed—something more conceptual.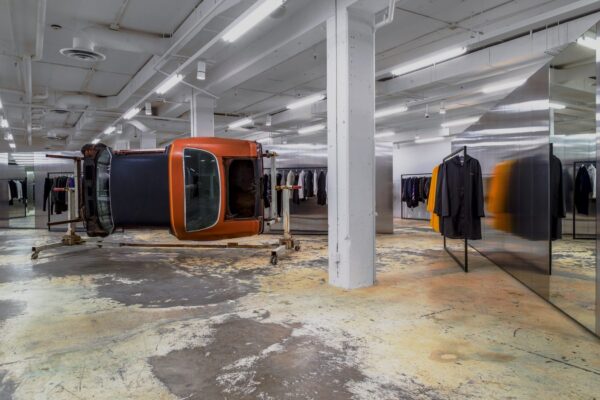 To achieve Leisure Center's meaningful browsing experience, Wu sought the expertise of Casper Mueller Kneer, the architecture firm behind the minimalist runways and stores of French luxury brand Céline. Through subtle environmental design elements such as negative space and customer flow, time spent inside Leisure Center encourages exploration and interaction with its collection of exceptional items. Much like a gallery, everything—even down to the synth sounds playing overhead—is carefully curated for this space. There is a strong emphasis on craftsmanship, sustainability, and well-being. Whether it's a first-edition Keith Haring illustration or an underground niche brand of organic skin care, it's the creators who take the spotlight here.
Wu envisions Leisure Center to one day evolve into a shared space where designers, artists, and other innovators can collaborate and introduce their ideas to the public. As a potential hub for new philosophies, Wu hopes the store will host conversations about health and sustainability from leading authorities in their fields. "It's not to educate people, we just want to affect people's thinking," he says. "If they have never thought that way, now they can start thinking about it: how the benefit goes back to us. Back to the earth. Back to our living environment."
A dynamic space where visitors can broaden their closets and their minds, Leisure Center takes a multifaceted approach to retail. With a dedicated children's area, a downstairs lounge with vintage sound system, and a seminar room teeming with possibilities—not to mention garments from the likes of Rick Owens and Loewe—there are plenty of reasons to stay and be inspired.
---
Read more in fashion.