Leuie, just off the bustling streets of South Granville in a small space behind Scott Landon Antiques, appears to be pulled straight from the pages of a fairy tale. Its windows are inspired by the season: small stacks of hay are occupied by adorable felt mice wearing bow ties and playing banjos. Inside, lit by sparkling twinkle lights, are delicate French linens, cotton candy-coloured tutus, tiny leather bomber jackets—each piece awaiting its starring role as a princess, a ballerina, a pilot.
Run by the mother-daughter team of Jacquelyn and Sarah Klassen, Leuie offers a small, carefully selected assortment of children's clothing designed and made in Europe. Stylish but never without a whimsical touch, each item in the store is made with the finest quality craftsmanship, boasting an attention to detail not commonly seen in children's clothing.
"One thing we notice, what our customers really appreciate beyond the design, is the actual careful manufacturing—they really appreciate the quality," says Sarah, as her mother sets out coffee and strawberry scones. With flowing red hair, soft freckles, and an almost palpable sweetness, Sarah is the resident fairy godmother of Leuie. "They also really appreciate that we don't have logos all over our clothes, and they appreciate that we don't have bright, outlandish colours. It's a palette that's classic." The items at Leuie are timeless styles, made of quality fabric and manufactured with integrity so that they can last through generations.
Offering brands such as Tocotó Vintage from Spain, Babe & Tess from Italy, and the French brand Leoca Paris, as well as handmade animal ears and wands from English designer Woodstock, Leuie is full of unique treasures that aren't found elsewhere in Vancouver. "Our items are very exclusive; you can't buy them anywhere else in the city, and they're all European designed and made," Sarah says. "Some brands you can't even find in Canada, which I love because you get people from all over the world, sometimes back in Europe, ordering from us again."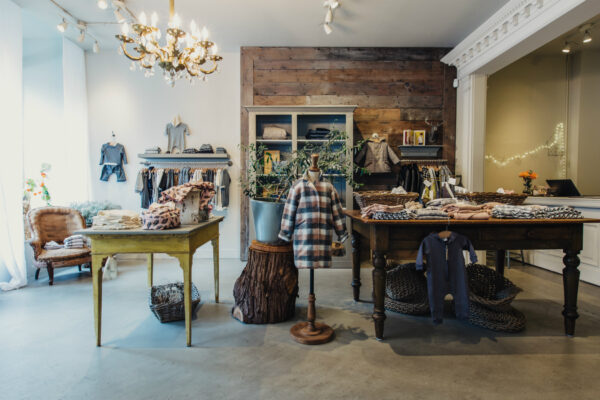 Because they sell items for babies to pre-teens, Jacquelyn and Sarah have had the privilege of really knowing their customers—many while they are still bumps in their mothers' tummies. "It is really fun to watch them grow up and watch how they react to things in the store," Sarah says. Knowing the children and their families so well helps the two of them on their buying trips to Europe, where they're looking not only for new, unique items, but also for personal gems that will resonate. "Boys and girls, when they're very young—even at two years—they know what they want," Sarah says with a smile. "We really take in all the feedback, and it's really fun to know what they'll love, and to anticipate what they love. We'll go, 'Okay, Francesca is going to love this!'"
With children's clothing, even more so than with adults, utility is key. "I think having three children of my own, I knew, for instance, with my boys, that they didn't like bulky jackets. Those would end up on the playground floor," Jacquelyn says, her heavy black bangs a perfect foil to her daughter's red fringe. "But if I gave them a warm hoodie, or a down jacket that was very fine, then they would wear it and they would keep it on." This attention to versatility is evident throughout the store; careful slits around the base of a blouse allow for the bendy, tumbling movements of a toddler, while leather jackets are soft and supple—garments that will actually be worn.
Between Sarah and Jacquelyn, there is a clear labour of love in every element. The fantasy-minded decor isn't by accident; Sarah meticulously plans out the window displays, and every small element—an antique French chair, the trademark Leuie bunny at the door—is a reflection of the Klassens' passion for what they do. "I love children," Sarah exclaims, almost starry eyed. "I feel that children are just curious, and they just don't have fears like we do. As they grow up you start to see it, but initially there's just their personality, and they let it out, and I find it so endearing. It's just such a magical thing."
---