On an episode of Keeping Up with the Kardashians, Kourtney wears a white knitted tube top with loose-fitting sleeves. Later, Kendall is seen leaving Craig's, a restaurant in West Hollywood, sporting the same. Next up: Bella Hadid takes in the sun wearing a red knitted halter tube top. Cue hype.
But Vancouver-born Michaela Pearle Rechtschaffner of New York-based Pearle Knits—whose designs suddenly became news—isn't focused on celebrity. Her goal is celebrating the female form.
Rechtschaffner developed an interest in textiles and machine knitting during an academic exchange between Emily Carr University, which she was attending, and the Rhode Island School of Design. She began knitting tube tops, selling them to friends back home, and launched Pearle Knits in 2017, just before she graduated. She moved to New York and worked as a stylist for SoHo boutique and clothing brand Opening Ceremony; it was there that she met a celebrity stylist who convinced her to put her knitwear on the racks. The stylist dressed her own clients in the knit tops, and a successful brand was born.
I meet up with Rechtschaffner at Mount Pleasant's Gene Coffee Bar the day before she'll be flying to Los Angeles for a pop-up with four other female-based brands. The knitwear designer explains that along with the excitement of seeing women wearing her tops in public, the reality of keeping a business afloat is tough.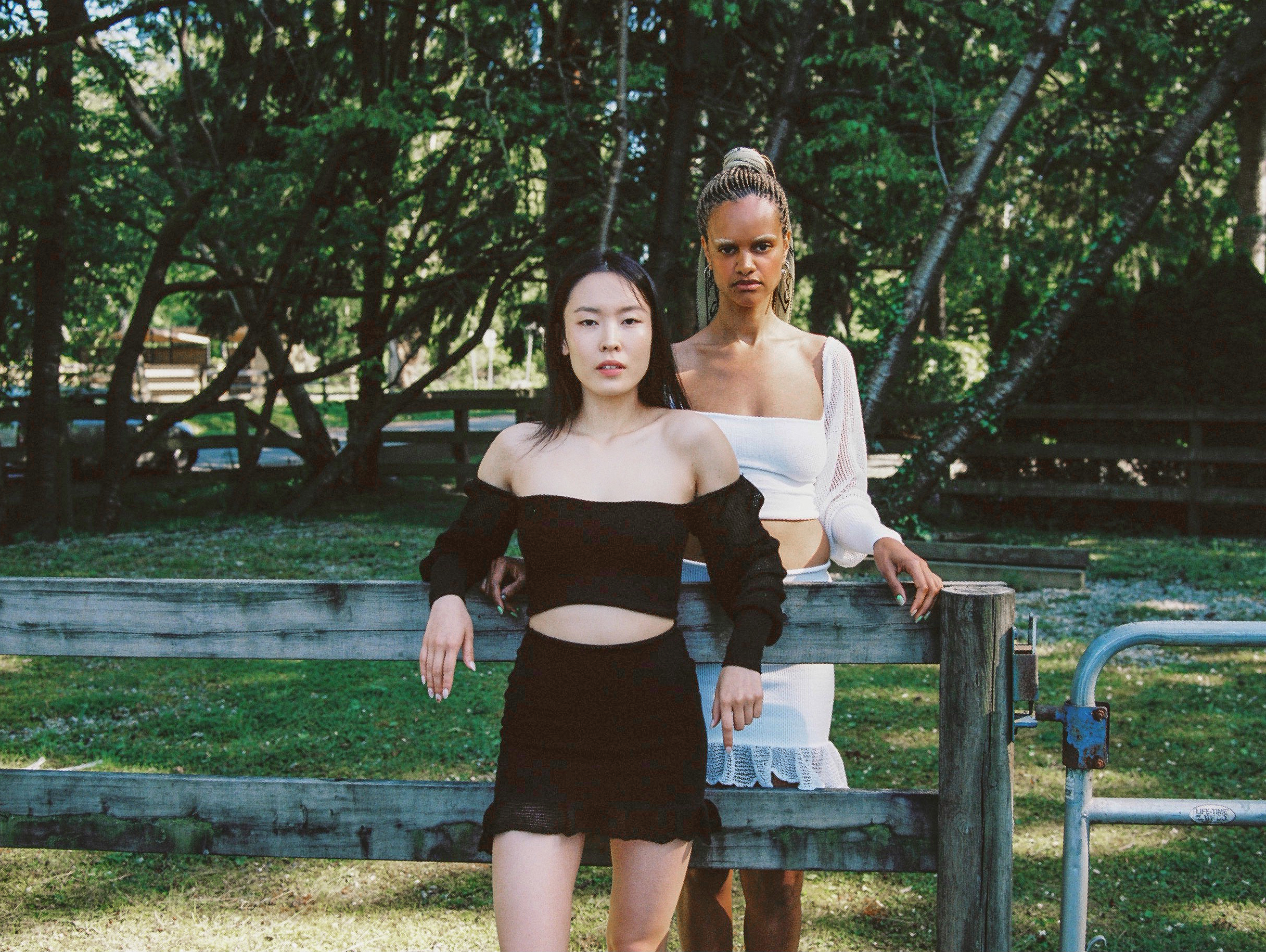 "When your company is young, you can only do so much," she admits. "I can't really hire anyone full-time at this stage. I do some of the photo shoots myself and try to hire people when I can. You have to wear so many hats. It's not easy." The experience has given her a renewed appreciation for women who run their own businesses. "It's challenging to do something out there on your own."
Rechtschaffner handcrafts each garment herself on a 1980s-era knitting machine. At the outset, that meant when a big order came in, she would stay up working all night. She learned the hard way to stagger her orders. "If I was offered a wholesale account, I would have to plan with them to time it properly so that it works for me, but also for the buyer."
The way her tops are manufactured is—as she puts it—"kind of archaic," so finding other knitters who can assist the brand in staying true to its mandate of "nostalgic handcrafted" has proven difficult. But she's committed to not outsourcing the work to factories—a big selling point for today's ethically conscious consumers. The cotton yarn she uses in her knits is purchased from a mill in Quebec—and sometimes the U.K., depending on availability—and sewn in either Vancouver or New York.
"The hardest part is to grow in a natural way that is not going to change your values," she asserts. "When everyone says to go bigger, cheaper, more, more, more…it's hard not to get on that train. You really have to step back and ask whether you are in it to make a fast profit, or if there is intrinsic value in what you do. I started this as a sustainable brand where I make everything and have no offcuts, no waste. That's the root of it. You can't stay true to that and then go overseas and mass-produce. That would mean sacrificing the whole brand."
Pearle Knits' Collection III is available online and at Opening Ceremony in New York and Los Angeles.
---
More ways to stay in Style.