Santa Monica. Sunset. Abbot Kinney. It's easy to imagine the expansive boulevards of Los Angeles whenever these names are mentioned together, especially in a nasal Valley intonation popularized by Saturday Night Live's classic sketch "The Californians." But for those who've experienced gridlocked traffic on the Santa Monica Freeway on a Friday at five p.m., knowing how to get around L.A. is no joke. It's a way of life: the mark of a true Angeleno. Fortunately, in a land of Ubers, Lyfts, and Byrds (motorized scooter sharing), there exists a place perfect for pedestrians.
Dubbed the most walkable city in California, West Hollywood is an L.A. destination unto itself. Once known as the town of Sherman, a settlement for railroad workers during the Los Angeles Pacific Railroad, WeHo (as it is colloquially called) was officially established in 1984 following the rise of the motion picture industry and the prominence of star-studded neighbouring communities including Hollywood Hills and Beverly Hills. Marked into three areas—the Sunset Strip, Santa Monica Boulevard, and the West Hollywood Design District—this trend-setting region is where Los Angeles receives its neoteric quality. Here, creativity and design are just part of the lifestyle that more than 34,000 people call their own, as reflected in monumental nearby museums (the Pacific Design Centre and the Museum of Contemporary Art Los Angeles) and notable stores such as Cassina, Roche Bobois, and Design Within Reach.
Also boasting a design-forward philosophy is the Kimpton La Peer Hotel. Complete with 105 rooms, swimming pool, and Mediterranean-Italian kitchen by sought-after chef Casey Lane, this accommodation proudly upholds the cool yet refined L.A. aesthetic. At reception, guests are met by the sight of a monolithic slab, metallic and fluid-like, created by locally-based architect and interior designer Gulla Jónsdóttir. Combining natural elements with contemporary shapes, Jónsdóttir's bespoke art and furniture can be found throughout the property and can even be purchased from her studio gallery adjacent to the hotel lobby.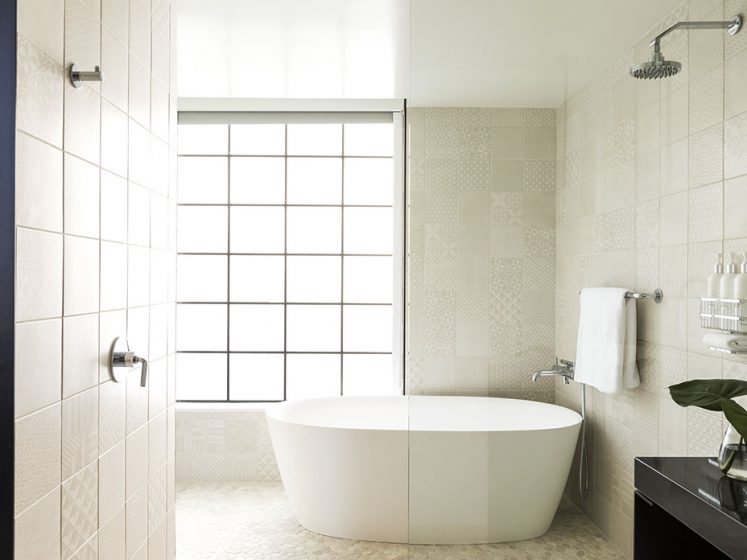 Just up the street from La Peer lies Santa Monica Boulevard, a frontier of the LGBTQ+ community since the 1920s. Commonly referred to as Boys Town, this private neighbourhood is where early contributors to the Hollywood entertainment industry felt free to be themselves. With 40 per cent of WeHo residents belonging to the queer community, this colourful stretch of road continues to be a mecca of clubs and bars, including modern speakeasy Employees Only. Beyond its secret entrance is a haven for edgy New York City-inspired libations, with a genuine psychic available for readings next door. Here's a tip: on weekend evenings from eight p.m. to three a.m., catch the PickUp Line, a complimentary trolley service that travels from Robertson Boulevard to La Brea Avenue. It's the best way to see Boys Town at night, and to perhaps stumble upon a party or two.
Even with their nightlife-loving reputation, Angelenos also know that looking and feeling good requires some quiet self-care. On the colourful Sunset Strip—where there are certainly some nightlife landmarks, including The Viper Room and Whisky A Go Go—there is no shortage of retail therapy and deluxe spas. Danish luxury skin care brand, Ole Henriksen, has been delivering red-carpet ready faces since 1975 through its use of natural botanicals, powerful actives, and essential fatty acids incorporated throughout all of its products. For that elusive California glow, opt for the Opulence Treatment, an oxygen facial that infuses skin with super concentrated Vitamin C to achieve a bright and balanced complexion that will improve over time. With a fresh face, wander into The London West Hollywood hotel to admire its shiny lobby or grab a bite in the restaurant.
With feeling good comes eating well, after all. As host to over 150 bars and restaurants, West Hollywood proudly showcases a diverse gastronomy scene. For an inventive take on seafood dining, consider rooftop restaurant Catch LA. Located on the corner of Melrose Avenue and San Vincente Boulevard, this local haunt invites guests into a stunning walkway of lush foliage, brick façade, and twinkling string lights. From signature vegan dishes including sweet potato gnocchi to big fish plates like the freshly-caught, oven-roasted whole branzino, there is much to taste and savour.
At the heart of the second-most populous city in the United States, WeHo is truly an extraordinary community to dive into. And with day trips to Santa Monica, Venice Beach, and Downtown Los Angeles accessible through a variety of transportation options, this is one place that explorers will be happy to find themselves coming home to.
---
Read more from Travel.