"A modern RV isn't really camping," says Mike Fiorentino of Camp Junkie, "You have a television, a bathroom—it's more like glamping. A Westfalia is a little more rustic. It's sort of a bridge between a tent and an RV."
Camp Junkie runs a small fleet of Volkswagen vans you can rent for an experience that has been central to West Coast living for decades. The humble, boxy Vanagon Westfalia camper is a constant sight around B.C., queueing for a Gulf Island ferry, slowly climbing the mountain passes into the Interior, or hanging out in a provincial park with its roof tent popped up.
The nostalgia for these machines is immense, and that's a good thing. It keeps prices high, which makes fixing up a tired old van worthwhile. And plenty of Westfalias are tired: model rented by Camp Junkie started production in 1979 and ended in the early 1990s.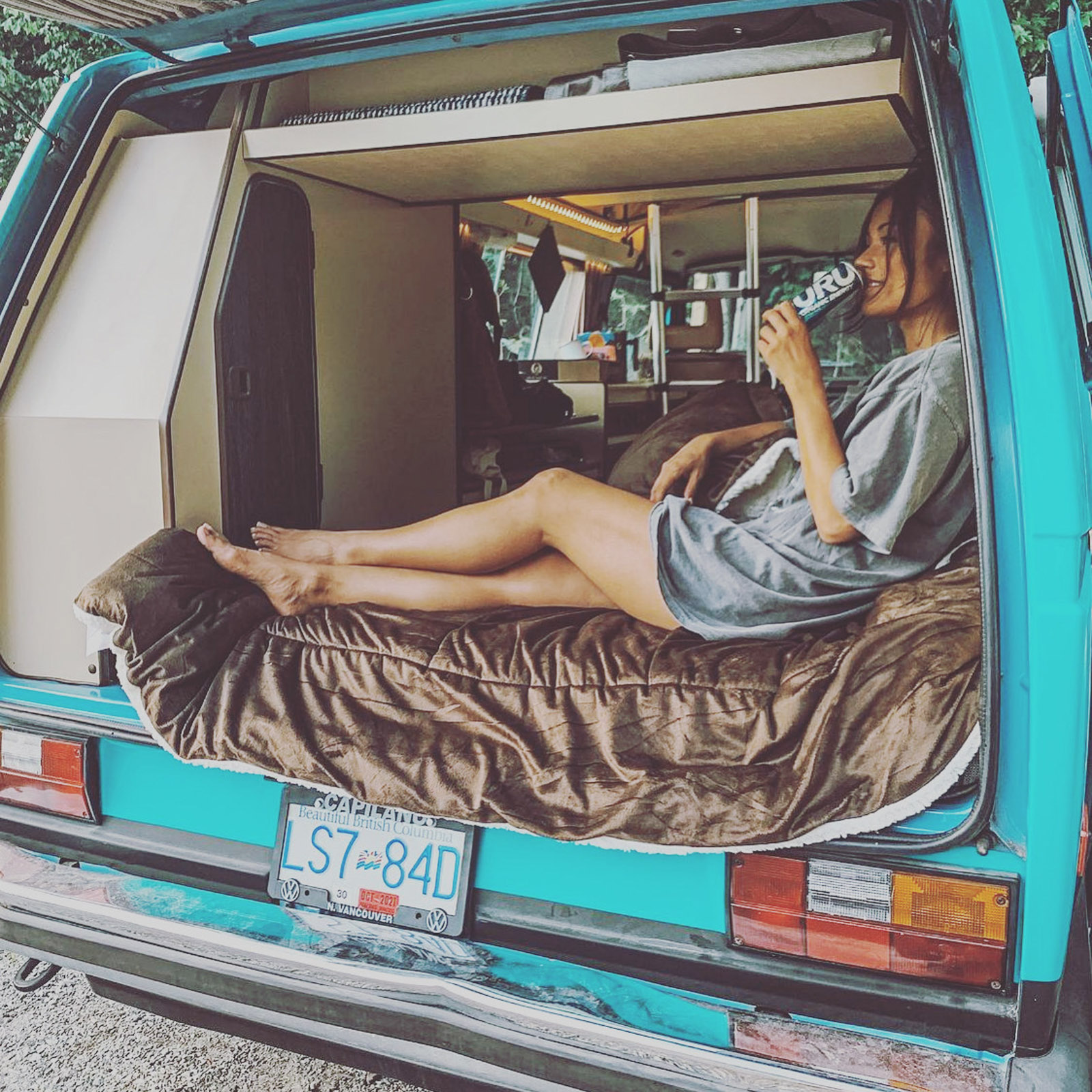 If these vans were people, they'd have children in grade school. In fact, it's likely your average Westfalia has raised multiple generations of kids. That pop-top roof tent features large in the memories of many a West Coast kid, gazing up at the stars, while below, Mom elbows Dad to quit snoring.
Westfalias as a cultural touchstone began with the previous generation of VW van. The prototype Camperbox was built for a British Army officer serving in postwar Germany. Proof of concept completed, VW subcontracted the Westfalia Werkes coachbuilding company to make a factory-supported camper conversion kit for Volkswagen vans in 1951.
The first generation campers are still beloved by aging flower children but aren't driven much anymore—a 1960s or 1970s van is too slow and brittle for modern highways.
The boxy Vanagon "Westy" is in no way fast, but its 1980s performance envelope is at least capable of keeping up with traffic.
Nobody rushes in a Westy. Why would you? There's no need to sprint to the next campsite to set up before the light fades. Just pull over for a snack on the way, then pop the top when you get there. It's summertime, and the living is supposed to be easy.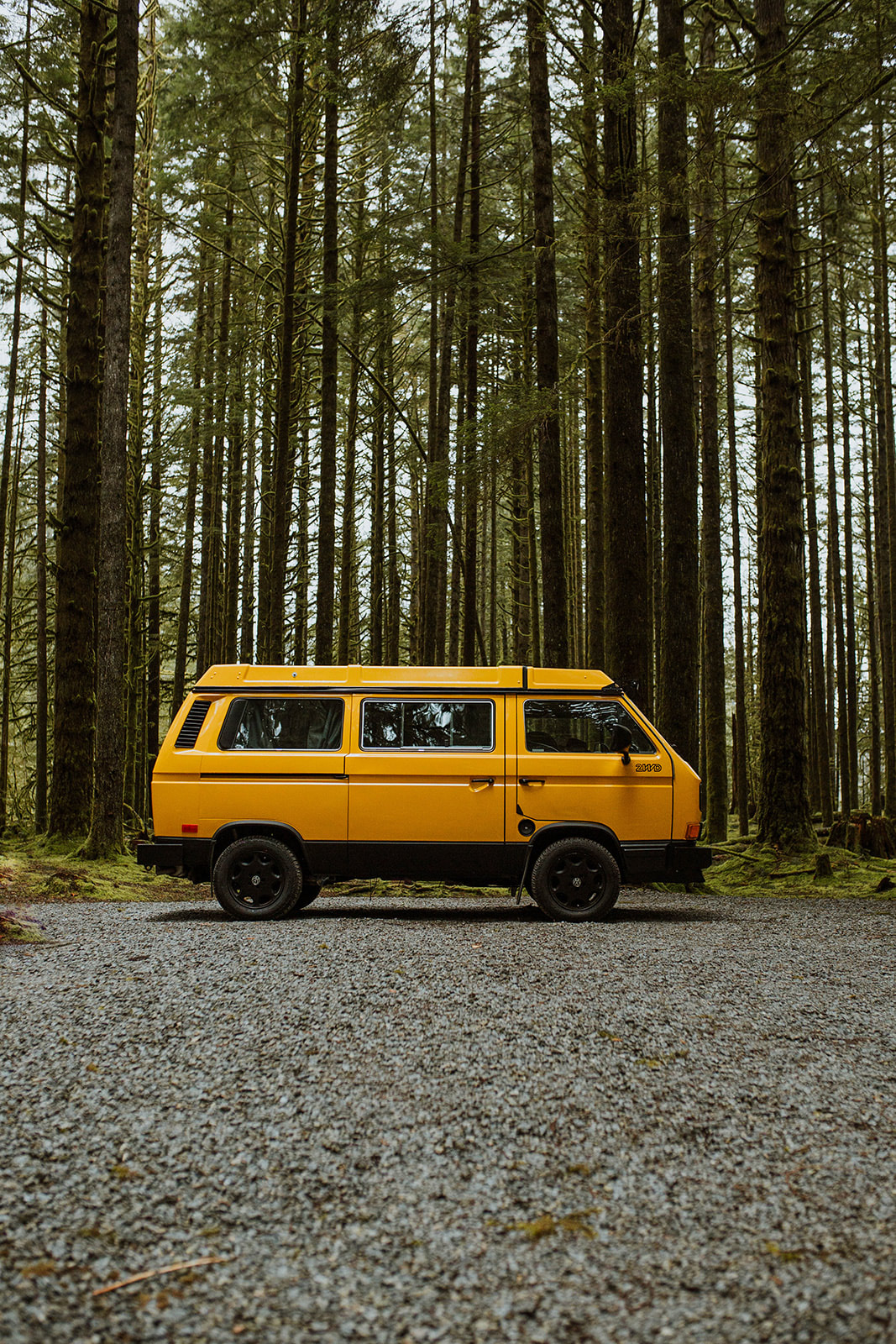 It all sounds great, but a large speed bump is approaching. The bulk of Westfalias have been well used. These are not vehicles bought to be polished and kept in garages. They are camping gear, run through 30 to 40 seasons out on the road. Most are tattered and wheezy, and their interior amenities were only ever impressive by 1980s standards. Things have moved on.
This is where Camp Junkie comes in. Fiorentino took inspiration when his own young family rented a Westfalia for a trip and found that some of the nostalgia didn't measure up.
"Power is a huge concern," he says, speaking of the Westfalia's tendency to burn through electrons. "We didn't even plug anything in and the battery died."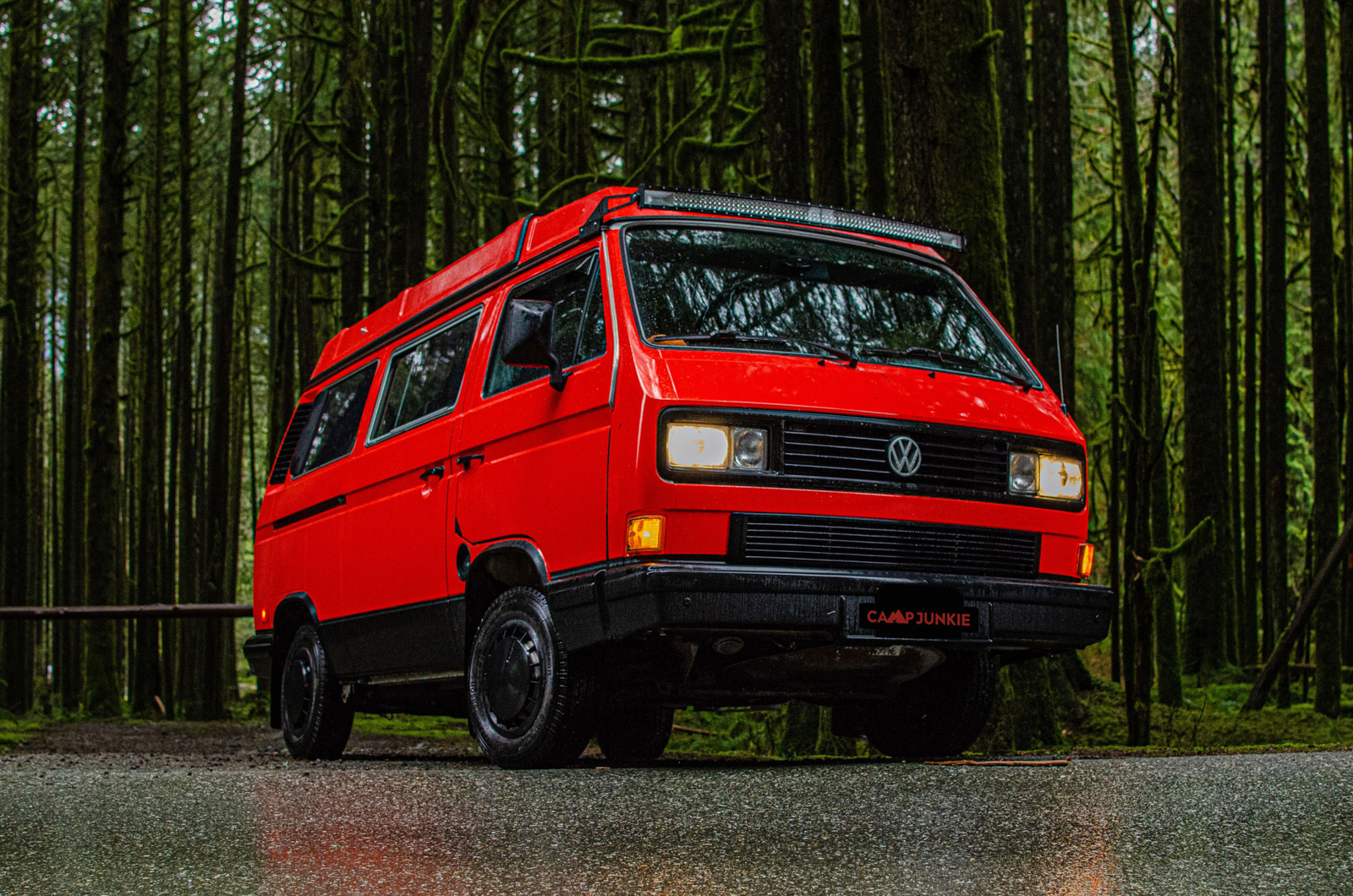 The company began hunting down Westfalias in reasonable condition late last year to refurbish them. It currently rents out three vans at $275 per night, with a fourth under the knife. Fiorentino estimates each refurbishment costs $10,000 to $15,000.
These modernized Westfalias have powerful 1,000-mAh secondary battery systems with solar power on board. The lighting has been replaced with LEDs, and USB charging capability has been added. All the original Westfalia cubbies and bins have been restored, cleaned, and preserved, and the vans' mechanical workings have been refreshed by a VW expert.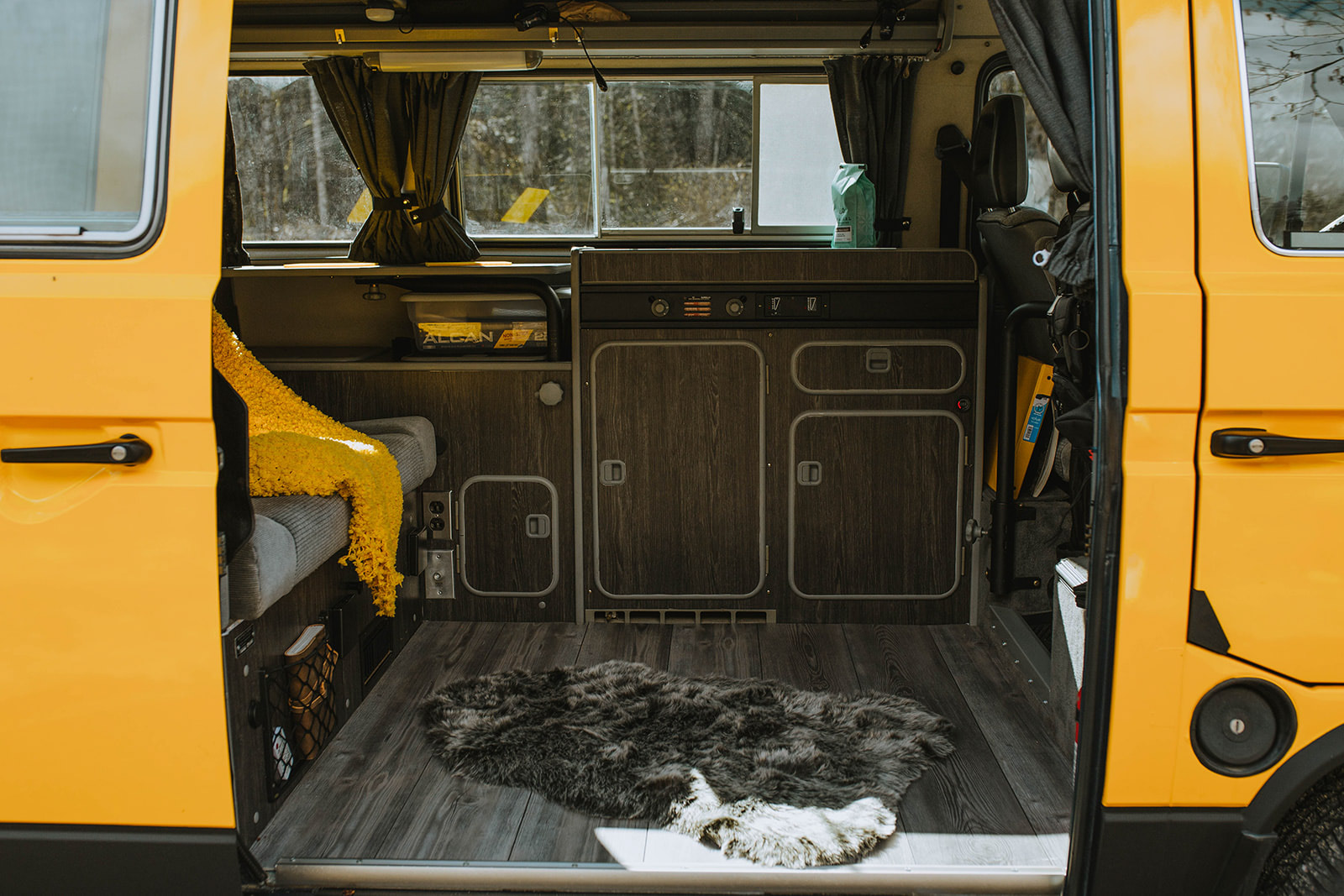 Specially fitted bug screens for all the hatches and doors keep out pesky mosquitoes for a sleep with a more outdoorsy feel. There are awnings, high-quality cooking gear, and even a field-tested espresso maker.
"You would not think that little things like having a proper knife for cooking dinner would make a difference when camping," Fiorentino observes "We've tried to make everything basically a turnkey experience."
Fiorentino's background is in marketing, including for a hotel brand. In many ways, Camp Junkie vans is a boutique hotel on wheels.
Current customers run the gamut from families of young children⁠—it is often easier to camp with toddlers in a van than a tent⁠—to older couples recapturing the magic of Westfalia trips 30 years ago. These vans provide the nostalgic glow without leaving you with a flat battery.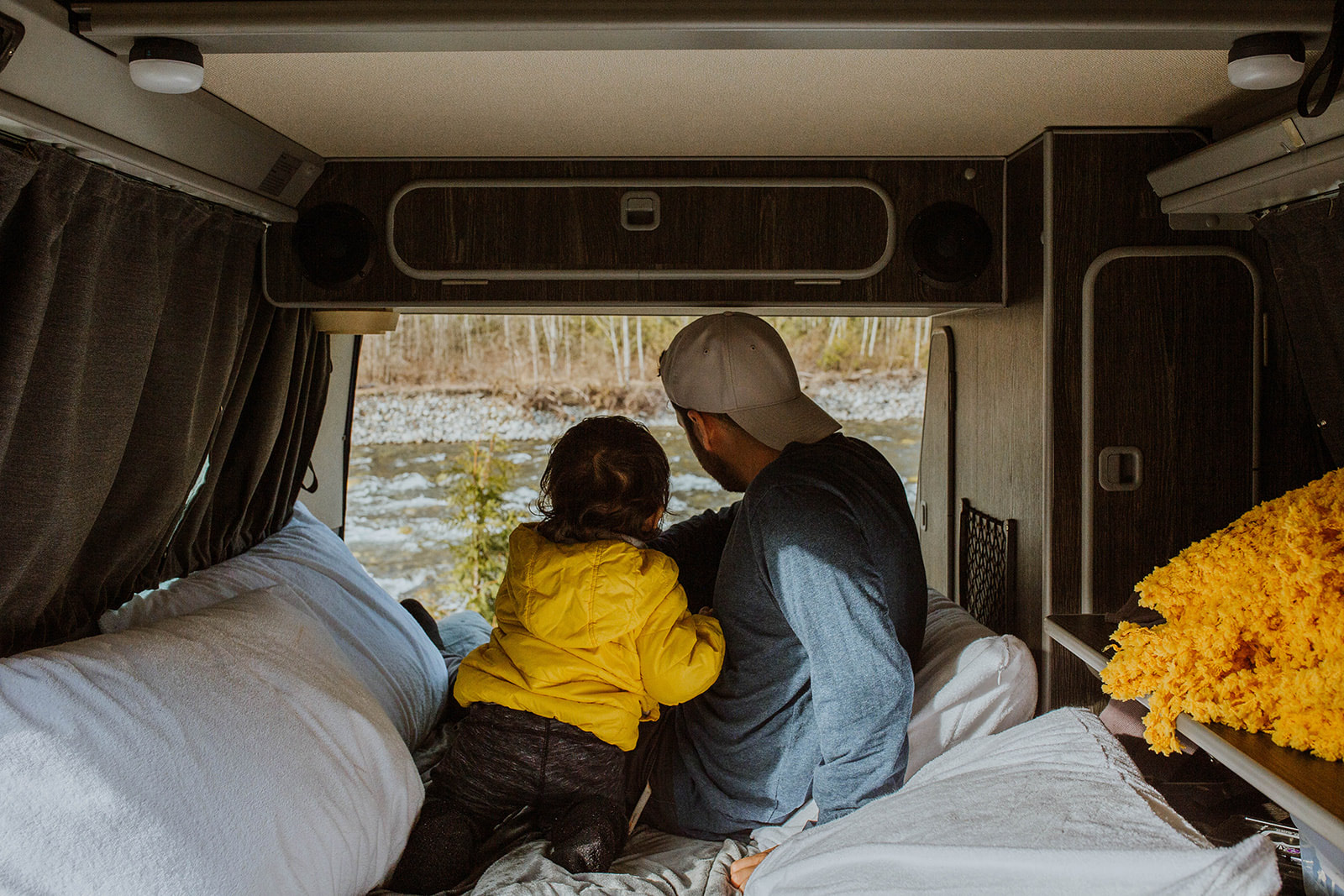 Looking to build on this experience, Fiorentino is creating Westfalia-oriented travel guides to Vancouver Island, the Fraser Valley, and beyond. He's hoping to partner with private campsites for Westy-specific spots for spur-of-the-moment roaming.
And he says his young son, at just three and a half, is his most enthusiastic tour guide, able to list every amenity of their well-equipped Westys. It's not tenting. It's not RVing. Camping out of a Westfalia comes with its own special way of life.
---
Read more Transportation stories. Photos courtesy of Camp Junkie.