Twelve kilometres away from the heart of Marrakech, down a seemingly endless straight road and nestled into a 100-year-old olive grove, sits Fairmont's Moroccan debut: the Royal Palm.
Taken over from New Mauritius Hotels Limited, the Royal Palm relaunched as a Fairmont in May 2017. Dripping with soft elegance and timeless luxury, the expansive property with spectacular views of the Atlas Mountains fits snugly into the Fairmont Hotels & Resorts portfolio.
Sitting on 231 hectares, the Royal Palm boasts an 18-hole golf course designed by Cabell B. Robinson; a gorgeous Clarins spa with serene indoor pool and sauna; a Sports Centre to help stay active; tennis courts; and a kids' lounge where the young ones can snag some (staff-supervised) alone time. The shining star of the whole property might be the outdoor swimming pool, which is ozonized and heated year-round and spans a massive 25 metres. Swim under bridges, paddle into private corners, and lay out in the sun on one of the many chaise loungers, looking up at the hovering olive trees.
Despite having 134 guestrooms in total, the Royal Palm does not feel excessively busy. There is enough space to go around, both out of room and in. From the Deluxe Room, a large patio boasts great views of the golf course and mountains, plus has a shaded bench perfect for soaking up the North African warmth without baking in the sun. Modern Moroccan is the theme of the room's design, which features a king bed, handmade furniture crafted by local artisans, traditional colourful Moroccan rugs, and a large marble washroom with beijmat floors and gorgeous sinks. A mini bar is stocked with complimentary water and soda, and plush robes are hanging at the ready.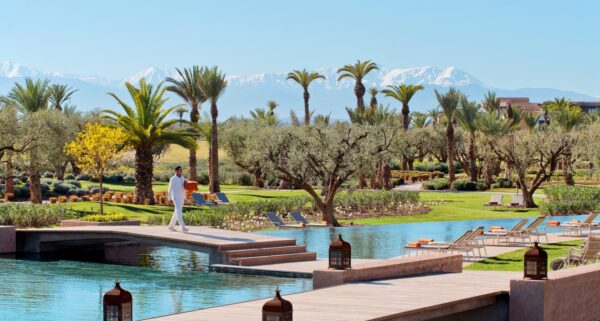 While its location makes for a truly tranquil and exclusive stay, it means the "Red City" of Marrakech is a decent drive away—but the hotel has guests covered, offering complimentary shuttles to and from the hotel, picking up and dropping off in both the city's New Town and Old Town. Consider grabbing a cool drink at Nomad in the Medina and touring the strikingly ornate Ben Youssef Madrasa.
Back at the hotel, exciting dining options are at guests' fingertips. Le Caravane is a must-do in the evening, if at the very least just to see how the dark night sky drapes over the resort and sets a beautiful blue onto the pools as giant palm trees rise high above, showcased by glowing base lights. But of course, food here is delicious too, with Mediterranean dishes including a notable rack of lamb taking the lead.
Then there is Al Ain, the hotel's Moroccan restaurant that should be penned into every itinerary (though it unfortunately is not open in the summer months). Lushly designed with hanging lamps, colourful textiles, and traditional zellij tiles, Al Ain overlooks the resort from above. Take in the sights from the charming patio as live music is played, and dig into a warm slice of house-made lemon bread, which is surprisingly tart and altogether delicious. Then move on to fresh fish tagine, perhaps alongside a glass of Moroccan white wine.
The Royal Palm is a desert retreat, and a mighty fine one at that. Every inch of this place is picture-worthy, but try not to only look at its marvels through a lens; instead, stare in wonder with your own two eyes. And then, when you close them, once you're sitting back in your desk chair or at the dentist, conjure up the calming blue of the pool and the majesty of the towering palms, and remember how it feels to be humbled.
---