Disconnect. The word seems strange to utter these days, merely because it can feel impossible to do. Panic reigns when smartphones aren't in hand, and a fear of missing out strikes dramatically when not keeping up with the lives of strangers on Instagram. We have seamlessly fallen under technology's command. So, where do we go to escape the online world? Somewhere that pulls us back to simplicity. Somewhere with an abundance of nature. And most importantly, somewhere without cell service.
That somewhere may just be San Juan Island in Washington State. Because here, the most picturesque log cabin in the woods awaits.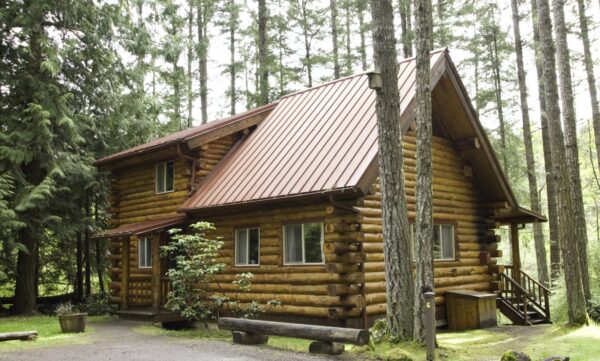 After sailing past some of the Pacific Northwest's finest islands onboard the Washington State Ferry that takes off from Anacortes (about an hour and a half from Vancouver), San Juan glows bright. Perhaps this has to do with the trees along the shoreline of Friday Harbor being alight just in time for the recent holidays, but nonetheless, the warmth of this small community is immediately felt.
Instead of stopping in Friday Harbor, though, head straight to the forest. Tucked away from it all, Lakedale Resorts at Three Lakes is dark and cold, yet mystical and wondrous. This is where mainlanders come to disconnect, with no cellphone towers and no city lights.
Built in the 1980s, Lakedale's Douglas fir log cabins span two storeys and feature two bedrooms, two bathrooms, a full kitchen, and a snug fireplace. When board games are at the ready, and freshly cut firewood is sitting out back, a glimpse at your newsfeed isn't necessary.
Located on the waterfront of Neva, one of the property's three lakes, the cabins allow visitors to jump right into the water or hop on a rowboat. Each abode is also graciously supplied with graham crackers, marshmallows, and milk chocolate to roast on the open wood fire just outside. As the sparks crackle and the marshmallows melt, stars can be seen above. Being in the woods on an island isn't so bad, as resort director of operations Richard Pitchford notes. "In the winter," he says, "I sell peacefulness."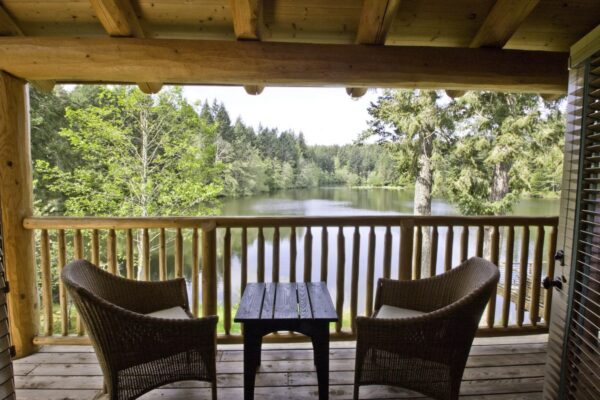 For those looking for a more rugged experience, campsites are available, each with prime real estate along the lake. But if travellers want to experience the outdoors, yet still like the comforts of a bed, Lakedale has 225-square-foot canvas cabins. Though they do not have electricity, they provide all the other benefits of modern glamping: queen beds, towels, and morning waffles. For something even more extravagant, 350-square-foot canvas cottages boast king beds, toilets, sheets, and even a chandelier. Another glampground perk? Toast cold toes at turndown service with two fleece-covered hot water bottles delivered to the abode each night.
"We have character," Pitchford smiles. "That illustrates what it is we're about." Indeed, adding to the glamping and log cabin options is a set of yurts, ready to launch in 2018 and featuring patio hot tubs and televisions. There is also a vintage 1978 Airstream Sovereign Steamliner, gutted and turned into a retro haven.
What was once an equestrian meadow, Lakedale Resort's lakes are man-made, meaning each season, the team supplies the waters with nearly 4,000 fish, including rainbow trout and large-mouth bass. Red foxes, deer, and plenty of bats inhabit the area. A lucky few people might even catch a glimpse of the magnificent Canadian trumpeter swan, whose favourite place to relax anywhere in the world is said to be here.
"We're selling nostalgia here," says Pitchford, who has been with Lakedale for six years. "For kids, it's easy. [This feels] like summer camp. And for parents? They remember what it's like being a kid, too."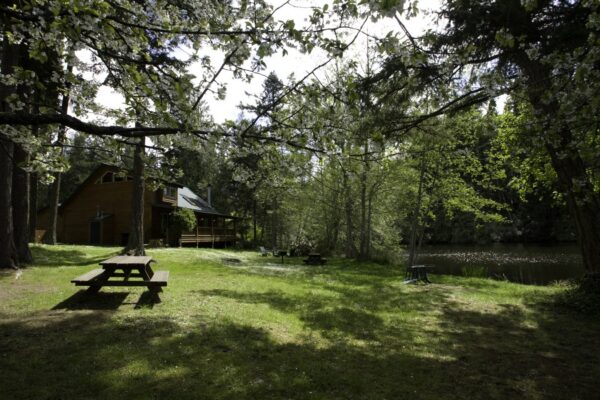 The resort's location is perfectly positioned halfway between Friday Harbor and Roche Harbor, making it a great spot to kick off adventures. Heading into Friday Harbor, guests will pass an odd but very real sight: a camel and llama snuggling together at a nearby farm. They are Mona and Lisa, and they are best friends. Aside from bewilderment, Friday Harbor is filled with eccentric cafés, art galleries, and shops. A celebration of Native American art and Salish culture is seen at a number of places within the community, including The Whale Museum, the San Juan Islands Museum of Art, and the Arctic Raven Gallery.
On the island's opposite end, Roche Harbor is charming in every shape and form. Tacoma lawyer John McMillin built a 20-room hotel called the Hotel de Haro in 1886; it still stands today and acts as the jewel of the town, which the Hudson's Bay Company first came to in the mid-1840s.
Perhaps the most surprising aspect of this community is its culinary scene. One of Friday Harbor's newest joints is in fact not new at all. After a devastating fire in 2013, Downriggers, a community favourite since 1986, reopened with beauty in 2016. The space, overlooking the blue water of the harbour, offers an array of scratch-made cocktails and local catches. Whether it's scallop gnocchi with leeks, or spicy prawn mac and cheese loaded with brie and gruyere, Downriggers knows how to do comfort food. And just two blocks up sits Mike's Café & Wine Bar, an intimate space proudly serving up vegan dishes that are simply delicious. Try the sweet potato taco, featuring seasoned sweet potato wedges and vegan sour cream.
Once bellies are full, take a trip over the Lime Kiln Point State Park. On the west end of San Juan, Lime Kiln is celebrated for its whale-watching. Breaching orcas, puppy-like sea lions, and pods of humpback whales can all be spotted here from the 1919 lighthouse that stands above the rocky bluffs and sea cliffs. And in the distance Canada waves hello, with Vancouver Island only a short distance away.
Back in the log cabin after a day of exploration, unfold that Scrabble board, grab a bottle of red wine, and kick feet up in front of the fire—after all, that is what disconnecting is all about.
---
Get your latest travel inspiration here.