When Leah Marshall walks across the grand lobby of Le Bristol Paris, her reception team lights up. And not with the forced smiles and polished greetings one may expect from the front-of-house team of a fancy hotel, but with expressions of genuine delight to see their admired boss.
This warm reception shouldn't come as a surprise, as Marshall, manager of the iconic Le Bristol, has garnered a reputation for being an extraordinary people person. It is a skill set that has taken her all the way from Vancouver Island's 35,000-population Campbell River to posts in cities including Florence, Singapore, and Paris, which she has called home for the last 28 years.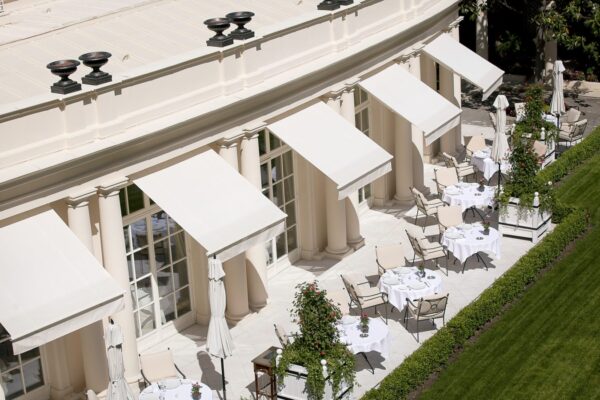 Marshall grew up in the salmon capital of the world, a fact she proudly shares while seated in a light-filled glass atrium nestled next to the hotel's Le Bar du Bristol. Dressed elegantly in black trousers and a cream sweater, with a geometric beaded statement necklace and classic tortoiseshell eyeglasses, Marshall recalls an international career spanning six different countries and working alongside visionaries in the fields of hospitality, food and beverage, retail, and architecture.
Marshall got her start in hospitality at Campbell River's Delta Hotel Discovery Inn when she was 15. A relative was the assistant to the general manager and asked Marshall if she would assist with some administrative work over summer vacation. She made such an impression on her boss that she was offered the opportunity to stay on during the school year, working at the inn's front desk for her last two years of high school from 3 p.m. to 11 p.m. While Marshall loved the experience, the City of Light was always on her mind. "At that time, I was focusing on coming to Paris to study," she recalls. "I was very inspired by my French high school teacher and I wanted to do exactly like her. My focus was trying to do everything so that I would be in a position to come over to Paris right at the end of high school."
Marshall's work ethic paid off and she promptly moved to Paris at the age of 18, without a place to stay and only a novice grasp of the language. She worked as an au pair while completing studies in French civilization at La Sorbonne, and upon graduation from the program, soon fell back into the hospitality business. While staying at a small 15-room hotel in Florence, the Pensione Di Baldi near the famous Ponte Vecchio, the owners asked her if she would be interested in working for them. She agreed, taking on a job working seven days a week from 7 a.m. until 11 p.m., doing everything from making pasta from scratch, to picking up paninis for lunch service, to serving the tables until the evening. In exchange for her hard work, Marshall had a three-hour break on Saturdays, during which she studied art and the Italian Renaissance at the Dante Alighieri Institute.
Following her two-year stint in Europe, Marshall returned to Canada, settling in Montreal to keep up with her French. "I started applying for work; I knew that I was not probably gifted enough to be an interpreter because I was not a perfectionist in either of the languages, so I knew that that would be a waste of time of trying to go the route of university," she admits. "So, what did I enjoy? Well, I really enjoyed the people business." So she applied for positions at hotels in Montreal.
After landing a job in reservations at Westin's Hotel Bonaventure in 1971, Marshall soon rose through the ranks to become the company's first female manager at the age of 27, accepting the new role at the Westin South Coast Plaza in Southern California. The promotion was historic, making Marshall one of the youngest hotel managers in the industry, and one of the only females with the title in all of North America. "Quite honestly, it was a big deal for everybody," she says. "Obviously for myself, but for the company, and for a lot of people in the business."
Marshall would go on to spend 12 years in Southern California, first with Westin Hotels, and later at The Newporter, working with architects like Phyllis Lambert. Marshall spent the last five years of her time in California working alongside influential developer Henry Segerstrom within his family business, handling retail services for South Coast Plaza. "I had a great exposure to so many aspects of the restaurant and retail business over those five years, and it was because of that that I was recruited by Disney," says Marshall. The general manager position for what was then Festival Disney (now Disney Village) brought Marshall back to Paris, challenging her people skills on a massive scale.
Handling the opening of the 180,000-square-foot entertainment centre—the first of its kind in any of the Disney parks—Marshall acted as a liaison between a stellar team that included consultants from Frank Gehry's firm, interior designers from Morris Nathanson, and chefs including Wolfgang Puck. Marshall acted as the go-between for both English and French teams, totalling 1,000 staff, which tested her communication skills on an entirely new level. "I used to sit in these meetings with 35 people, Americans and French, and it was so technical," recalls Marshall. "I think that was the most stressful time, really, that I have ever had in my life, because I felt so overwhelmed by the tasks at hand."
Following her six years at Disney, Marshall went on to spend 10 years at Four Seasons George V and then time in Asia with the Shangri-La group. In 2011, she joined the Oetker Collection's Le Bristol Paris, an 18th-century historic palace located on the prestigious rue du Faubourg Saint-Honoré.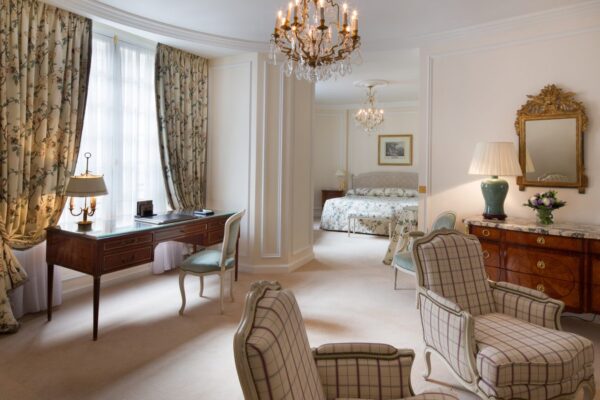 With decades spent working in the hospitality industry, Marshall has a strong point of reference to see what really makes Le Bristol stand out. "I honestly believe that it is a very unique hotel and one of the last authentic hotel operations of the like," she says. "There is a discretion that we all practice, yet at the same time, we are very approachable." Marshall's talent undeniably lies in people relations, be it with guests when sharing her enthusiasm for Paris through her Leah's Walking Street Tours, or with her dedicated team. The embodiment of hospitality, Marshall puts people at ease from the moment they meet her, with animated expressions and a vivacious laugh that is a distinct reminder of her Canadian roots.
---
Read more from Travel.