"It's definitely the whole vibe around here at the Andaz: that modern boutique, but still recognize that you're in Arizona kind of thing."
At the Andaz Scottsdale Resort & Spa, food and beverage supervisor Andrew Basom stands by a table at the onsite Weft & Warp Art Bar and Kitchen. The pristine hotel pool sparkles in the moonlight, the outlines of palm trees sway softly in a late-night wind, and the towering Camelback Mountain can be seen faintly in the distance. There definitely is a vibe here in Scottsdale, a certain sense of relaxation felt amongst the quiet depths of rolling burgundy terrain.
Opened in 2017, the 23-acre Andaz was dreamed up by EDG Interior Architecture + Design, but influenced by the local art collective Cattle Track as well as iconic mid-century architects Frank Lloyd Wright and Alexander Girard. This nod to mid-century modern aesthetics is discovered in pops of colour throughout the property, from red and blue latte mugs to decorative illustrations and paintings that hang on the walls of the hotel's comfortable bungalows.
One of the founding principles of mid-century design is to allow the outside in, and it is noticeable at the Andaz with the idyllic glass lobby building spilling out onto a vibrant patio with an open fire pit—but also come morning when the sun slips into the white bungalow washroom, bouncing off the dual-fixture shower marked with subway tiles and along the wicker baskets brimmed with plush towels. Pieces of furniture add to the conversation, too: structured leather benches and side tables, bright Womb armchairs, and oversized floor lamps.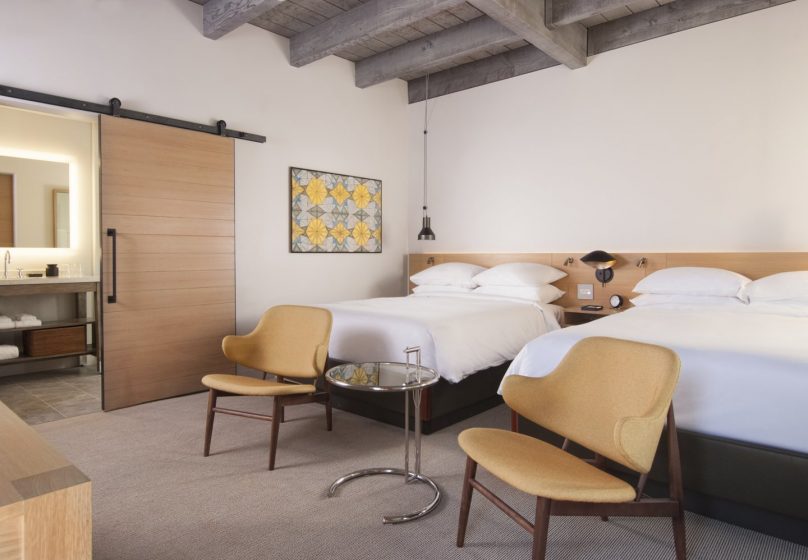 Each morning guests are summoned to breakfast back at Weft & Warp, where fresh fried eggs with nutty rye bread smothered in locally-made hot sauces like habanero and garlic ginger offer a great way to begin the day. Then a visit to the serene pool is surely in order, or perhaps a nearby hike or a wander through Old Town is more up to speed. Come evening, enjoy tableside Caesar salads and decadent pastas at Fat Ox just down the street, or keep it even more local at Weft & Warp. Sink teeth into salty and sweet charred corn with creamy aioli and cotija cheese elote, then indulge in a New York steak drizzled in mole sauce, grilled avocado, and pickled red onion, or a green-chili-roasted chicken with watercress salad.
The Andaz is sophisticated yet retro, keeping the area's mid-century modern history alive (Frank Lloyd Wright used to live here, after all) while remaining enthusiastically current. Alternatively, those looking for something a little more playful and a little more dated (but charmingly so) can find solace at the historic Hotel Valley Ho. As a live band sets the mood in the lobby, it is hard not to fall for the property's old-school, at times kitschy, charm. The Valley Ho was first built in 1956, designed by Frank Lloyd Wright's student Edward L. Varney; in 2005 came additional rooms and Zuzu restaurant. Over the last six decades, guests like Frank Sinatra, Bette Davis, Jimmy Durante, and the Rat Pack have visited the Valley Ho to play and relax in upscale desert style—Natalie Wood and Roger Wagner wed inside these very halls.
"I think Arizona is kind of its own little thing," says Zuzu chef Russell LaCasce. As a local cook with over 20 years of experience, LaCasce has seen the advent of Southwest-meets-TexMex cuisine here in Scottsdale, and starts tonight with a goodie: short-rib tater tots filled with cheese and scallions and topped with Calabrian chilies and horseradish aioli. Surprisingly, even in a land-bordered state like Arizona, its fresh dishes steal the show, such as a perfect plate of decadent and savoury lobster rolls, followed by ahi tuna with avocado and spring greens on a bed of juicy yellow watermelon. The pool is the place to be during the day, as the hotel is known for its aqua parties; when it comes time to rest, find refuge in the incredibly spacious rooms painted with pinks and greens (and a yellow kitchen) and watch as a calming sunset fills the sky.
Though physical activity is deemed difficult during the warmer months in Scottsdale (plus-40-degree weather means even a visit to the Desert Botanical Gardens or famed vegetable-forward FnB Restaurant is quite the task), the heat of the desert warms Northern bones, sparking an unrivalled peace. And when done right, its hotels only add to the magic.
---