Jackie Kai Ellis greets me at the door of her second floor Parisian home wearing a cozy ankle-length grey sweater dress, her signature curls pulled up, halo-like, around her head. Located in the trendy 10th arrondissement and not far from the Canal Saint-Martin, the apartment is surprisingly spacious. But I soon learn that what might seem like a stroke of luck—finding a decent-sized flat in a city known for its Polly-Pocket offerings—is actually the product of Kai Ellis's innate vision, her ability to spot opportunity and go for it.
Paris has always felt like home for Vancouver-born Kai Ellis: She closed her successful design company in order to master the art of French patisserie at the city's Ecole Gastronomique Bellouet Conseil, before returning to Vancouver in 2012 to open Beaucoup Bakery & Café (since sold to sister and brother duo Betty and Jacky Hung). Her recently released memoir, The Measure of My Powers, outlines the at-times tortuous journey she's been on to get to where she is at today. Leaving the comfort of what you know to pursue opportunities that are equal parts compelling and terrifying is a recurring theme. Buying an apartment in Paris appears to fit the trend.
The previous owner was an 85-year-old hoarder who had piled up mountains of papers and trinkets. Still, Kai Ellis was able to pick out attractive herringbone wood floors and original features. "When I first walked in here, I realized that the floors were pretty much untouched because the owner had so much stuff covering them," she says, "and I could see mouldings, fireplaces … All the architectural details were there and I knew it was a space I could work with."
She snapped it up.
A contractor was hired to take down walls and create a single open space, revealing an original (and working) marble fireplace. A rose-coloured velvet sofa from La Redoute—a no-frills French department store—now takes pride of place beneath an airy brass light fixture from Voltex, with a pink-quartz-topped brass coffee table and Turkish rug completing the minimalist tableau. Chairs and a DIY dining table—a piece of glass perched atop four painted pieces of wood from a local hardware store—sit opposite, a temporary solution while Kai Ellis finds pieces worth investment. She's in no rush.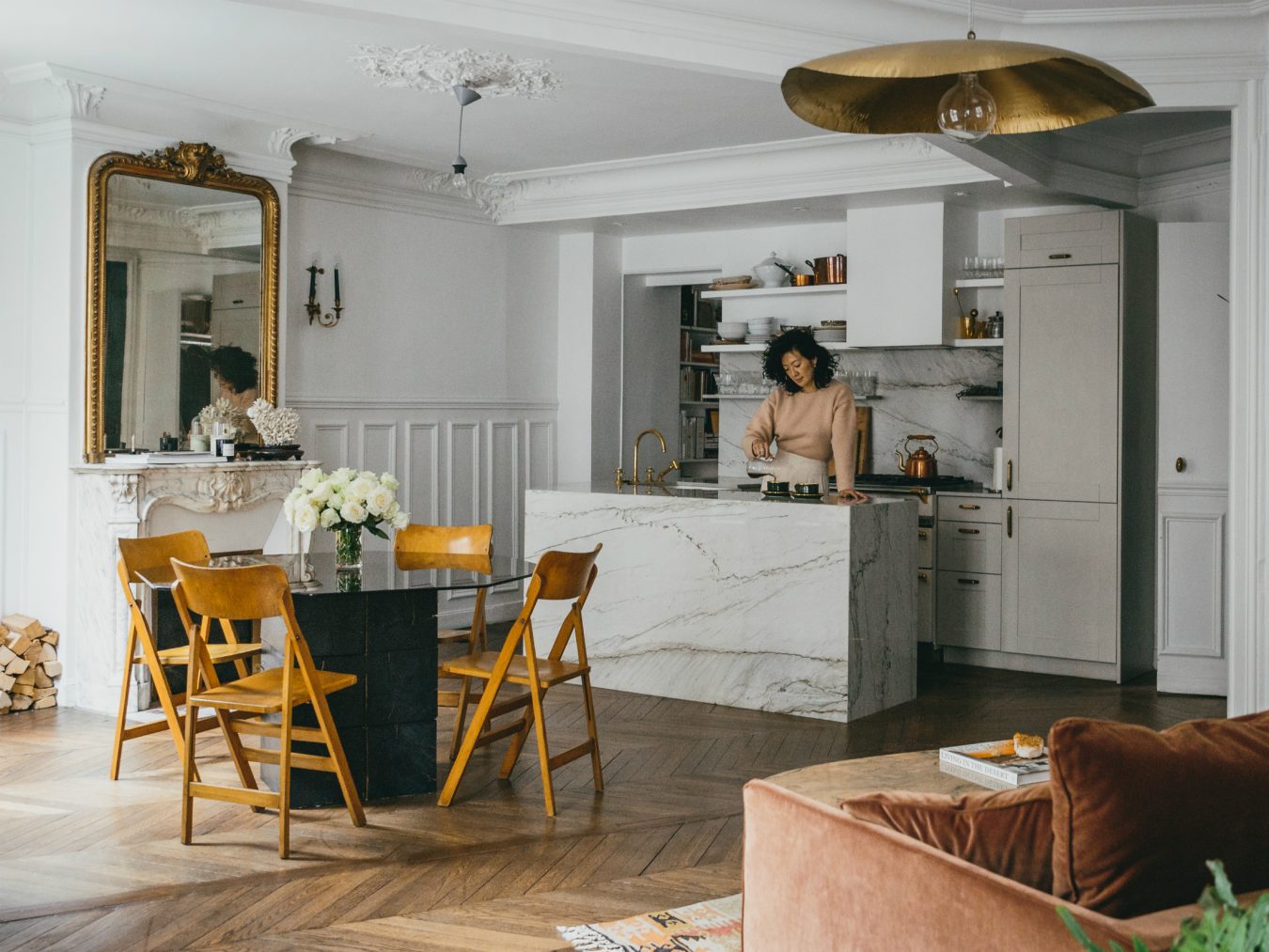 "That's sort of the philosophy that I'm trying to have with this place," she explains, "to not include anything that doesn't truly make me smile, give me joy or inspire me in some way."
Off the main room, through double doors often left open to enhance the sense of space, lies the master bedroom, where one of those diamond-in-the-rough, joy-inducing pieces holds court: a massive, intricately carved wooden bedframe. Kai Ellis found it, like she has so many distinctive pieces, on Le Bon Coin, the French equivalent of Craigslist. "I was scrolling through the site and saw this photo of a bedframe taken in someone's cellar. It was covered in dust and the photo was dark, taken with a cell phone camera flash," she recalls. "But despite that, I could see the detail and knew I had found something special."
A hallway was replaced with a compact U-shaped kitchen opening onto the main space—a must for this passionate cook and host—allowing her to interact with guests during dinner parties. Open shelves displaying copper cookware, Turkish linens, and crystal stemware sourced from local flea markets make an attractive display, while the quartzite counters, cupboards painted in soothing shades of white and pale grey and show-stopping Lacanche stove make it clear that the kitchen is the focal point of the whole apartment.
Where the original kitchen once stood is now the bathroom, home to a ceramic claw-foot tub, painted black to match the rest of the room. White and brass accents adorn the sink, the rim of the bathtub, the custom-made shower curtain and the linens sitting on open shelves. Custom-made tiles from Spain (based on a pattern Kai Ellis spotted while on a visit to Valencia) adorn the floor, spreading out into the hallway to the guest bedroom.
Though Kai Ellis insists L'Appartement La Fayette is still very much a work in progress, it already feels complete (it even has its own Instagram page) and reflects its owner well. Kai Ellis herself—elegant, composed, relaxed—also exudes an unexpected sense of peace from a woman with so much on the go.
---
Discover other inspirational Design stories.