When Katie Ruddell was applying for a job at Lululemon's Vancouver headquarters five years ago, the interviewer asked her if she had any goals.
"I said, 'Yeah, in five years I will quit and I'm going to open up my own shop."
She was then asked what kind of place she was planning on opening.
"I said, 'I don't know, but that's just what's going to happen.'"
She was hired. But of course, that's not where this story ends.
Four and a half years later, Ruddell quit the athleticwear brand. And then? Then she opened up her own shop.
Ruddell has always been the author of her own destiny, and that shop—Kokomo—is the latest chapter in her story. Opened June 2017 in Chinatown, the plant-based eatery serves up healthy, flavour-packed eats, and a whole lot of good vibes, too.
"I was very aware of the world," Ruddell says of her childhood, between bites of an acai bowl. "There are so many different types of people and so many different ways of living." Although born and raised in Vancouver, Ruddell moved to Singapore and Australia when she was 11. She has been a vegetarian for as long as she can remember and admits to being a "picky kid, never into food." But that all changed when she became very ill after relocating back to Vancouver. "I had chronic migraines and tension headaches; I couldn't see for a long time," she remembers. "My body was shutting down." A sick leave from her role as women's brand lead at Lululemon led her to re-evaluate her diet and lifestyle, eliminating anything related to inflammation, from diary to alcohol. These restrictions forced Ruddell to get inventive with eating for the first time in her life, and just like that, her world opened up. "I was creating all these new foods, learning so much, and my body felt so good," she says. Next thing she knew, those headaches were gone, and Ruddell began to recognize the power of food as medicine.
While Vancouver champions physical wellness, Ruddell didn't think the restaurants here were following suit—and that's when the idea of Kokomo began to bubble. "I realized what I need and what I believe Vancouver needs is healthy, accessible food," Ruddell says. After lots of planning and searching for a location, she got a call one day from vegan blogger and owner of To Die For Fine Foods, Erin Ireland, who revealed that a spot in Chinatown was becoming available. Next thing Ruddell knew, the space (the former Fluffy Kittens ice cream parlour) was hers. With a tree in the middle of the room, Kokomo's Gore Street shop brings greenery and textures from the outside indoors, making it the perfect place to enjoy one of the cafe's popular bowls.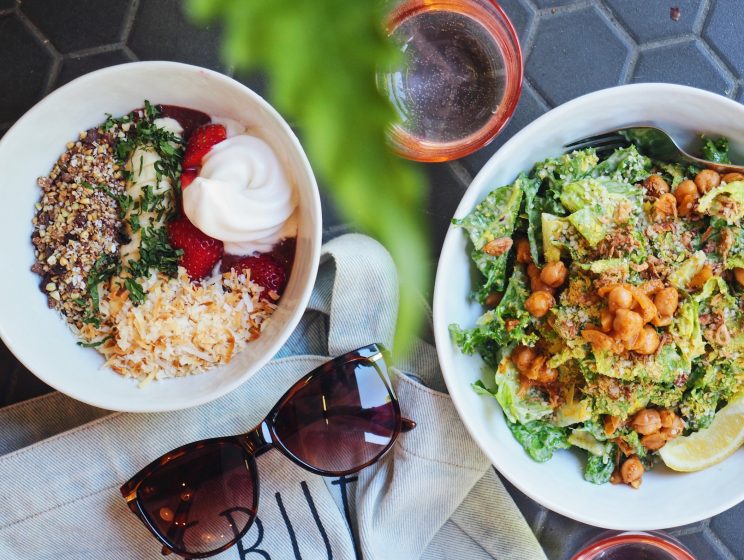 Much of the menu was developed by Ruddell alongside her mentor, Brian Skinner, the former owner of Main Street favourite The Acorn. From the kitchens of Copenhagen's Noma to London's Sketch, Skinner has honed a vegetable-based cooking style that both carnivores and herbivores can agree on. For Kokomo, Ruddell knew she wanted Skinner's help creating bowls: big meals that had it all. "I treat my kitchen like it's my creative team," she says, adding in that Skinner is now based in Kelowna. When Kokomo opened its doors, Ruddell brought Mark Singson, previously of AnnaLena, into the kitchen to get the ball rolling and tweak some recipes.
There are the popular acai bowls, layered with fresh berries, bananas, and crunchy house-made raw granola, and the raved-about hemp Caesar salad, packed with a protein-rich hemp seed dressing and topped with nutritional yeast, crispy shallots, and marinated chickpeas. But it's the Coastal Macro bowl that serves as a local obsession: brown rice layered with greens, marinated tempeh, roasted squash, cucumber, and pickled cabbage, topped with edamame hummus and Thai ginger dressing. For dessert, Kokomo's secret weapon is Cocowhip, a creamy vegan and refined-sugar-free coconut soft serve that Ruddell brought over from Australia. Kokomo is the first and only spot in Canada to serve it.
Ice cream is the ideal treat to order at Kokomo's Kitsilano location, which opened in June 2018. "It's so different from Chinatown here. It's like a culture shock," Ruddell says, sitting outside the shop's peachy pink brick storefront, which she painted herself. "I'm think I'm still tired," she says with a laugh. "We painted it all in two weekends." When Culprit Coffee announced it was closing its doors on Vine, Ruddell's friend, who lived across the street, immediately called the young entrepreneur. "I've known for five years I wanted this space, before Kokomo was even an idea," Ruddell says. The yellow brick walls of Culprit quickly faded in favour of a sunburnt-orange, 1970s-style living room. "I never thought it would be this soon," Ruddell says of having two locations. "But then this place came up and even my accountant was like, 'I don't know, it's so risky, it's so soon.' But we figured it out and here we are."
Ruddell has guts and she has vision, so it's no shock that things are working out. She is a natural maker, someone who thrives on creating experiences for her community. We all start off as strangers, but at Kokomo, there's always room to be part of the story.
---
Read more from our Food & Drink section.