People come to Commercial Drive's La Grotta del Formaggio for three reasons.
One, the mouth-watering sandwiches. Two, the wide selection of high-quality Italian food products. And three, Fortunato Bruzzese. The deli is a Vancouver institution, but so, in and of himself, is its owner.
"You've got to be in the business, especially when it's a small business—you've got to work seven days a week," Fortunato says. Indeed, he has been the face of his shop from the beginning straight through to today, greeting customers, discussing products, and helping people find what they're looking for, even if they don't know exactly what that is yet. Need a salami that will pair with that special bottle of malbec? Or the ideal pasta for grandma's legendary sauce recipe? Fortunato has just the thing. "They come back and say, 'Wow when I tried that it made a difference,'" he says of customers who take his recommendations. "That's what you like to hear. Here, when you're small, you're able to talk to the person, and then give an opinion."
Said opinion is a big reason people love shopping here. That, and the fact that the choice is overwhelmingly fabulous, with all sorts of impeccable Italian products to peruse—fresh and preserved olives; handmade pasta; olive oil; artisanal cheese; balsamic; the aforementioned salami. La Grotta del Formaggio is a love letter to Italy, written each day by Fortunato and sent back to his birthplace of Mammola, Reggio Calabria.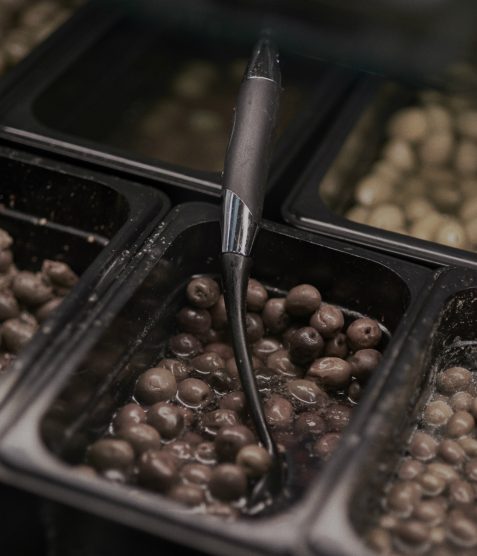 His family immigrated to Montreal from Italy in 1963, and there he met his wife and they had their first child, Sandra. In 1976 the young family moved to Vancouver, and one year later, Fortunato opened his deli on Commercial Drive. The original location stood where Il Mercato is now; La Grotta del Formaggio has been in its current home, a short walk away, since 1979.
"I was born in 1979," says Fortunato's son, Domenico. "So basically, I've been in this business my whole life." Domenico and Sandra grew up in the deli, coming by after school and doing homework in the office, and eventually learning the ropes by stocking shelves and taking on other kid-friendly jobs—and undoubtedly learning a strong work ethic from their dedicated father. "I used to work on the weekends, and I'd say to my dad, 'Take Sundays off, go watch soccer, stay at home, work in the garden, do whatever you want to do,'" recalls Domenico with a smile. "And he'd always show up." And though Domenico is a trained chef, and began a career in the restaurant industry, his father's shop eventually drew him back in. When asked why, the first sentence out of his mouth says it all: "This is my family legacy."
Now, Domenico is in charge of the wholesale side of the business, which has been geared up in recent years to supply goods to Vancouver hotels, restaurants, and grocery stores. And Sandra runs the catering arm, making sure events run smoothly and that cafes are fully stocked with their legendary sandwiches (which customers can get made-to-order at the deli). Speaking of those sandwiches, the choice for those is fabulous as well: it's like an artisanal Subway, with customers selecting everything from the bread and meat to the sauce and toppings. Hot and fresh, made just how you want, it is the perfect meal.
"We've always talked about, 'What should we do next?' But it's so hard, especially when you have a lineup every day," Domenico says of the sandwich program. "A couple of years ago we added meatball subs and it took off, so we thought, 'Great, maybe we should do more of a hot program.' But space is very limited, and the cost of running a business in this city is horrendous, so we're just taking it one step at a time." The focus remains on giving the community the best experience possible, both in terms of product and service.
Right around 6 p.m., when the deli counter is shut down and the shop is about to close its doors for the night, a woman wanders in. Instead of turning her away, Domenico walks her through some products, taking the time to answer her questions. Even after a few of the staff members head out into the evening sun, even after the clock strikes 10, then 20 past six, Domenico patiently chats with the woman. He wants to help her find what she's looking for.
---
 Hungry for more? Read from our Food and Drink section.