"I believe that the difference between good chefs and great chefs is that their cooking becomes really personal. Authenticity is key," says J.C. Poirier, the chef behind celebrated Vancouver restaurant St. Lawrence, where he blends classic French cooking techniques with recipes from his home in Saint-Jérôme, Quebec.
In our Winter 2018 issue, we interviewed Poirier about his kitchen philosophy, and got this simple but decadent recipe for roast chicken with vegetables and melted Boursin. Here's his recipe—first things first!—followed by our story from MONTECRISTO contributor Joie Alvaro Kent.
---

Roast Chicken with Boursin Cheese and Mirepoix Vegetables
Roasted chicken is my absolute favourite Sunday dinner, and it has been since I was a little kid. When it's well seasoned and properly cooked, it's truly a thing of beauty.
My mother used to make three meals out of one bird: roast chicken, then chicken sandwiches, and finally chicken soup with stock made from the bones. Stuffing it with Boursin cheese makes the meat even more moist, and gives you a nice condiment to serve with the bird.
The mirepoix is essentially diced carrots, celery, celery root, and onions. Most people prepare a quick sauce by deglazing the roasting pan and using the mirepoix to flavour the sauce. But me, I just like to eat those beautifully caramelized vegetables. I usually serve this with a green leafy salad and mustard vinaigrette to complement the dish—or if I want to please the crowd, a solid Caesar salad will do the trick.
Serves four to six lucky people.
Ingredients
1½ to 2-kilogram high-quality chicken. This is the key to success. Spend your money on it.
Kosher salt, 1 per cent of the weight of the chicken in grams (for a two-kilogram bird, use 20 grams, or 4 tsp, salt)
Black pepper to your liking
1 Boursin cheese, garlic-and-herb or black-pepper flavour
2 small red onions
5 medium-sized carrots
4 celery stalks
1 small celery root
1 bulb garlic, separated into cloves
1 sprig rosemary, picked
3 sprigs thyme, picked
100 gram unsalted butter, melted
One day before

Wash the chicken in cold running water and pat dry. Remove the wishbone and the wing tips.
Season every part of the chicken, including the cavity, with salt and pepper.
Put the bird on a rack and leave it in the refrigerator overnight for up to 24 hours until the skin looks dry—this will help the chicken skin become crispy as you're roasting it.
The day of
Remove the chicken from the fridge and let it sit out on the counter for two hours so that it comes to room temperature. Putting a cold chicken in the oven is a bad idea, believe me. Preheat the oven to 400 degrees Fahrenheit.
Stuff the chicken with the Boursin cheese. If you know how to truss a chicken, show off your skills; otherwise it's not a big deal.

Cut the red onions, carrots, celery, and celery root into three-quarter-inch chunks, then toss them in a large mixing bowl together with the garlic cloves, rosemary leaves, thyme leaves, melted butter, and a healthy pinch of salt. Put the vegetables in the bottom of the roasting pan and rest the chicken on top of them.
You're now ready to cook the bird. But for how long? Twenty minutes per pound is a good rule of thumb, or until the leg meat reaches an internal temperature of 150 degrees Fahrenheit.
When the chicken is ready, remove it from the oven and let it rest for a minimum of 30 minutes. This is a step that you don't want to miss. The chicken continues to cook while you're resting the meat, and all the juices will stay inside to keep it moist.
Carve the chicken and serve with the roasted vegetables, some of the Boursin cheese, and a fresh green salad.
Watch as friends turn into family.
---
Home Cooking with J.C. Poirier
Soft late-afternoon light filters through the kitchen windows of chef J.C. Poirier's East Vancouver home. The entire household is redolent with the aroma of roast chicken as he pulls a perfect golden-brown bird out of the oven. His eldest daughter Aila perches on a stool at the kitchen island, trimming white paper toques for the drumsticks. There's a Bill Evans album on the turntable, spinning cool jazz to inspire Poirier's wife Dara while she arranges fresh-cut flowers for the table. Baby Florence giggles happily from the dining-room floor as her mom and dad toast with glasses of bubbly rosé. It's a family scene that has played itself out over countless Sundays at the Poirier residence, reminiscent of many such evenings during the chef's childhood around his own mother's dining room table. All these familiar kitchen scents and rhythms still resonate—both at home, and at his revered Railtown restaurant, St. Lawrence, where his cooking is grounded in tradition, memory, and heart.
The Sunday-night meals of Poirier's upbringing in Saint-Jérôme, Quebec are indelibly etched in his memory. "My brothers and sisters and I would always wait eagerly for Sunday dinner to happen, because every single one was something special," he recalls. The guest list would ebb and flow, sometimes including his grandparents, friends, and neighbours—but family was always at the core of these meals.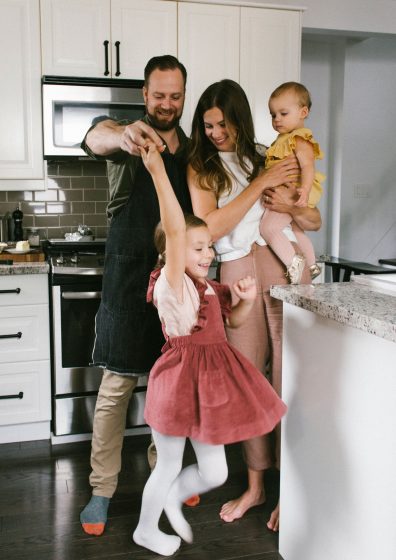 Poirier established his career at home and then moved to Vancouver in 2004. "The more experience I got under my belt, the more I began to know myself and what was deeply important to me," he reflects. "I had to leave before I could truly come back home again." Absence does, indeed, make the heart grow fonder, as he didn't realize his own profound connection to Quebecois cooking until well after he moved away.
He came up with the concept for St. Lawrence in 2013 while in medias res with the success of his much-fêted Railtown pasta restaurant, Ask For Luigi (he is also a co-owner of Main Street's Pizzeria Farina, along with Pourhouse and Di Beppe in Gastown). "I was very pleased with what we'd accomplished at Luigi. Even after winning so many awards, though, I still knew there was something missing," he admits. Inspiration struck while preparing a dinner party for industry friends. He was tasked with making a dessert that was both gluten-free and vegetarian.
"Oeufs à la neige came to mind," he says. "I'd only ever made it once before at school, but I figured I could wing it." This classic French dessert, also known as île flottante, consists of pillowy meringues gently poached in milk and served with crème anglaise. "When I dropped the meringue quenelles into the hot milk, I suddenly got so excited that I literally had goosebumps," recalls Poirier. "Nobody makes this dessert anymore because everyone has forgotten about it, but it was absolutely delicious—my guests loved it. And their enthusiasm helped me realize that this is it. This is what I need to do: teach myself the old classics and honour those traditions by bringing them back to life with a new energy." With revitalized vigour, he figured, old could become new again.
So back to the basics he went. Poirier spent two years studying old tomes on the seemingly anachronistic minutiae of classical French cooking techniques and the work of gastronomic luminaries such as Paul Bocuse and Alain Chapel. In establishing the foundation for St. Lawrence, he stacked up old-school French recipes alongside the Quebecois dishes of his childhood, fine-tuning the small details until he perfected a balance between the two culinary cultures.
He approaches cooking with respect and a touch of whimsy.
St. Lawrence's version of Paris-Brest is a savoury take on the traditional French dessert; it's filled with luxurious foie gras mousse instead of the usual hazelnut mousseline, and is topped with a decadent slice of exquisitely seared duck liver. Even the way Poirier roasts a chicken for Sunday-night family dinners at home incorporates a little twist. "I saw a video of French chef Ludo Lefebvre making his famous Petit Trois omelette stuffed with Boursin cheese, and I was floored," he says. "I totally forgot about this cheese that's been around for ages—comforting and super flavourful—and figured, 'What if I put some cheese in there?'" Poirier drops an entire round of Boursin into the cavity of his chicken along with salt, pepper, and herbs. "It keeps the breast meat incredibly moist, and a chunk of chicken topped with a dollop of the melted cheese tastes so amazing," he continues. Comforting yet surprising, accessible yet decadent—it's what home cooking is about.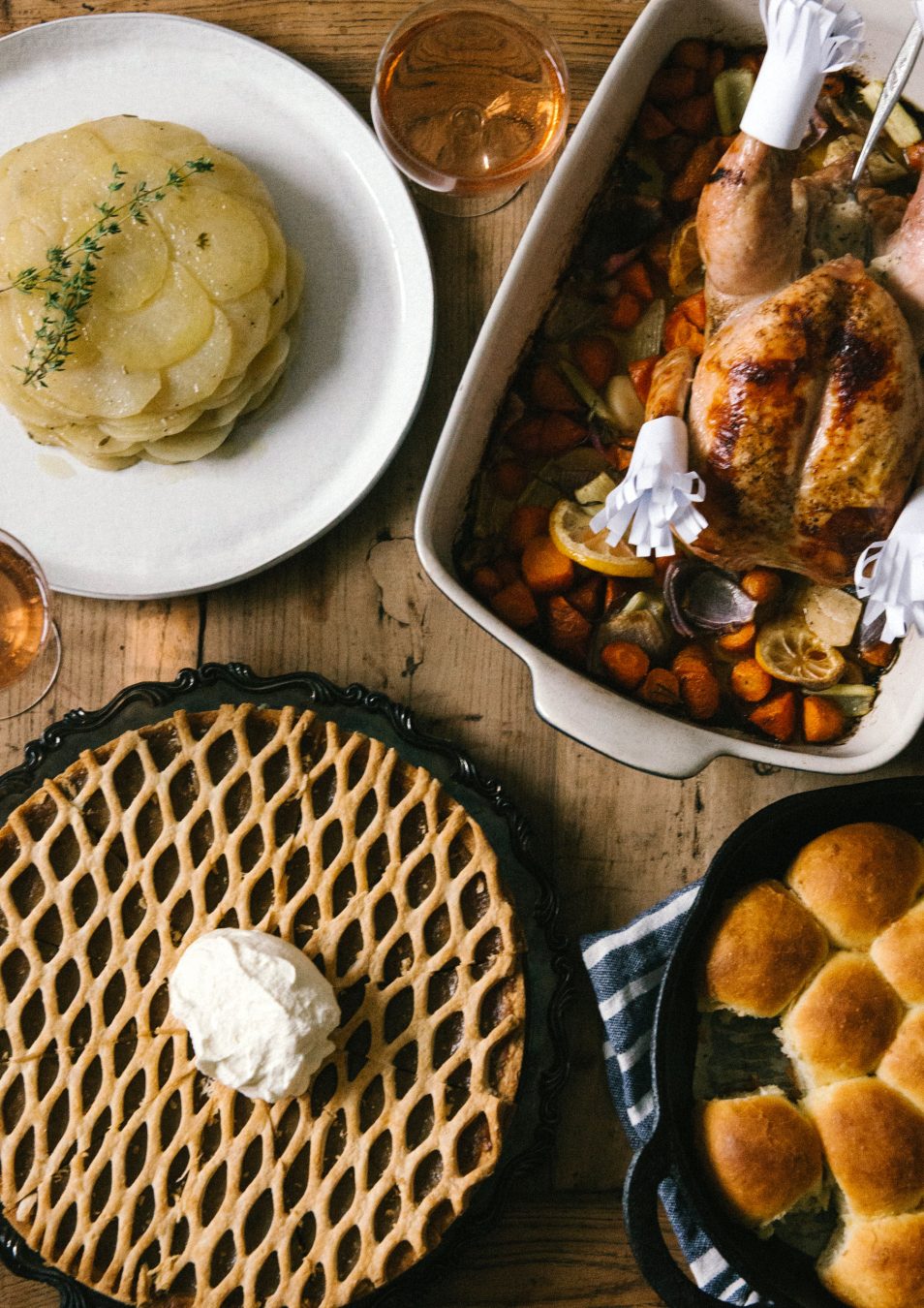 Above all, what makes Poirier's work stand out is soul. His food is rooted in a heartfelt desire to connect with the people eating it, whether they're sitting around his dining room table at home or at the St. Lawrence bar overlooking the kitchen. "I believe that the difference between good chefs and great chefs is that their cooking becomes really personal. Authenticity is key," he says. "I should be able to put something on a plate and tell that this is an honest extension of myself, my beliefs, of my philosophy, of who I am and what I like. And if our guests eat my food and see the same thing that I see, feel the same thing that I feel, then I've truly succeeded." A meal cooked with love is a wondrous unifier, transforming friends into family.
---
From the Archives: This story and recipe from our Winter 2018 issue were originally published on February 12, 2019, and December 12, 2018, respectively. Read more about great Vancouver food in our Food and Drink section.