When we asked our food writer, Tara Lee, to gather predictions last week for dining in 2022, one resounding answer was that comfort food is here to stay. Whether we're hiding from the freezing weather or cooking something to raise our spirits, this is the season for food that nourishes the body and the soul. For deeply Vancouver comfort food, there may be no better place to turn than Torafuku in Chinatown, where Taiwan-born and Canada-trained chef Steve Kuan won a signature dish award at the 2021 Chinese Restaurant Awards for his beef noodle soup, a Taiwanese comfort-food classic.
We asked for a feel-good winter recipe from Torafuku and received this inventive take on Chinese mapo tofu from Torafuku chef de cuisine Baker Hsu. While the dish is traditionally made with ground pork, Hsu uses the ground beef trimmings, both fat and meat, from portioning steaks, then serves the sauce on top of a 12-ounce New York strip loin. Hsu says he hopes the familiar flavours of this dish, which remind him of family gatherings growing up, will bring comfort to diners who are missing their families.
Don't miss the end of the recipe, where chef Hsu has also included a cocktail pairing from Torafuku's menu.
Ingredients
For the mapo spice blend: 
Equal parts white peppercorns, black peppercorns, Sichuan peppercorns
For the mapo sauce:
4 tablespoons canola oil
2 pounds ground beef
2 tablespoons ginger purée
2 tablespoons garlic purée
1 tablespoon black pepper
3 tablespoons mapo spice
3 tablespoons fermented black beans (rehydrated)
4 tablespoons spicy fermented bean paste
2 cups + 2–3 tablespoons water for slurry
2–3 tablespoons cornstarch
4 tablespoons canola oil
½  bunch green onions
1 tube egg tofu
Note:
In the restaurant, we use all the trimmings and fat from portioning our steaks. The recipe can easily be modified to use ground pork or chicken.
Fermented black beans, spicy fermented bean paste, and egg tofu can be found in many shops in Chinatown. If you prefer a milder sauce, simply add less-spicy fermented bean paste and mapo spice blend.
Egg tofu can be replaced with silken tofu.
Method
The spice blend:
Toast all the peppercorns in a pan until fragrant, then blend in a spice grinder until well ground.
For the mapo sauce:
In a wok, heat oil until smoking. Carefully add ground beef. Let the meat sear in the wok until light brown without moving too much.
Add the next 6 ingredients. Let everything incorporate and caramelize in the wok (about 1 minute).
Add 2 cups of water and let cook for about 5 minutes.
Thicken with cornstarch slurry (equal parts cornstarch and water).
Coarsely cut egg tofu in bite-size pieces and add to the sauce. Cook just until warmed through.
Plate and top with finely sliced green onions. We serve over top of a 12-ounce New York strip loin steak.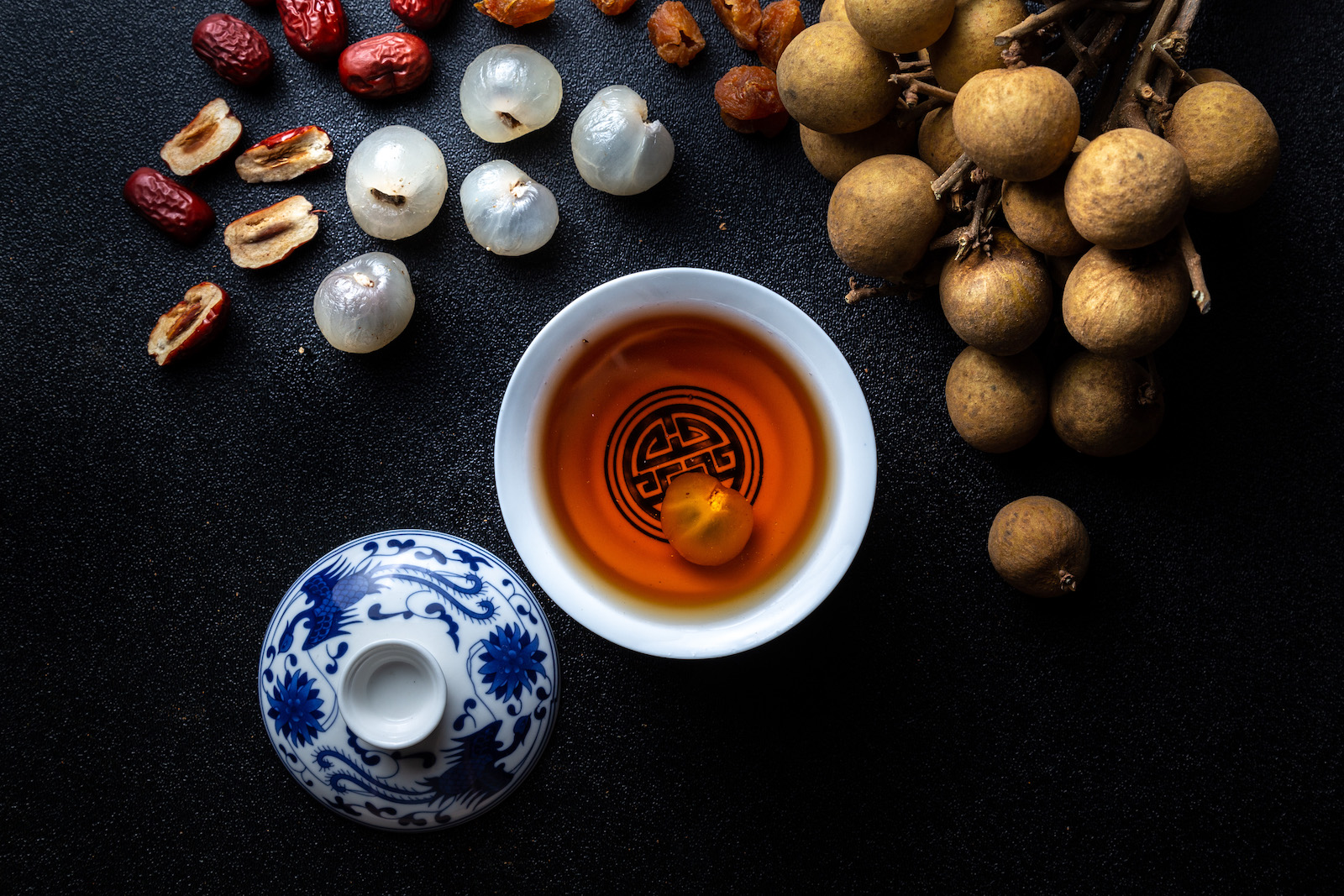 Eye of the Tiger Cocktail
Ingredients
For the longan date syrup:
100 grams dried longans
100 grams dried red dates
300 grams sugar
300 grams water
(You may find dried longans and dried red dates in an Asian market or Chinatown.)
For the cocktail:
1.5 ounces Ron Zacapa
¾ ounce Tio Pepe sherry
1/10 ounce longan date syrup
4 droplets The Japanese Bitters shiso
Method
For the longan date syrup:
In a pot, bring everything to a boil.  Steep for 20 minutes, then let cool and strain.
For the cocktail:
Combine everything in a mixing glass filled with hard ice. Chill and stir for 10 seconds.
Strain into an Old Fashioned glass and garnish with a fresh longan berry.
Serve with strip loin and mapo tofu.
---
Discover more recipes.