"I started making this dish one day when I had a mid-day craving for noodles and needed something super fast that could come together in one pot. Soba noodles cook very quickly, and it couldn't be easier to toss frozen edamame directly into the pot with the noodles," says Vancouver plant-based influencer and newly published cookbook author Anna Pippus. "I'm always thinking of ways to incorporate a balance of whole grains, leafy greens, and legumes in my meals, and these delicious noodles hit all three. I also love that they taste great at room temperature, so I can pack them when I'm out for the day."
Soba noodles are quick to cook and they work well at room temperature, making them a natural choice for a quick or make-ahead lunch. You could even whip up this dish before leaving the house, as it comes together in one pot in under 10 minutes. Although it includes only a few ingredients, it is very flavourful—soy sauce and sesame oil bring so much to the table. The Vegan Family Cookbook will be released October 26th.
---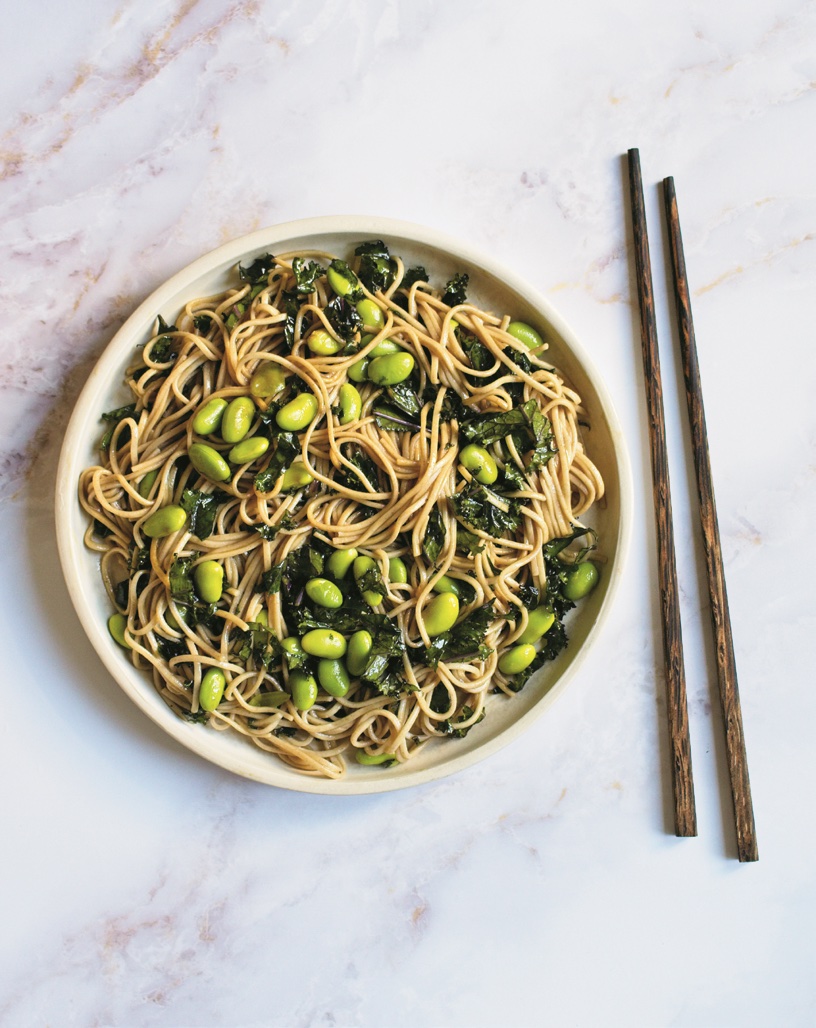 Sesame Soba Noodles with Kale and Edamame
Serves 2 to 3
Ingredients
6 oz (180 g) soba noodles
1 cup (250 mL) frozen shelled edamame
¼ cup (60 mL) soy sauce 1½ Tbsp (22 mL) sesame oil
1 tsp (5 mL) Sriracha or other chili-garlic hot sauce (optional)
2 cups (500mL) finely chopped kale
Method
Boil the noodles and edamame together until both are tender, 3 to 4 minutes (double check your packages to make sure this is the correct cooking time, as there may be some variation). Drain and rinse under warm water to prevent clumping.
Toss the cooked noodles and edamame with soy sauce, sesame oil, hot sauce (if using), and kale. Taste and adjust the flavours.
Refrigerate any leftovers for up to 2 to 3 days.
---
Excerpted from The Vegan Family Cookbook by Anna Pippus. Copyright © 2021 Anna Pippus. Photography ©2021 Anna Pippus. Published by Appetite by Random House, a division of Penguin Random House Canada Limited. Reproduced by arrangement with the Publisher. All rights reserved. Try out more recipes.