When the weather outside is frightful and hibernating is top on the to-do list, this selection of choice winter eats is sure to coax Vancouverites out from under their duvets.
To begin, chef Daniel McGee dishes up classic French comfort food at Au Comptoir in the heart of Kitsilano. Available until the beginning of January, his roasted Thiessen Farms pheasant breast with chestnut farce envelops guests with lush, rich flavour—it's pan-roasted in butter and served with squash purée, white-wine-braised cabbage, honey-roasted salsify, and sauce supreme. And foodies will want to swan-dive into McGee's French onion soup when it graces the menu in the New Year; he tops this winter favourite with gruyere and emmental for maximum gooey effect. Save room for sweets, too: pastry chef Julien Salomoni's Passion-Fruit Mont Blanc is a definite standout, its airy spongecake and delicate vanilla mousse bavaroise accented by a crunchy layer of feuillatine craquante. The passionfruit confit is a bright contrast to the warm earthiness of the chestnut, and it's the perfect way to end a meal at Au Comptoir.
Moving east to Chinatown, Torafuku offers midday food-truck feasting in brick-and-mortar warmth and comfort, as Le Tigre's "Temporary Parking" lunch menu is now a permanent fixture at the restaurant. Chef Clement Chan has already started expanding the offering since lunch service originally popped up in mid-November. Finger Lickin' Chicken is a holdover favourite from the mobile outpost: a hybrid of Taiwanese chicken and karaage, it tickles taste buds with hints of lemon, toasted coriander, and cumin. Chan makes the gluten-free breading with chickpea flour and yam starch, and the end result is ridiculously addictive. The lunch menu also includes the notable Kickass Rice: cooked in sake and butter, this giant bowl of carb comfort is served with crispy fried shallots, furikake, and marinated cabbage that's pickled in vinegar and tossed with raw garlic. Burst the sous vide egg atop it for runny-yolk goodness. Gimme A Beet is another gluten-free dish, with slow-roasted beets breaded with yam starch and plum powder, then deep-fried. Wash it all down with craft beer from 33 Acres or Strange Fellows Brewing.
On the dreariest of grey days, moods are instantly brightened by elegant Parisian treats from Ladurée. Exclusive to its Vancouver boutiques and tea salons, Ladurée's unique Bûches and Bûchettes de Noëls are dainty additions to any holiday table. Choose from four flavours: Pistachio Macaron accented with crispy praline, Raspberry Marie-Antoinette with delicate hints of rose and lychee, Louise for milk-chocolate lovers, and Fleur Noire for dark-chocolate devotees. These full and personal-sized Christmas treats are available until December 24, but there's still lots of sweet indulgence to be had after the holiday season. The Ispahan, for example, is a quintessential Ladurée creation with a beautiful interplay of flavours and textures; the oversized macaron sandwich is filled with rose-petal buttercream and studded with raspberries and sliced fresh lychees.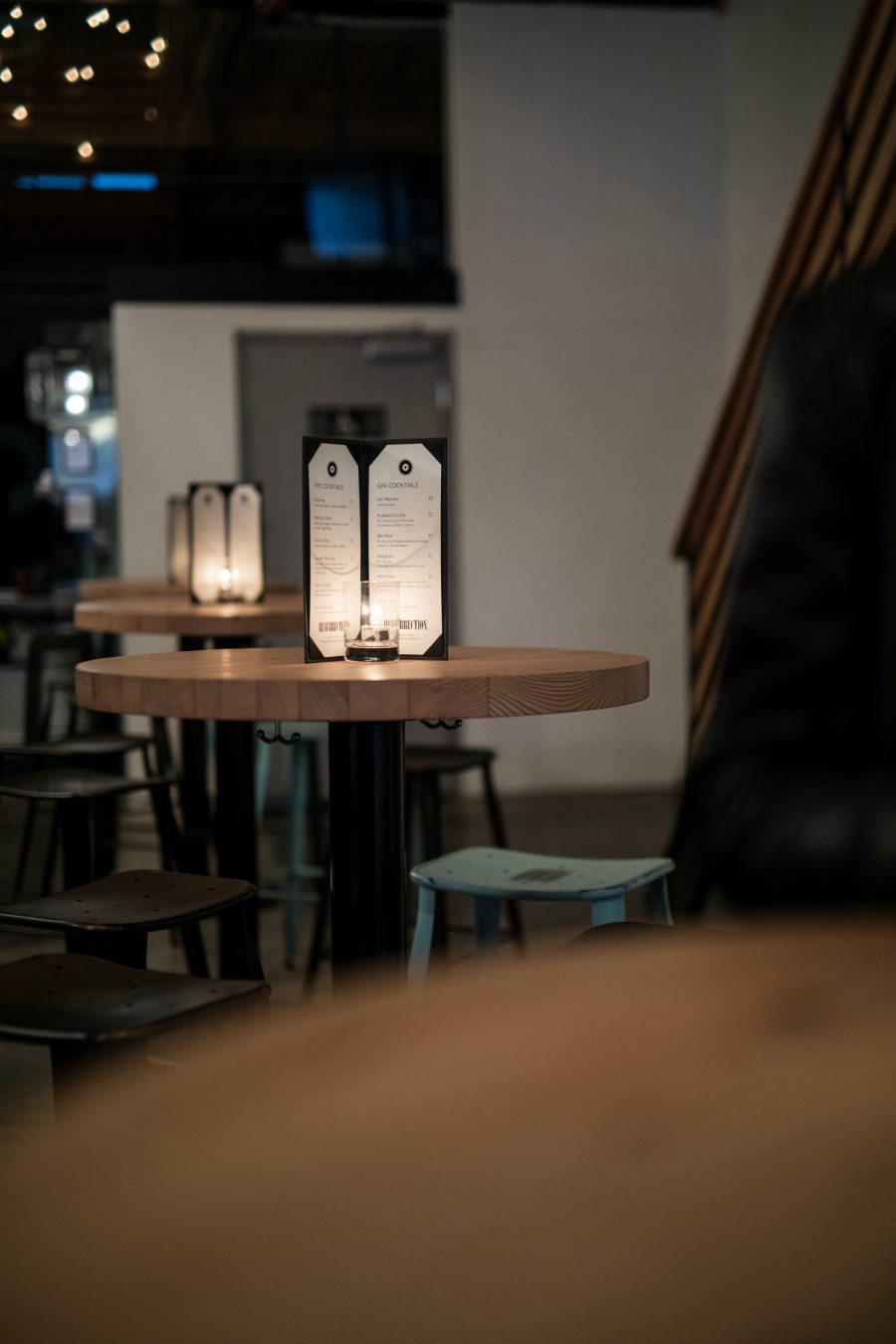 And for top-drawer winter tipples, Resurrection Spirits offers two unique takes on craft gin. Brian Grant and David Wolowidnyk use the distinctive spiciness of rye as a base spirit, selectively reducing its characteristics to lift and complement their gin botanicals. A favourite of classic drinkers, the British Columbia Dry Gin is bold and juniper-forward, supported by the earthiness of angelica and spiciness of coriander, with the citrusy brightness of lemon peel and softness of rose on the finish. Sample it at the distillery's tasting room in East Vancouver, either straight up or in Wolowidnyk's Mandarin Julius—as "the alcoholic distant cousin of an Orange Julius," he says, it's "like carrying a mickey in your pocket at the mall and spiking your favourite food court drink." Resurrection is also currently bottling its limited-release Rosé Gin that will be available mid-December at the distillery and select private liquor stores. Casked in cabernet sauvignon barrels for roughly six months, it took on some of the red wine characteristics that had soaked into the staves, and its adventurous flavour profile incorporates four additional botanicals: tart grapefruit peel, spicy cubeb, earthy cassia, and warm, zesty ginger. Wolowidnyk enjoys it neat or with a cube of ice to savour its complexity and character. The Rosé Gin mixes very well in cocktails, too; Wolowidnyk's favourite is a simple martini, stirred on ice sans vermouth and garnished with a little lemon zest.
Finally, banish every last vestige of winter's chill with deeply spiced Xi'an comfort food at family-run Joojak. This pocket-sized restaurant in East Van's Collingwood neighbourhood dishes up rustic Northern Chinese comfort food of the highest order. Steamed chicken with chili sauce instantly invigorates, and the pickled turnips hiding beneath it are a lightly tart counterpoint. Be sure to hang onto the plate of sauce after the chicken is finished, because it can (and should) be drizzled over everything. Hand-pulled noodles with red hot chili oil and pork are a toothsome jumble of deliciousness, and the Xi'an burger with lamb, green pepper, and cumin is a griddle-cooked, meat-filled delight; finally, diced cucumber with garlic and vinegar dressing refreshes the palate between spoonfuls of dumplings in spicy and sour soup. Pro tip: hit up one of the numerous bank machines in the neighbourhood beforehand because, like many small local Asian restaurants, Joojak only accepts cash.
Bundle up and let these gastronomic adventures delight and warm from the inside out.
---
Plan your next meal.