When it comes to comforting frozen dessert, Vancouver knows what it's doing. From the classic salted caramel ice cream at Earnest, to earl grey ice cream from Rain or Shine, to the cherry vanilla gelato at Bella Gelateria, the city has no shortage of classic cold treats. But we can go beyond the typical, too—consider this your guide to the city's undiscovered and unique.
Coconut Ash ice cream at Mister
Get your smartphones ready: this one is definitely going on Instagram. Capitalizing on the black ice cream trend, Yaletown's Mister has created Coconut Ash: gothic goodness made with edible activated charcoal powder. The subtle, smooth flavour is truly unique, and paired with the creaminess of Mister's signature liquid nitrogen creation system, the stark black treat is one for the selfies. There is even a sugary black waffle cone to go with it. Just be warned: Coconut Ash may stain your tongue. Plan accordingly.
French-style ice cream at La Glace
What started out as a cart on wheels (showing up at events around the city, including the TED Conference and at Holt Renfrew) has grown into a full-fledged treat parlour at the west edge of Kitsilano. This is French-style ice cream, meaning more cream and more eggs. That might equal more calories, but it also equals more taste; La Glace scoops are creamy and smooth, thick and luscious. The pretzel flavour is a must-try, and there are options for vegans as well, including a noteworthy peanut butter. Matched by the Pinterest-perfect parlour of white, pastel, and gold, La Glace is an exciting addition to its neighbourhood.
Vegan soft serve at The Juice Truck
We all have Soft Peaks to thank for bringing high-end soft serve to Vancouver, but while that Gastown spot is great for using organic Avalon Dairy milk, The Juice Truck is taking things a step further by making the dessert totally vegan. Available at the company's Yaletown location, the ice cream—made with natural nut milks—is refreshing and light, almost like sorbet. Flavours rotate, but may include subtle toasted coconut and sweet turmeric. Get one kind, or channel Dairy Queen with a swirl of both. Topped with fresh blueberries and house-made granola, it's a healthful treat that doesn't sacrifice taste. The Yaletown shop even has a "sprinkle wall" of balloons, so patrons can get take that perfect Instagram Story.
Dairy-free gelato at Umaluma
Chinatown's changes continue with Umaluma, a plant-based gelato shop that packs serious flavour. From the classic Dark Chocolate Truffle to the refreshing Lemon Poppyseed, the scoops here are so creamy (thanks to organic coconut milk) and delicious that you'd never know you're missing the dairy. There are also special sundaes that can be ordered in-shop, and even an ice cream float made with Yerba Mate.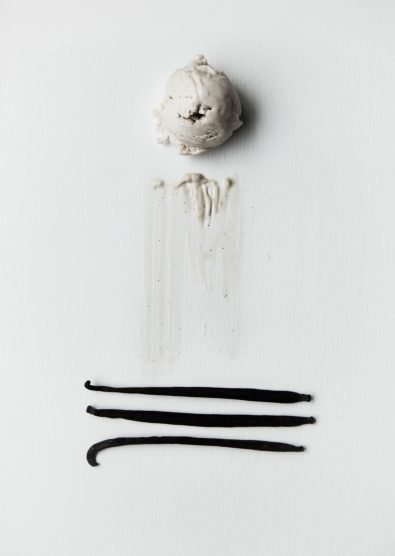 Cocowhip at Kokomo
Also in Chinatown is Kokomo, a delicious vegan lunch spot serving up truly unmatched bowls of healthy goodness. The Hemp Caesar salad, with greens coated in a sunflower seed and hemp dressing and finished with marinated chickpeas, is reason enough to stop by—but the dessert is worth ordering, too. Kokomo is the only place in Canada to serve the Australian treat of Cocowhip, a vegan soft serve-style whip made with coconut water. Naturally sweet and delightfully smooth, Cocowhip is a perfect end to any meal at Kokomo, especially when topped with toasted coconut flakes or house-made matcha granola.
Votives from Noble & Co.
Readers would be correct for assuming that these are not desserts of the edible variety, but Vancouver-made Noble's ice cream candles are too adorable not to mention. Made with 100 per cent pure beeswax sourced right here in Canada, Noble candles come in a variety of shapes, including standard candlestick versions and block numbers for birthday cakes—but the runaway hit has to be the lifelike ice cream votives, their tall swirls and wafer cones conjuring up nostalgic childhood memories of carefree summer days. Beeswax is slow-burning and is a renewable resource, making these perhaps the best treats of all.
---