Zul Suleman had a fairly simple idea: create a small butcher shop and meat market, and stock it with only the very best of everything. That was in 1998, and he still runs Market Meats at its West 4th Avenue location to this day. After increasingly urgent queries from customers a little further south, a second location will open in Kerrisdale this summer. The same approach applies to both sites, of course, and Suleman himself is busier than ever these days, meticulously training new staff, and trimming and grooming those sirloin steaks just so, with a little sprig of parsley on each one.
Sourcing top-quality meats has always been a priority. "You can look over the whole planet, but the best beef comes from smaller ranches in Alberta," says Suleman, with the certitude of the deeply convicted. "Non-GMO grains and grass, free range, that's the only way to get those incredible flavours, and the tenderness as well." Some limited, special Blue Ribbon grass- and potato-fed offerings from tiny ranches on Prince Edward Island are occasionally available, too. Poultry, lamb, and pork all come from within British Columbia borders.
The house-made sausages, with a rotating variety of flavours, are uniformly exceptional, grilling up beautifully or roasting to perfection. Should you happen by Market Meats when the Mediterranean lamb and fig sausages are available, do not hesitate. If those are sold out, try the mango habanero turkey sausages. There are multiple options when it comes to marinades—some to do yourself, while others are already done, with chicken, ribs, and other meats ready to take home for cooking. Several house-made stocks and sauces can be had as well. Great cheeses and charcuterie are there, too.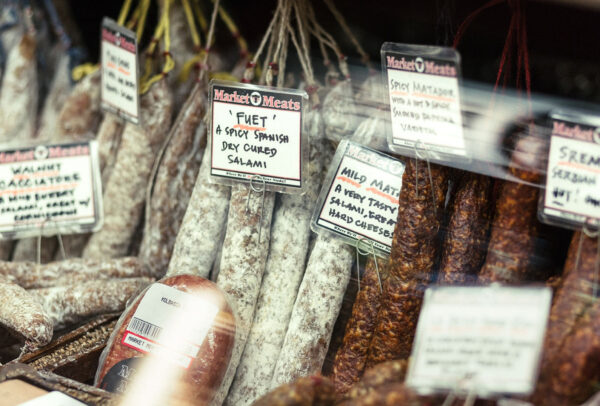 The western wall and the spaces just under the windows of the meat displays are stocked with all kinds of gourmet items. Rubs, spices, olives, olive oils, aged balsamic vinegars, wonderful pastas in thick brown paper packages, pasta sauces—all there. Suleman goes to great lengths; a good example is the Ca' Vecchia risotto, of which there is carnaroli, but also a riso vialone nano: obscure in this part of the world, but a treasured product for its high starch content (meaning extra creaminess), and its ability to absorb liquid, and therefore flavour.
There are three types of ketchup, but none bear a label you are likely to recognize. "We are not here to compete with the Safeway across the street," says Suleman. "They do a great job, actually, at what they do. But we are not providing those products. We find highest quality, sort of niche items, which our clients appreciate. They want to explore the world of fine foods." That includes such exotic treats as goat, bison (the tomahawk steaks are just awesome), and venison. Suleman asserts that "the days of clients relying on the butcher for all their information are past. But the trend towards small butcher shops is on the rise, as people look for, and respect, the artisans in food." This means the products, which Suleman spends four to six weeks a year travelling around the world to find, are of direct interest to his clients.
Market Meats is not large, by any means. But within its confines is a world of gourmet specialty food. This place will ignite your sense of epicurean adventure, and then amply reward your exploring.
---