There is a certain template for the classic speakeasy-style establishment: an intimidating-looking gatekeeper at the door; a sexy lack of light offset by a candle or two; lots of dark wood and leather, and maybe some velvet draped over something; and a tight list of 10 to 15 cocktails, with the tacit recommendation that you just ask for, say, something bitter and spirit-forward. It's all very serious.
In a tiny back room in Venice, California, Old Lightning is eschewing all of these standards. The bar, run by long-time Los Angeles tenders Pablo Moix and Steve Livigni, is hidden and quiet and cares about its cocktails. But apart from that, it has created a new and very Californian idea of the modern speakeasy.
Opened in 2016 inside the sprawling, light-dappled Italian restaurant Scopa, Old Lightning looks like the 1960s basement of your cool bachelor uncle. Instead of dark and sultry, it's cheery and relaxed. The style of the room is perfectly mid-century modern, down to diminutive glass-topped coffee tables and the faded vintage liquor ads framed around the room. The wallpaper is a muted blue-green, somewhere between sea green and aqua. Glass cases on one wall show off old and rare bottles of whiskey with the same reverence and pride that your '60s uncle might use to display his bowling trophies.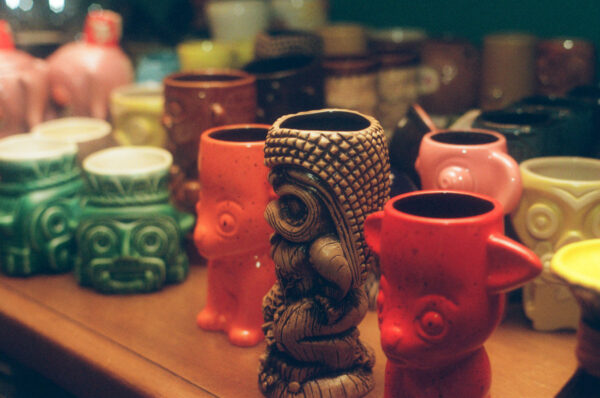 Livigni is from Los Angeles, so for him, having the bar rooted in its environs was important from the start. "Usually when you have a speakeasy, everyone always says, 'This feels like New York'—so my thing with this was, 'We're going to do the exact opposite.' Bright colours, light wood, no leather, no black, no metal: those were the design rules." To develop the drink list, Moix spent months researching Southern California's cocktail history. Los Angeles is where tiki culture began, after all, but those bright rummy drinks have always been shrouded in secrecy—getting the ratios and ingredients right meant meeting with veteran bartenders and digging through old magazines and newspapers. The result was a walloping 120 cocktails on their original menu, with a strong selection of tiki drinks, some LA-specific classic cocktails that history has overlooked, and a section called "Latin Beaches" that pays homage to daiquiris and their brethren.
For all the effort that Moix and Livigni put into the cocktail offering, they gave the same dedication to sourcing the special bottles of liquor that now line many of their shelves.
The hoarding started in 2009 or so, when demand for American whiskey increased and distilleries like Buffalo Trace and Pappy Van Winkle began allocating their goods. "We started buying things in cases just to store for ourselves," Livigni remembers. "To have booze that we like to drink for the rest of our lives." This quickly turned into curiosity about the bottles that predated the now-famed Pappy—what came before it, and where could they find that? It sparked a years-long hunt through the dusty shelves of Southern California liquor stores and estate sales. It sounds, at first, like the premise for a very niche reality TV show. But it became a sort of hobby for Moix and Livigni, who even drove across the country once or twice—less fruitful than their local hunts—in search of potential inventory. Their ultimate goal was "once-in-a-lifetime drinking experiences." When these are gone, there will be no more.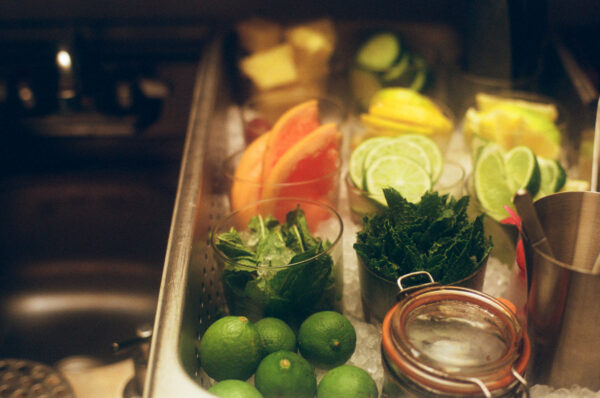 So what happens when that first wave of bottles gets sipped up by Old Lightning's patrons? The pair has begun to collaborate with distilleries for exclusive single-barrel whiskeys and limited-edition mezcals, such as a bottle of Vago mezcal that is aged in clay for six months.
Old Lightning gives its patrons a barrier to entry: there is no sign, no marketing, no social media, very little press, and you'll need to make a reservation through its no-frills website. Also, you'll have to leave your phone at the door. But without an LED screen, Livigni says, everything tastes better, the music sounds superior, and the memories of a night spent here are rosier.
---