When New York real estate developer Stephen Cipes first set eyes on a piece of vineyard property just above Kelowna's Lakeshore Road, complete with panoramic views of the water spread out before him, something happened. "It was so beautiful, but so purely natural, I knew I had to make a change, and live here," he says. It was quite a bold career shift, but he has never thought twice about it.
Cipes smiles a lot, with good reason. He bought the property for what would become Summerhill Pyramid Winery in 1986, and rigorously investigated its potential to grow vinifera grapes. His stated intention way back then remains unwavering to this day: "We want to make some of the very best sparkling wines in the world." Done and done.
It was not easy. He went so far as to invite, from the Napa Valley, Schramsberg's legendary manager Jack Davies, along with vineyard expert and winemaker Alan Tenscher, to give their opinions. "Alan took a good look around and then exclaimed, 'You can make extraordinary wine here. You must do it!'" says Cipes, still clearly relishing that seminal moment.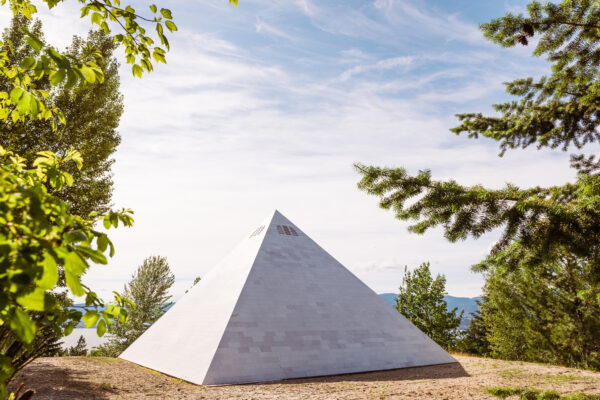 The road to success has not been as rapid as Cipes envisioned, but progress—with the adoption of wholly organic vineyards, and even some certified biodynamic ones on the estate—has been inexorable. "We knew all along how great the potential was," says winemaker Eric von Krosigk. "But getting results in bottle took educating ourselves about maximizing what the land was giving us." Von Krosigk has very recently even found a way to make 100 per cent organic sparkling wine.
Cipes has been dedicated to all-natural from the beginning, and for him it is a way of living. His sons Gabe and Ezra returned to the winery after receiving their educations; Ezra is Summerhill's CEO, and is also a strong advocate for a sustainable, natural industry.
Summerhill's sparkling wines have, over the years, won accolades and many awards. There are several sparklers made, including the popular Blanc de Noirs and Blanc de Blanc, but some other charmers as well, such as Blanc de Franc, made from cabernet franc, and a sensational Traditional Cuvee, made from chardonnay, pinot noir, and pinot meunier. The still wine program is in full throttle as well, with crisp chardonnay, dry riesling, and surprisingly fulsome pinot noir and syrah. Again, every wine is organic, and the single-vineyard chardonnay is biodynamic.
"We want to make some of the very best sparkling wines in the world."
After a walking tour of some of the estate vineyards and the microgreen hothouse garden, Cipes stands inside his famous pyramid and says, "Every wine we make spends a little time in here, our sacred place." Cipes went all out with this, even travelling to Egypt three times. The precise ratio and aspect specifications of Egypt's original pyramids were modelled for Summerhill's iteration. "It is oriented to true north, not magnetic north," says Cipes. "So, we had to use non-metallic, underwater construction rebar—not normal iron rebar, which would have thrown off the orientation." The point of all this? For liquids in particular, qualities are both enhanced and preserved within the confines of the pyramid. Interestingly, faults in wine stored there are also made more pronounced. Cipes, at least, does not pretend to fully understand it all. "I was convinced it works, and am more so now than ever," he says. "The next big challenge is to find an empirical, scientific explanation for why it works, exactly."
Later, over dinner in the winery's terrific Sunset Bistro, von Krosigk pours two chardonnays, one pyramid-aged, the other not (a few cases are kept out of the pyramid for research purposes). There are some subtle differences, most notably in the freshness of the bouquet, and a certain vividness in the fruit on the palate. "For 25 years, I have not been able to explain it, but I simply have to acknowledge the pyramid makes our wines a little better," he says. Ezra Cipes, for his part, is contemplative at first, but then perhaps says it best: "Whenever you are dealing with something completely natural, there will always be a bit of mystery to it."
---