Emitting an aura of casual elegance and confident style, Dominique Crenn is known as one of the most prominent and well-respected female chefs in the world today. Raised in France and now based in San Francisco, she is the award-winning proprietor of three highly regarded establishments: the two-Michelin-starred Atelier Crenn, the nearby Petit Crenn, and the newly opened Bar Crenn—with a fourth project, Boutique Crenn, currently in the works. Suffice to say, she is kept busy.
"It's an honour for me to work with French gastronomy in the United States," she says, taking a break from preparing for a hectic weekend of cooking demonstrations and elaborate (and delicious) dinners at January 2018's 10th Annual Cayman Cookout in Grand Cayman. "I want to be an ambassador and I want to do the right thing."
This straightforward sentiment is certainly not out of character for the meticulous and artistic chef, who bared her soul during a memorable episode in the 2016 season of the popular Netflix series Chef's Table. Passionate about her family and growing up in France, she learned an early appreciation for fine dining from her parents. Her menus are known for evoking long-ago memories through their distinctive flavours, delicate textures, and imaginative presentations.
Atelier Crenn, which opened in 2011, has received extensive praise for its innovative epicurean offerings as well as its whimsical menu crafted in the form of a poem, where each course is a line (Crenn refers to this as "poetic culinaria"). After the incredible success of her first establishment, the chef opened Petit Crenn in 2015, with an approachable menu inspired by the cuisine of Brittany, France. Most recently, in February 2018, Crenn introduced her latest venture, Bar Crenn, an eagerly anticipated wine bar and restaurant with only 26 seats.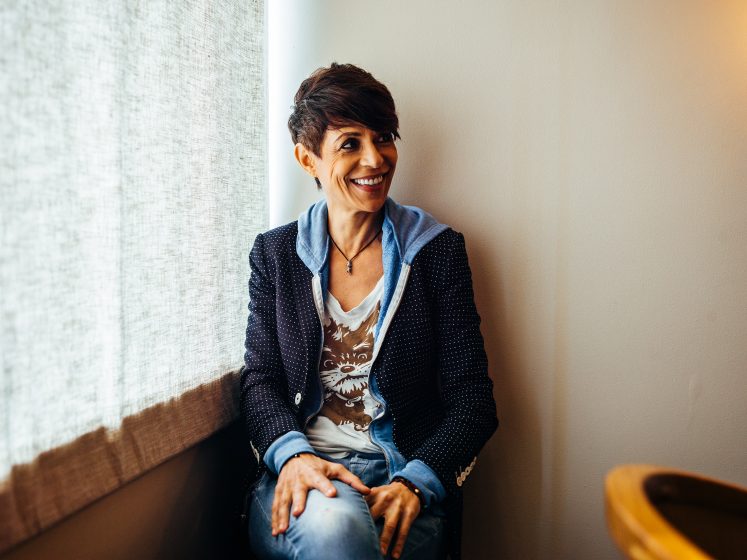 Bar Crenn's precise opening menu features just eight dishes, each meant to be shared. In addition to presenting some of her own creations, Crenn has chosen to showcase ideas from other renowned French chefs, who all personally provided her with original recipes for the restaurant. These include tarte flambé from Alain Ducasse of Benoit New York, and bouchées de champignon de Paris aux escargot from three-Michelin-starred chef Yannick Alléno of Pavillon Ledoyen. "This is an homage to French gastronomy through my eyes—and celebrating these French chefs," explains Crenn. "Now we have so many recipes from the chefs that our menu will change throughout the year. The seasons will dictate what kind of dishes we are preparing."
The wine list is a nod to France as well, and shines a spotlight on winemakers who are producing biodynamic and sustainable vintages. Wine pairings always play a major role in the enjoyment of Crenn's plates, and she has been known to make subtle flavour adjustments to recipes based on tasting notes and reactions from her staff. "I have changed the balance of a dish because of the feedback I've received about the wine," she reveals. "For me, it's about the food and the wine together. The food needs to elevate the wine, but the wine also must elevate the food. It's an interesting and thoughtful relationship I want to have with the wine." Très bon.
Adopted at 18 months, Crenn grew up in Versailles and spent summers in Brittany. An avid traveller from a young age, she visited a multitude of destinations around the globe before choosing to settle in the innovative food town of San Francisco. She also worked in Los Angeles for several years, as well as in Jakarta, Indonesia, where she held the position as the country's first female executive chef at the Intercontinental Hotel. But Spain's Basque region is her preferred escape. "San Sebastián is my favourite city in the world, after Paris. It's an incredible city and the Basque culture is incredible," Crenn says. "I have a house about an hour and 15 minutes from San Sebastián. I love the culinary scene—they are at the forefront of innovation and change. I also love the heritage and culture of the Basque region. It's beautiful. I'm also a member of the Basque Culinary Center, so that's something I've been doing for the past few years: going back there and learning so much about what they are doing. I just adore the Spanish culture." She pauses and adds, "I've always been attracted to that culture and I always wondered why. And then I just did my DNA test and learned that I have Spanish and Iberian in me—also Italian."
Her menus are known for evoking long-ago memories through their distinctive flavours, delicate textures, and imaginative presentations.
Since living in North America, Crenn's travels have also taken her north, allowing her to explore Canada. "Vancouver is amazing, and Toronto is also pretty amazing, too," she says. "I've been to Nova Scotia as well—it's so beautiful and I'd love to go back. There are some new upcoming chefs there, which is very interesting, and the area has a long history with the French. Canada is a country that I really admire."
In Grand Cayman, Crenn is the lone female at the top echelon of the Eric Ripert-hosted Cayman Cookout roster, which features a number of famous male colleagues including Emeril Lagasse, Anthony Bourdain, and Michael Mina. As a woman who has reached such a high level of success in the world of gastronomy, Crenn admits that this is not an unusual situation for her—although at this particular event, it feels extremely evident in light of the recent #MeToo movement that sparks discussions about sexual harassment and inequality.
Crenn's own business relationships and interactions have helped influence her personal viewpoint, which is reflected in the way she manages her female-majority team. "I've been in the industry a long time, and we need to really talk and rethink about how we treat people," she asserts. "I've had some #MeToo experiences—and it did not make me shut up or make me weaker, it made me rethink what I need to do in my own company to make sure I create a safe place for everyone. When I say everyone, it's not just for the women, it's for the guys also, because some of the guys have also been harassed. I created a space that is safe, where people can be who they want to be, where people are respected."
Crenn credits her parents for encouraging her to always treat others kindly, recalling a memorable lesson passed down from her father: "My dad told me when I was very young, 'You can do anything you want, but be mindful that this world is not an easy world. You need to go out there and know that you are not better than anyone else. And they are not better than you, either. And just always speak out your truth and do not be afraid. But always act in the most respectful way.'" Undoubtedly those words have carried her through, helping keep her focused and humble as she steers from triumph to triumph.
---
For more one-on-one interviews with chefs from Vancouver and around the world, visit our Food and Drink section.