If there were ever a time to plan ahead, it's now. We are yearning for a change of scenery, a great adventure, a treat to make up for the sacrifices and seclusion of the last year. We may not have confidence in reaching our dream destination this year, but come 2022, things should be brighter and better. And booking a bucket list trip now fuor next year will give us something to look forward to, to plan, to occupy our daydreams. The heat of the sun, the smells and sounds of a different place, new sights to jumpstart inspiration, to make us feel alive. And free.
I only have to close my eyes to remember speeding over sleek steel tracks along the spine of Australia, through its beguilingly varied desert landscape, to places of incredible natural beauty. The Ghan Expedition—a romantic four-day, three-night railway journey through 2,979 kilometres of outback—is one of the world's iconic rail routes, providing an unfolding adventure in comfort and style.
I'd spent a few days before hitting the rails exploring Darwin and the Northern Territory's Top End, where I'd seen big saltwater crocodiles ("salties"), dingoes, eagles, and all sorts of unfamiliar insects and reptiles. I'd visited Wangi Falls, a segmented waterfall in Litchfield National Park, south of Darwin, for a wild swim, immersing myself in the crystal-clear, bracingly cold water.
It was an unseasonably hot and humid morning in April when I boarded the Ghan. The elegant, snake-like body of the train overlapped Darwin's long railway station at both ends. With a firm jolt, the bold red engine began to haul its silver carriages away, rocking and squeaking as the wheels rolled along the shining tracks and the train slowly picked up speed. Soon we were cruising at an average 85 kilometres per hour toward the outback towns of Katherine, Alice Springs, and Coober Pedy en route to Adelaide.
The Ghan averages 774 metres in length with more than 30 carriages plus two locomotives. It can take 49 crew members and nearly 300 guests in gold and platinum service. It is so long that, at one point, I spotted the chef travelling efficiently along the platform by bicycle to get from one end to the other.
The Platinum Club carriage exudes comfort and old-world luxury, with timber flooring, brass fittings, quartzite table tops, and large windows for viewing wildlife. We were served dishes reflecting the region we travelled through: grilled kangaroo loin; smoked kingfish with beetroot; crocodile-tail fillet; and scrumptious saltwater barramundi—a fish for which the Northern Territory is well known. Wine service is high end and showcases the best of South Australia's vintners. Understanding there is no bad time for a glass of fizz, in platinum service Bollinger is on tap.
There are optional activities at stops along the way. At Katherine, 300 kilometres south of Darwin, a helicopter flight to Nitmiluk National Park swooped low enough to appreciate its breathtaking gorges and extraordinary sandstone cliff faces. That night, while passengers slept, the train covered nearly 1,200 kilometres for us to wake up in the remote town of Alice Springs. I rose with the sun and watched it light up the red ochre landscape, the coarse spinifex plants, and the desert oaks that lined the train tracks. The flat, sun-scorched land offers many reds and browns, but Alice Springs brought greenery—more than I expected.
From Alice Springs, a thrillingly scenic 335-kilometre flight in a light aircraft over the harsh red terrain took me to the remarkable sandstone monolith of Uluṟu, formerly known as Ayers Rock, followed by a walking tour (climbing the rock is now prohibited) around the base of the 550-million-year-old natural sandstone landmark—a sacred site for the Yankunytjatjara and Pitjantjatjara people indigenous to the region. On the return flight, we circled the monolith a couple of times for a close-up view of the top before our tiny plane returned to Alice Springs.
As we crossed into South Australia on the third day, the boundless sky erupted into a display of pink hues as sunrise gave way to another dazzling morning, surrounded by sun-baked emptiness that shimmered in the Antipodean dawn. We had reached the small, quirky town of Coober Pedy, full of independent miners looking for their fortune; most of the world's opal is found in this area.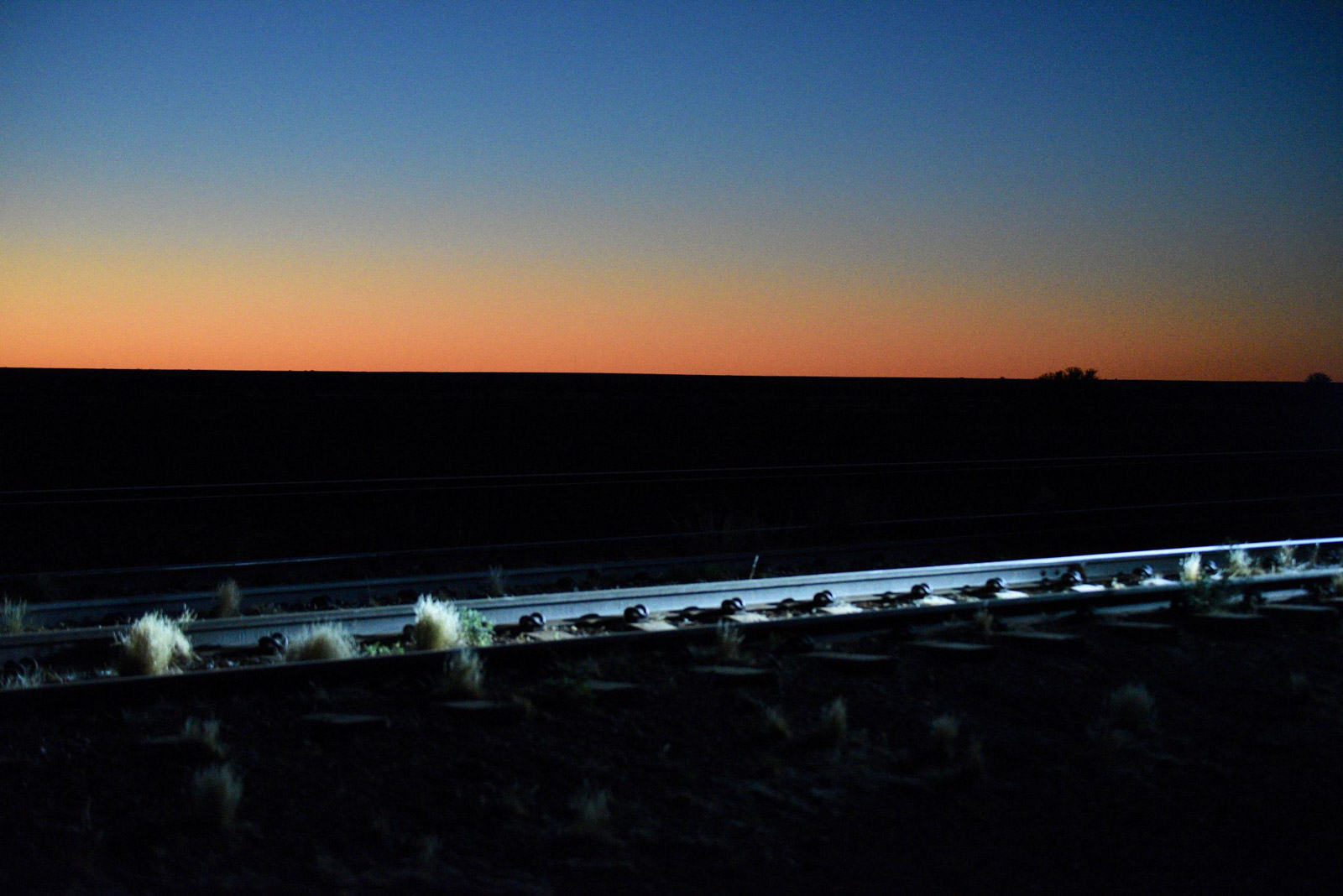 One local miner told me why he lives here. "Hope—hope that one day you'll discover the perfect opal that may just be on your patch of ground and will turn your life around for good."
Here we visited the famous Dog Fence, which stretches more than 5,000 kilometres across South Australia to protect sheep herds from dingoes. At the Kanku-Breakaways Conservation Park, we explored extraordinary ancient rock formations, the landscape familiar from the film The Adventures of Priscilla, Queen of the Desert.
Temperatures here reach more than 40°C in the summer. Some enterprising locals escape the soaring desert temperatures by living underground in spaces resembling giant rabbit burrows. We were given a taste of how that feels, eating a subterranean lunch within the narrow tunnels of one of the mines.
Reaching South Australia's cosmopolitan capital Adelaide meant the end of the line. I stepped down from the train for the last time with a sense of pure joy and achievement. The Ghan is one of the world's great rail journeys—and a trip worthy of your post-pandemic planning.
---
This story is from our Spring 2021 issue. Read more Travel stories.