On a busy Thursday lunch service at Umberto Menghi's Il Giardino, a buzz moves through the room. Angelo Gaja is in the building: he shakes hands with servers, says hello to the people who recognize him, and eventually he makes his way to his table, at which sit several of his wines, some bread and olive oil, glasses full of water and still other glasses waiting silently for the wine. It is quite a scene, with this legendary winemaker at the centre of it, and when all are seated, and the pasta dish arrives, he takes a taste, pronounces it "perfetto", and really digs in, obviously enjoying the food. At this point, he is not the famous figure from Piedmont, but simply a person fully appreciative of the fine balance of good food and wine.
Gaja has, at the age of 72, passed much of the travel and marketing management of his wineries over to his daughter Gaia. He is a person full of vigour and great stories, and in conversation it is easy to forget that he was responsible for basically putting his home region of Piedmont, and the village of Barbaresco in particular, on the ultra-fine wine map. His plan, often against the wishes of his father, who had grown the Gaja company into a sizable player in the region, was to bring innovative technology, new vineyard management strategies, and yes, barrique oak barrels into the winery practices. It was an intrepid concept, and the world did not take long to recognize the quality of the first single-vineyard releases, with their low-crop yields, oak treatment, and, for the times, very high prices.
The Sori Tildin and Sori San Lorenzo wines made an immediate impression, as did the Barolo called Sperss. It was, perhaps apocryphally, Gaja's grandmother Clotilde Rey (the Gaja chardonnay is called Gaia & Rey) who established the company's resolve to make high-quality wines, and to price the wines accordingly. Gaja's modernization of the winery and vineyards was in keeping with this philosophy, and he added some savvy about international markets to the mix. He planted a vineyard directly behind his father's house, called Darmagi (Piedmontese for "what a pity!", the phrase Gaja's father used when observing the vineyard being converted from indigenous grape varieties), to cabernet sauvignon, right in the heart of nebbiolo country. The purpose, as he has said over the decades, was "not because I love cabernet. Not for that reason. It was to show to the world that Italian winemaking could achieve the highest quality, in terms that the international community could relate to. That meant cabernet. And once we established the quality at Darmagi, it was a logical step to promote the Barbarescos and Barolos as the equal of classified growths in France, or the best of Napa." He sits back in his chair, and smiles. "It was not so easy at first, but eventually the artisanal approach we have always taken started to attract attention."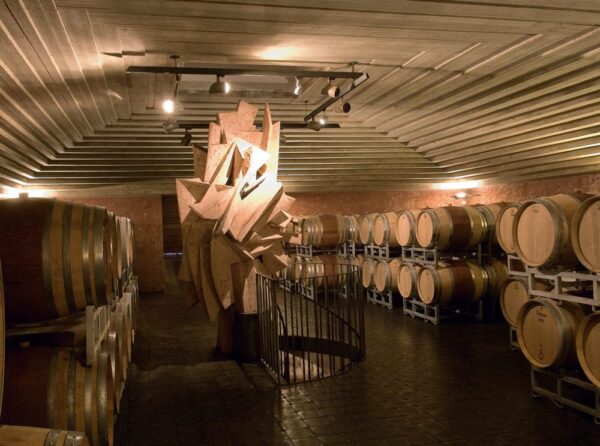 Today, nearly 150 years after the first Giovanni Gaja began making wine so he could serve it in his tiny trattoria and almost 75 years after his son, Angelo (the current Gaja's grandfather), first put the Gaja name on the bottles they produced after selective but prodigious growth of estate vineyard holdings, the company has two other wineries in Tuscany. They produce Brunello from Rennina (the entire property) and Sugarille (single vineyard), showing that Gaja's grace with nebbiolo is translated to the sangiovese grape as well. And cabernet sauvignon, merlot, cabernet franc, and even a little syrah are planted to make wines such as Promis and Ca'Marcanda.
This notion of quality and attention to detail, the artisanal way, is vital. "I was invited to join into a partnership with Robert Mondavi, a long time ago," says Gaja. "I thought about it, and honestly could not decide what to do. But it kept on coming into my mind that at large production numbers, you cannot control the quality. So I told Robert my answer was no." He has also done such things as introduce a small portion of barbera into his Barbarescos and Barolos, meaning he had to reclassify them from DOCG Barolo and Barbaresco class to DOC Langhe. "I know a lot of people thought this would open the door to making a less pure Barbaresco. But the barbera gives these wines a needed boost of fresh acidity, which in the long term will actually contribute more to the reputation of high quality on Barbaresco and Barolo, not less." He is clearly passionate about this, and certainly, upon tasting the wines, it is pretty much impossible not to see things his way.
The previous evening, Gaja had presided over a dinner at the Rosewood Hotel Georgia. "It was a good evening," he says. "I can see the people here know about wines, about my wines." Fare for the evening, just a sample: Pino Posteraro's oxtail ragu with bagna càuda, matched with Conteisa '97; Frank Pabst's red tuna two ways, with both Rennina ('04) and Sugarille ('01); Vikram Vij's kangaroo biryani with Darmagi '99; David Hawksworth's lamb neck with Sperss '97 and San Lorenzo '99. Lucais Syme and Adam Pegg, Thomas Haas, and Ken Nakano also participated. For over an hour, Gaja spoke about winemaking, viticulture, and global warming. The wines showed spectacularly well, and such rare treasures as that 1997 Sperss, which he graciously poured at the lunch, seem pretty much immortal, with fresh fruit still abundant, and layer upon layer of elements revealing themselves as the wine sits in the glass.
Gaja passes on the dessert, and even on the espresso. But he takes a final sip of the Sperss. "I am happy with this wine. I never grow tired of it." And on this day, and likely most any other day for the foreseeable future, no one else did either