Somewhere above the clouds, I'm tucked away in my seat on an airplane. Out of the corner of my eye, I see the man next to me turn in my direction, asking the question most seatmates ponder when embarking on a long transatlantic flight.
"Where are you flying to?"
"Florence," I say.
A smile follows. "The land of artistry," he proudly says in a thick Italian accent. "It's an unbelievable frame of mind."
Although it is my first time in the Tuscan capital, I know that this Florentine enchantment must be true. The city is, after all, the birthplace of the Renaissance, where the likes of Leonardo da Vinci and Sandro Botticelli emerged as great artistic visionaries of now-iconic Italian masterpieces.
It is also the birthplace of Stefano Ricci, the man behind his eponymous clothing and accessories label that dresses some of the world's most powerful men. He is a Florentine utterly in love with his home—so much so that he has become its protector, contributing to its livelihood by keeping afloat the artistic spirit that made it a place of greatness.
With this in mind, I step off the plane and am immediately whisked to Antico Setificio Fiorentino, the textile factory that Stefano Ricci acquired in 2010. Waiting for me is Filippo Ricci, creative director of the luxury brand and Stefano's youngest son.
"Florence is a magical place," he says from within the compounds of the silk mill, which was founded in 1786. "And here, it's stepping into the past. We have to keep it alive and keep producing." The Riccis are crusaders of the "made in Italy" mentality that emerged in 1951 and that Stefano adhered to in 1972 when he opened a necktie atelier, which eventually turned into the menswear empire it is today. The family (Stefano and Filippo, along with CEO Niccolò Ricci, Stefano's oldest son) lives by three words: honour, power, pride.
These pillars are sprinkled throughout the glass-walled space of the brand's headquarters, located in the soft rolling hillsides of Fiesole just outside Florence, where I go the next day. Stefano is a firm believer in the generational shift, passing down trades from one cohort to the next in order to invest in the future; in fact, Filippo notes that some of the women in Antico Setificio Fiorentino have been working there for over 30 years, and it is their duty to teach their daughters, and other young women, their techniques before they retire. These are, after all, not the types of skills that can be taught in a classroom—these are things that the hands must learn.
Some crafts are so specific that only a few people are granted the chance to practise them inside the Stefano Ricci complex. Tucked away at the very back of the jewellery studio, in a bright workshop created just for him, is Samuele: the brilliance behind the Stefano Ricci Home Silver line.
Made up of exquisite bowls, plates, vases, and other homeware items, this silver collection embodies a classic Italian aesthetic: grand yet full of details. Each piece begins with a sketch, which Stefano draws by hand, in pencil. With a love for animals, the designer often dreams up concepts that feature the most impressive species: elephants, lions, and of course the eagle, the brand's masculine symbol (at the lavish Stefano Ricci boutique in Vancouver, a custom silver vase embellished with a scene from Noah's Ark invites guests into the space). Once a design is ready, the next step of the process is left in the experienced hands of fifth-generation master silversmith Samuele (along with one other master named Francesco). I find Samuele tap-tap-tapping away at a large bowl, using a combination of tools he made himself and some that were passed down from his father and grandfather. There is a small room to the right with a black-and-white photograph taped to the door; it is Samuele as a child with tools scattered around him, already learning the family trade. "My dad was a master and I used to go down to his bottega," Samuele explains in Italian. "I learned with my eyes."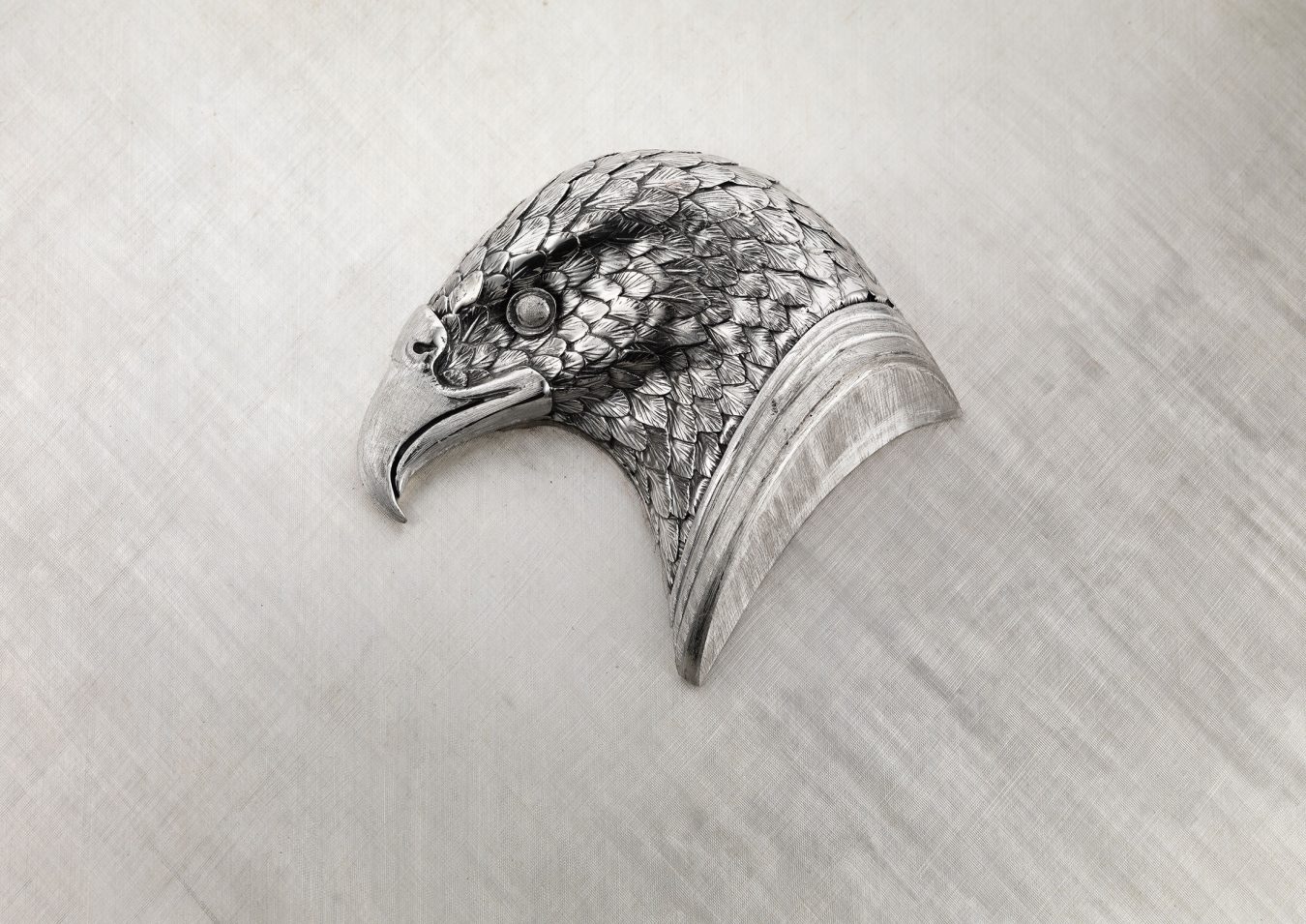 Filippo brings over a large decorative bowl currently in progress, showing off the grape leaf shapes that are outlined in permanent marker. Soon Samuele will spend up to a month using small hammer tools to chisel out the design from the inside, giving the piece its signature three-dimensional appearance. Next, Filippo holds up a cup with a design of a snake wrapped elegantly around grape leaves. Despite its small size, it is remarkably heavy. "Not many people are willing to give their lives to something like this," Filippo says, watching as Samuele continues to work. "You really need to have passion and a lot of pride in what you're doing." As we leave Samuele behind to continue with his work, brand communications director Gianluca Tenti turns to me with a smile and says, "He is like family."
Later, at the Baglioni Resort Cala del Porto in the seaside Tuscan town of Punta Ala, Filippo recalls the moment that Stefano Ricci solidified Samuele's role with the label. It began over five years ago, when the company Samuele was working for closed its doors. "We said, 'My God, we need to find this guy!' He went to be a gardener," Filippo explains. "I said, 'What are you doing? You have to come and be with us.'" At the time, Stefano Ricci's Fiesole factory was in the middle of restructuring: a perfect opportunity for the company to create Samuele his very own space.
It is this space in which he works day in and day out, slowly chipping away at a precious metal to create something even more precious. Stefano Ricci's greatest legacy is artistic conservation, and the brand's silver collection personifies that heart and soul. Tradition allows future generations to see historic elegance in motion, creating new knowledge in the process. And that is an unbelievable frame of mind.
---