When Giuseppe Angelo Giovanni Carmelo Posteraro was a little boy in Lago—a village of almost 3,000 souls not far from Cosenza, in Calabria—he used to watch his mother in the family kitchen. Half a century ago in southern Italy, the kitchen was an exclusively female preserve, but Paola Posteraro encouraged little Pino's interest (he was the fourth of six children). He loved watching her hands, which seemed to move of their own accord—dicing onions, rolling out pasta, making tortellini—as she chatted and transformed local ingredients into sustenance. She'd trained as a chef in Naples and Rome, and she saw in him the same affinity.
"I'd go with her when she went to get chestnuts, or acorns, or olives," says Pino on a day when his restaurant, Cioppino's Mediterranean Grill and Enoteca in Vancouver, is closed. "We'd come back and press the olives in front of the fireplace while she told us stories about her ancestors in Sicily."
Each December, the family slaughtered a pig. On Friday they drained the blood for blood sausage, made with pine nuts and chocolate. On Saturday, starting at 3 a.m., they cut the carcass in half and hung it. Scalding water was used to skin the pig. The intestines were carefully washed. Then the animal was broken down—by hand, hour after laborious hour, the work shared by half a dozen people—to make sausages, pancetta, capocollo, and soppressata. In a cool room in the bottom of the house, the meat was pressed and dry-aged with a bit of smoke. Saturday evening the fat was rendered and the bones boiled to make gelatin. Nothing—absolutely nothing—went to waste.
"All the 'nasty bits' cooking," says Pino, "nose-to-tail, whatever you want to call it, it became a kind of fashion here, but that's how we grew up. This is what sustainability meant. That pig lasted through the whole year."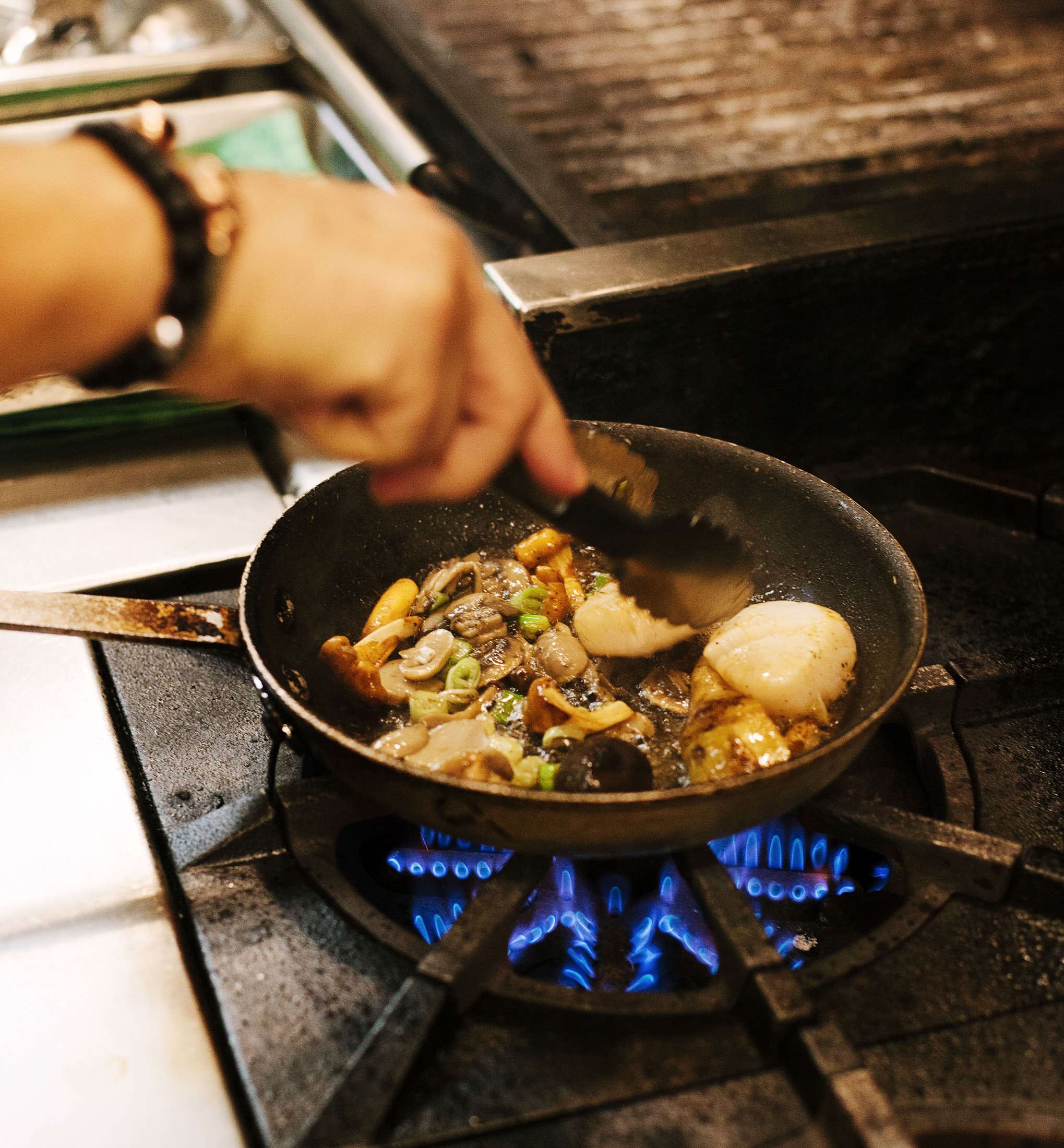 At age 12, Pino flew to Canada to visit his older brother, Celestino, who was working at a restaurant in Markham, north of Toronto. In Yorkville one evening the brothers encountered a palm reader who offered to read Pino's palm.
"She studied my hand and said, 'In a past life you were a chef. Auguste. You're going to be a chef again.' It was very strange. My brother's name is Agosto Celestino Posteraro. Escoffier's name was Auguste. I'm a superstitious person.
"I said to her, 'What? No, I'm going to be a doctor.'"
There was noble lineage on both sides of his family—his paternal grandfather lived in a house with 19 rooms, and one uncle was a billionaire. Pino never quite figured out what his father did, because his father never quite did much of anything. Pino had decided that, like several members of the extended family, he'd study medicine. In class he worked hard and got excellent grades.
After starting medical school in Messina, in Sicily—he'd won a scholarship—he had a sudden change of heart. It happened the day his class was introduced to dialysis. "The room was full of flowing blood and machines and sad, depressed people. I realized I wanted to be around happiness, to create happiness. I told my mother I was going to become a chef instead. I went back home."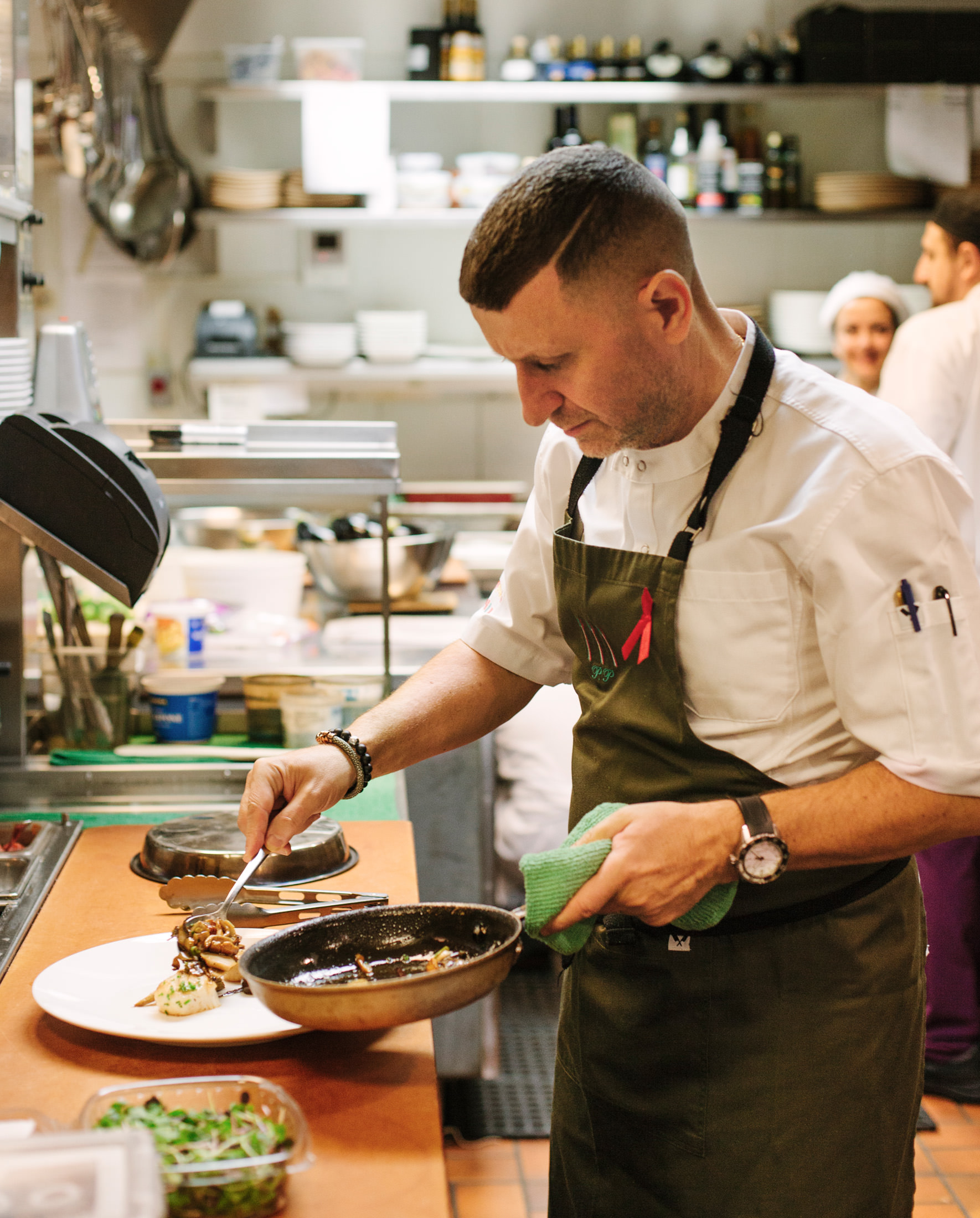 He began working at restaurants in and around Lago, doing whatever was needed—cleaning up, helping in the kitchen, playing his guitar to entertain customers (he also plays accordion and mandolin). In 1989, he worked at Vecchia Lanterna in Torino under chef Armando Zanetti—"a poet in the kitchen," says Pino—who became his mentor. In Pisa he did a stage at Ristorante Sergio under Sergio Lorenzi, and in Palermo he worked at La Scuderia.
He returned to Toronto and began to make a name for himself. He met his future wife, Raisa Saborit, in Cancún, and she moved to Toronto. When he was offered a position at a restaurant in Singapore, they agreed it would be a grand adventure. "The day we were leaving, she told me she was pregnant."
At Ristorante Bologna in Singapore, Pino deepened his understanding of Asian flavours and began subtly evolving the Italian menu. When his two-year contract ended, a competing Singapore restaurant offered him three times his salary. But Raisa was pregnant with their second child, and it was time to return to Canada.
He ended up on the West Coast after stints in Toronto at his brother's restaurant—Celestino's—then Franco Prevedello's Acqua, then Borgo Antico in Yorkville. Umberto Menghi offered him a job at his culinary school in Tuscany. At the end of the gig, Menghi urged him to come and cook in Vancouver.
After three years at Menghi's Il Giardino, Pino decided it was time to venture out on his own. Backed by a deep-pocketed partner, he opened Cioppino's in Yaletown in September 1999. In the two decades since, he's earned more accolades than you can count (most recently, one of the 50 Best Italian Restaurants located outside Italy) and the universal respect of his peers.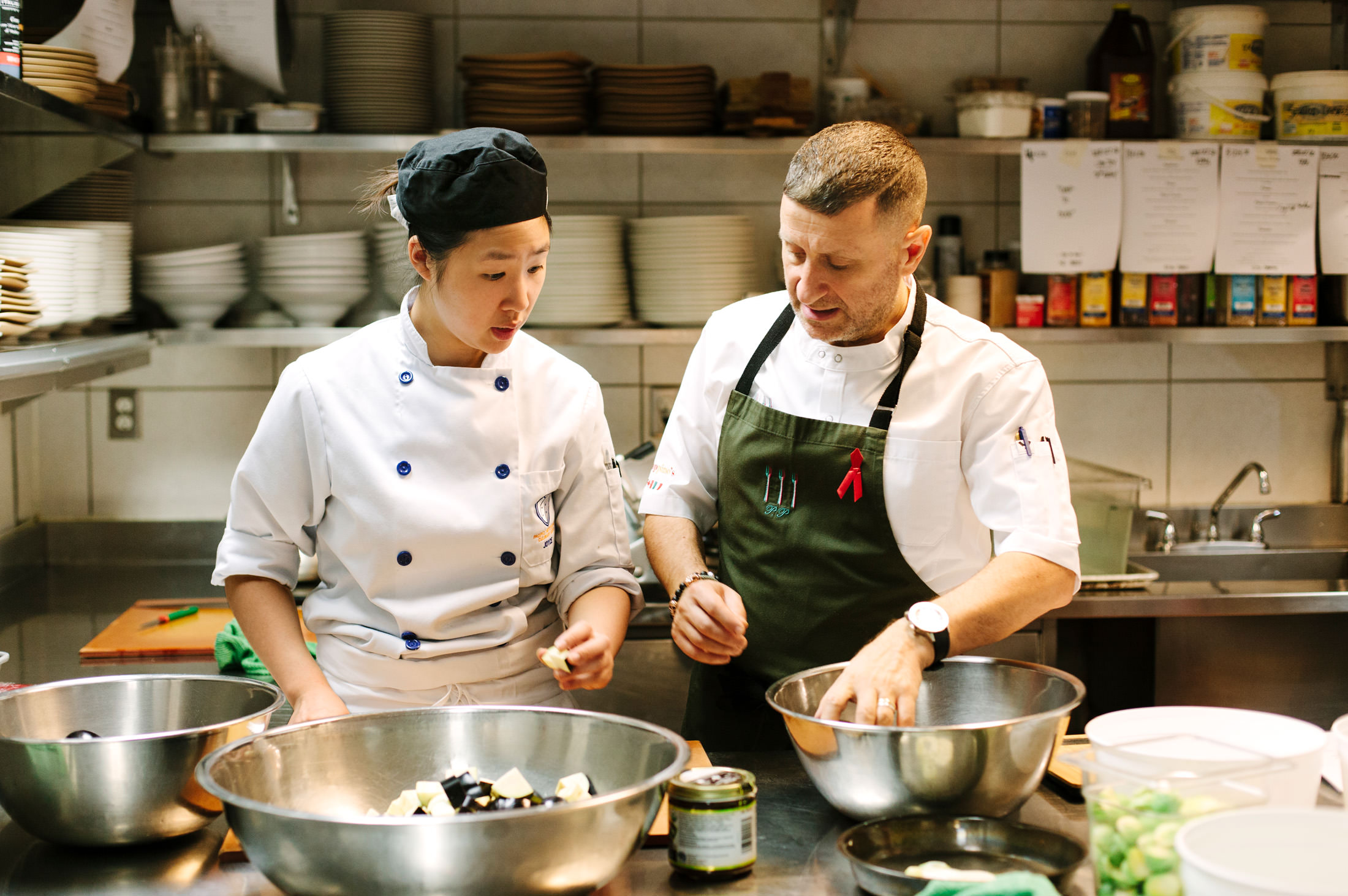 "As a chef, he is super detail-oriented, and he's still at the top of his game," says Angus An, himself an esteemed chef/restaurateur (his flagship is Maenam in Vancouver). "His food is world-class—his achievements prove that. His passion for food is only surpassed by his passion for people. He has gone out of his way to help many younger chefs like myself feel comfortable in this city. He's like the uncle I never had."
Running a restaurant is a perilous trade. Dozens on dozens of Vancouver rooms have closed since Cioppino's opened its doors, from fine-dining spots (such as Lumiere, C, Le Gavroche, Nu, Raincity Grill, DB Bistro, and—at the end of December 2019—West) to more casually appealing places (Fuel, Cru, Aurora, Cafeteria, Boneta, Crave, Mission) to a plethora of ill-advised, short-lived flops.
What distinguishes Cioppino's from the casualties? To succeed, a chef/proprietor must wear many hats: expert chef, of course, perhaps polishing tradition with innovation; but also careful businessman, brigade captain, generous mentor, and genial host with a memory for names and favourite dishes. You must be rigorous, avoiding the excesses of the industry, and excel at improv (table for six cancelled, pastry chef's gone home sick, Drake's here with a posse and no reservation). And you must be ready to spend more time with your staff than with your family.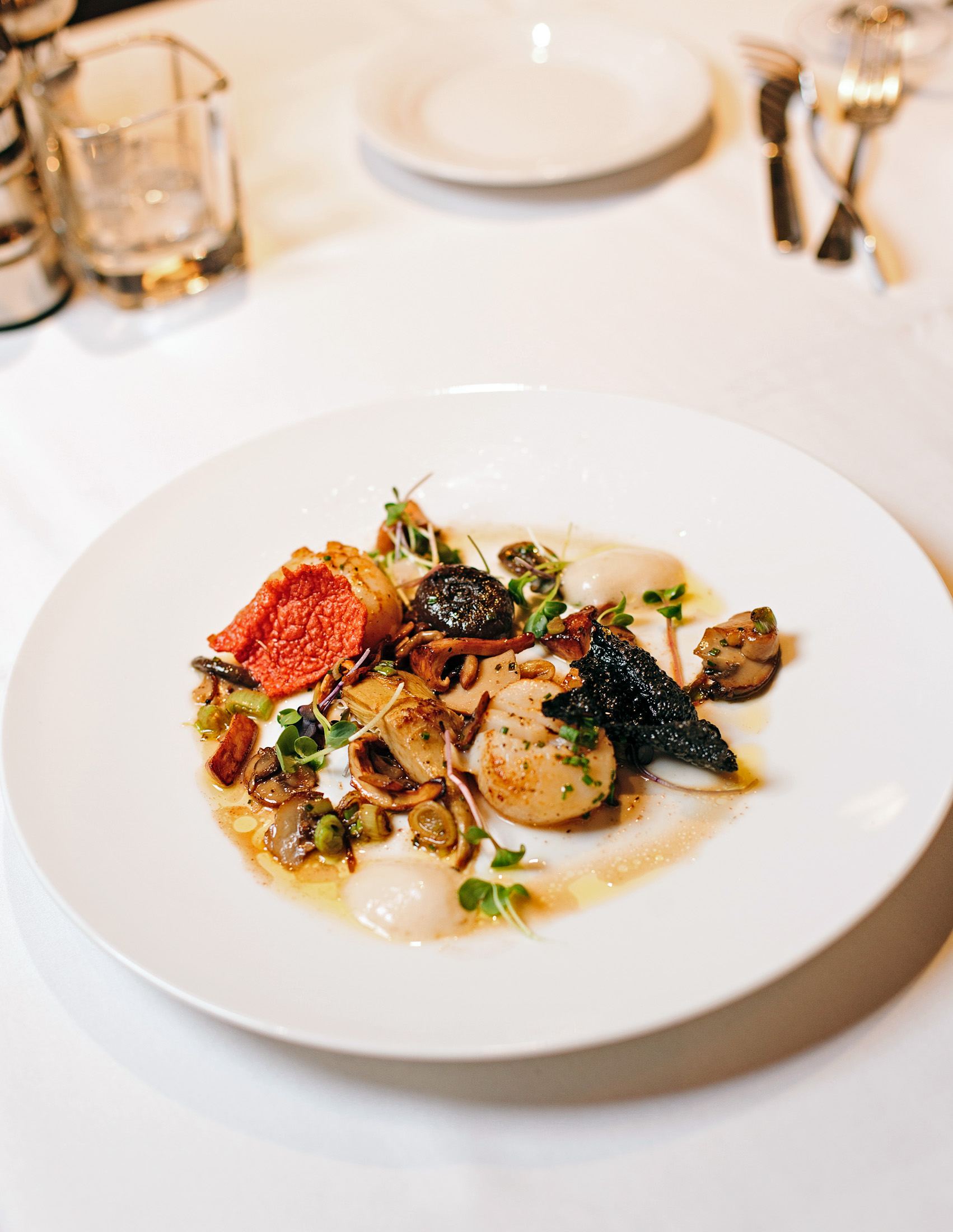 In Pino's case, part of the staff is family. Celestino works front of house, nephew Cristiano is chef de cuisine, son Giampaolo waits tables, and daughter Francesca works in the office. The conviviality of the room, and the unwavering commitment to every dish, connects the family to their lineage. "My mother's hands still guide me in the kitchen," says Pino. "Even today, doing a dessert or making gnocchi, I see her hands."
Our conversation is coming to an end. The restaurant is growing dim—it's a rainy Monday afternoon—and he'll be heading off to Japan in a few days. First, though, there's work to be done—as always. Inventory. Staff scheduling. A malfunctioning refrigerator. And, having recently butchered a pig, Pino is about to make sausages, pancetta, capocollo, and soppressata.
---
Read more from our Winter 2019 issue here.