Ducks play an integral role in Chinese food culture. They were originally used as a natural way to control pests and weeds while providing rice paddies with nutrients, their flesh and eggs carefully preserved in salt to provide much-needed richness to lean winter meals. Farm-fattened ducks have been coveted for centuries, symbolic of success and flourishing, the best birds roasted and served as part of imperial banquets, celebrating the success of the emperor and his ability to lead his people. This vision of pastoral abundance is a powerful and deeply resonant narrative; there is a good argument for considering Peking duck the national dish of China.
Surprisingly, though local Cantonese restaurants have been serving "Peking-style" duck for decades, true Peking duck restaurants are a relatively new phenomenon in Vancouver. What sounds like a simple dish is actually painstakingly difficult. The skin must be crackling crisp while the flesh remains meltingly moist and tender. The more familiar Cantonese roast ducks use marinades strongly inflected with star anise, while the Peking style emphasizes simple aromatics and natural flavours. There are no culinary tricks to hide behind.
The roasted duck is carved tableside with great ceremony into beautifully thin slices of perfectly crisp skin and succulent meat. The most prized portion is the breast skin—served first without any meat, the fat completely rendered, the skin literally crackling. Raw sugar served as a dip provides further crunch and sweet lift, accentuating the almost porcine savouriness. Accompaniments include thin batons of cucumber, slivers of scallion, and hoisin sauce, for freshness and bite. Diners wrap the duck slices in pancakes, gossamer thin but with enough pull and chew to hold everything together.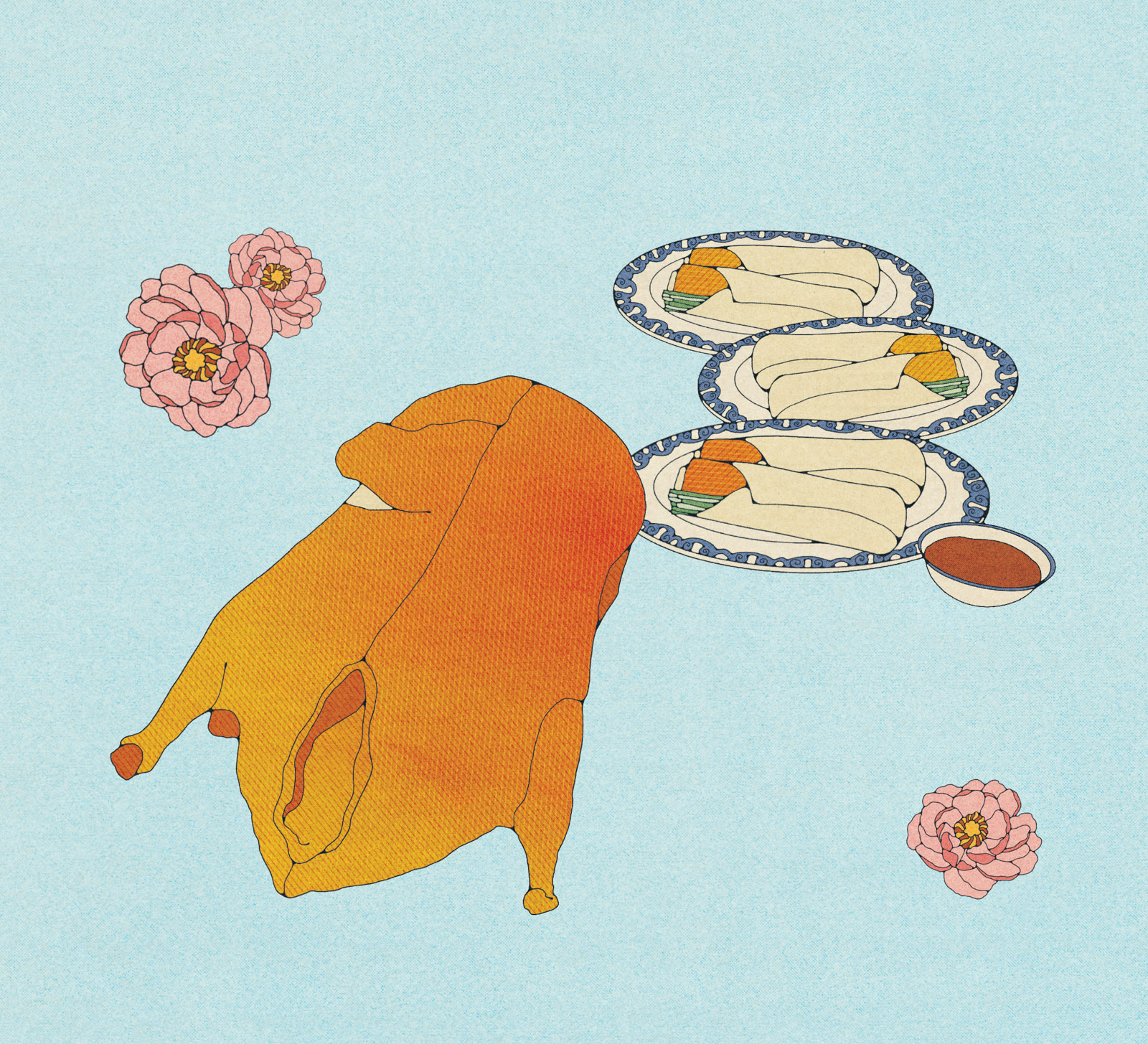 There is perhaps no restaurant more closely associated with Peking duck in China than Quan Ju De. Founded in 1864, the restaurant pioneered the use of large ovens where ducks are hung and roasted over open flames. Adapting a Qing dynasty imperial recipe, the popularity of Quan Ju De ducks quickly spread among the upper and merchant classes of imperial China. Today Quan Ju De serves millions of ducks a year, and its huge Beijing banquet halls continue to be favoured for state dinners and important events.
Quan Ju De sets the standards by which all other Peking ducks are judged, and the team in Vancouver take their responsibilities very seriously. The Vancouver location is stunning, conveying stately confidence with soaring ceilings, beautiful table settings, and a huge silkscreen print of a Manchurian warrior at full charge on his horse.
The kitchen is currently overseen by a Quan Ju De head chef, setting high technical standards and ensuring processes are in place to execute consistently. Here, the ideal duck size is four and a half pounds, with an even distribution of fat and meat that is still tender and not overworked. The ducks are roasted immediately after guests order or 10 to 15 minutes before the arrival of those with reservations.
This bird deserves centre stage, gorgeously lacquered and crackling, carved with care and precision. The kitchen's high standards show themselves in small but revealing details throughout the menu: the incredible knifework that turns wood ear mushrooms into silken threads for hot and sour soup, the simple yet cleanly rounded broth that impeccably dresses tender spinach, and the bright citrusy notes of freshly roasted and ground Sichuan peppercorn in the sea cucumber mapo tofu.
Vancouver's first true Peking duck restaurant, however, was Chang'An. It opened in 2013 with groundbreaking ambition, emphatically declaring that Peking duck was worthy of the highest culinary craftmanship, to be savoured in the best surroundings. Diners were initially shocked by the prices and surprised that ducks needed to be reserved a day in advance.
Executive chef Be Wang Huang favours larger ducks, which he feels have better fat distribution. He manages roasting times so that each duck has its own 15-minute window of peak perfection. For a bit of social media showmanship, the duck can be flambéed before carving.
The rest of the menu leans toward Xi'an-style dishes (the name Chang'An refers to the ancient capital, now called Xi'an, from which 13 Chinese dynasties ruled—and dined on duck). Pastry and noodles are made in house, with shredded pork belly encased in crisp buns, tender wonton dumplings in rich duck soup, and hand-pulled noodles standing out. Spice levels have been mellowed to suit Vancouver tastes, so let them know if you are keen to turn up the heat.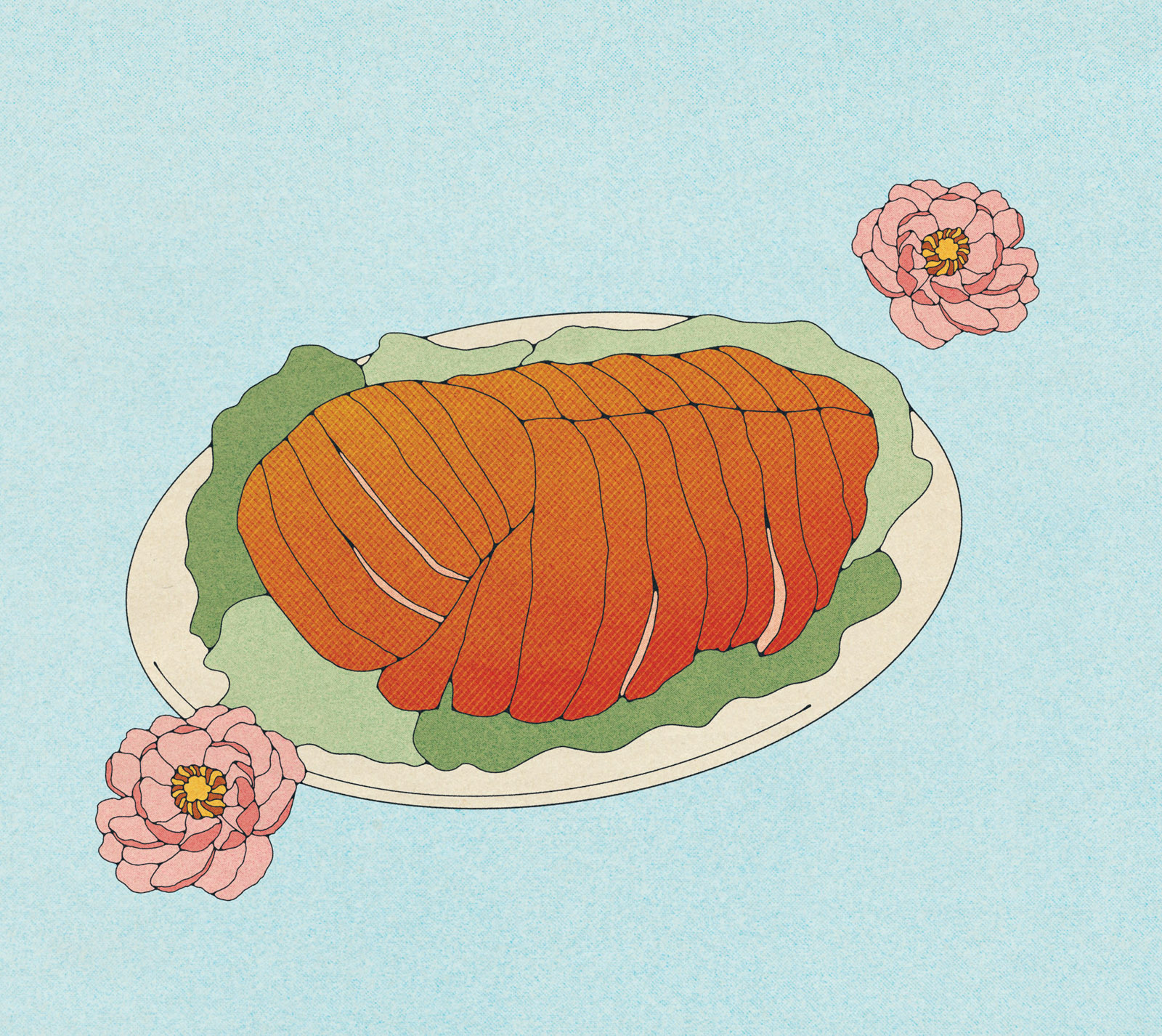 The glass wraparound room floats above False Creek and is gorgeously appointed with dark rosewood hues and modern rustic lighting fixtures. It is hard to think of a more singular Vancouver Chinese dining experience than enjoying this beautiful dish while dappled sunlight pours in with views of the Burrard Street Bridge.
Though the giant Peking duck palaces are certainly fun to visit, ask most Beijingers where they go to enjoy duck, and they'll likely tell you about one of the small neighbourhood restaurants tucked in the city's narrow alleys (or "hutongs"). Homesick Beijing expats flock to Hu Tong in Kitsilano for a taste of home complete with an authentically eccentric owner, Sun Yu. On any given night, you'll see multigenerational families and groups of friends chatting loudly over plates of duck.
There are rules around reservations and advance ordering, the tight room has been rearranged to meet current spacing requirements, and during COVID ducks are carefully carved at a safe distance rather than tableside, though still within diners' view. Every part of the duck is respected and beloved. The full beak-to-tail duck experience may include a cold starter of marinated duck tongues, stir-fried gizzards, and crisp cumin-fried duck bones.
But perhaps the best reflection of duck's country roots is found at Richmond's Man Ri Sung, which serves Korean-style Peking duck. This is not some sort of parlour trick but a reflection of the close cultural relationship between Korean and Chinese people in the traditional Manchurian areas of northeastern China.
The Korean chef-owner, Xiang Ming Li, learned his trade while living in China and roasts his ducks in a traditional imported drum-style oven. The duck is not carved tableside and is served in thicker slices. While the skin is golden and crisp, the meat is slightly drier—perfect when overloaded with housemade kimchi. Huge family-centric meals will include a deep and resonant duck soup served with gorgeous thick-cut noodles, reflecting the rural ethos of not wasting any part of the bird.
At the heart of it all, Peking duck is an expression of deeply held Chinese notions of familial prosperity, togetherness, and joyousness: a single duck prepared with loving care to be shared with many. A dish that confirms connection and kinship despite these times of social distancing and separation. A dish worthy of celebration.
---
This article is from our Winter 2020 issue. Read more Food and Drink stories.